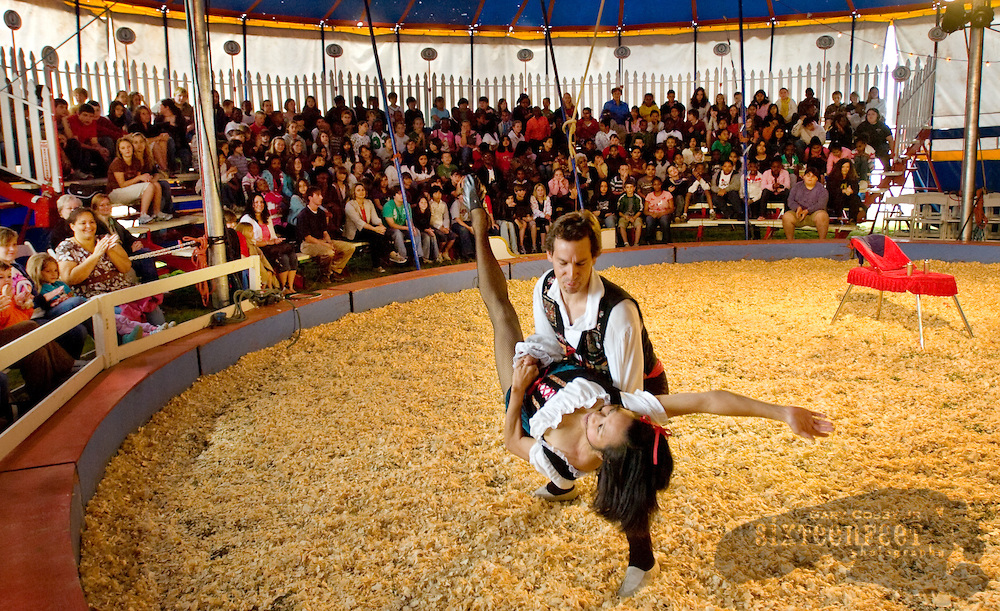 Compiled by El Reportero's staff
The Zoppé Circus brings an all new show for its 9th year to Redwood City, called  "Ricominciare" (ree-koh-min-CHAR-ay) meaning recommence, begin again and restart. This fresh new show will host an amazing lineup of performers featuring La Tarumba Equestrians who fuse Circus with Theatre, Music and the Equestrian arts.
Additionally, 5th Generation Circus performer Denisse Santos from Mexico brings an exciting flying trapeze show to the tent, while Ring Master Raoul Gomiero from Italy pulls the audience into the emotions of the show for an exciting new wild ride this year while juggler Liam Halstead wows the audience with his amazing feats.
October 7-23, 2016, Matinee & Evening Showtimes, at the beautiful Red Morton Park in Redwood City. Tickets and info at: http://www.redwoodcity.org/zoppe
Madelina y Los Carpinteros premiering @ Berkeley's La Peña
Between the South and the North is the La Peña's debut concert of Madelina y Los Carpinteros and Friends. The group features the soulful voices of Madelina Zayas with Brandon Vance (both Buena Trova Social Club), and multi-instrumentalists (former members of Grupo Raíz) Fernando Feña Torres and Denis Schmidt. Also, Bay Area jewels Ruthie Dineen, Craig Thomas and Brandon Vance.
Special performance by sikuri master and choreographer Luis Valverde and partner Claudia Susana (Valverde dance and former Grupo Anqari), and Tomás Enguidanos on the Andean Mandolina.
Following the tradition of the Nueva Canción and Nueva Trova – movements that came out of The Americas' liberation struggles to freshly embody the folk roots with an enriched lyricism – this concert will premiere Fernando Torres' own compositions as well as unique interpretations of music from Puerto Rico to the Andes Mountains (Argentina, Chile, Perú, Venezuela, the Andes Region, Puerto Rico) and the mainland US.
Madelina, Los Carpinteros and friends will be debuting at La Peña. Since its inception 41 years ago, the Berkeley's venerated hut has become the casa of the nueva trova/nueva canción, where the attentive ear and lovers of the genre can enjoy the musical gems of its originators as well as the work currently developed locally. A not-to-be-missed Fall evening with some soulful and rhythmic picks into the Latin American cancionero, including originals from Fernando Torres and unique interpretations from Osvaldo Torres, Simón Diaz, Rafaél Manríquez, Roy Brown, Juan Antonio Corretjer, Rafael Hernández, Fernando Solanas and Roberto Goyeneche, amongst others.
Friday, Sept. 30, 2016. 8 p.m. $15 adv. $20 dr. At La Peña Cultural Center, 3105 Shattuck Ave. Berkeley. 510-849-2568 Tickets: http://bit.ly/2bCQ1ka.