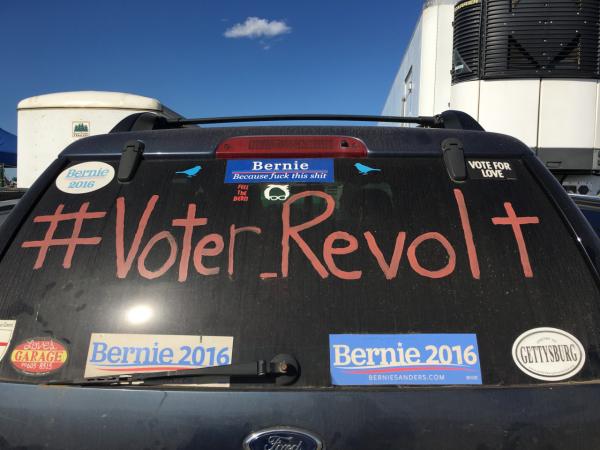 (And thus too willing to give up their own power)
by Mark Trahant
Will young people vote in 2016? And, more important, at least for our purposes, how about the younger generation of American Indians and Alaska Natives?
Let's explore the first question.
Younger voters are perplexing. They are, or should be, the largest group voters, some 75 million. And the data shows they are far more likely to vote for Democrats than other generations. Except there is an "except." Young voters are less likely to vote.
In 2008 they were a key constituent bloc helping to elect Barack Obama as President of the United States. In fact, in 2004, 2006, and 2008 young voters were the majority of Democratic party votes; the most supportive group. And, according to Pew Research, in 2008 some two-thirds of those under 30 voted for Barack Obama "making the disparity between young voters and other age groups larger than in any presidential election since exit polling began in 1972."
But after 2008, well, not so much.
A report by the Census Bureau on voting patterns said: "In 2012, the voting population 45 years of age and over increased, while the number of voters 18 through 44 years old decreased. Between 1996 and 2008, there was only a single example of an age group showing a decrease in net voting from one presidential election to the next, yet in 2012 significant decreases occurred for two age groups. Younger voters 18 through 29 years of age reported a net voting decrease of about 1.8 million, while voters between the ages of 30 through 44 reported a decrease of about 1.7 million." The bottom line: A decrease of 1.9 million voters between the ages of 30- through 44-year-olds in 2012.
The data backs up the idea that young people were excited by Obama's first presidential campaign. He changed the conversation. But then the hard slog of politics, the fights with Congress, the slow pace of change, and so many compromises by Obama turned off younger voters. That's a problem that goes beyond any single candidate. How do you convince younger voters that politics and policy are more complicated than an election slogan?
Hillary Clinton has been trying to figure out younger voters. But as The New York Times pointed out this week that's not so easy. As a group they do not watch television and "they tend not to be motivated by any single, unifying issue, making the job of messaging harder. They are declaring themselves unaffiliated with either party at a rate faster than any other generation. They say the political process and the two-party system are unresponsive to their concerns."
This is true in Indian country, too. It's reflected on Facebook where younger American Indian and Alaska Native voters equate Clinton with the establishment and do not understand why Bernie Sanders is no longer an option. For his part, Sanders has campaigned with Clinton. He wrote in The Los Angeles Times: "My supporters and I began a political revolution to transform America. That revolution continues as Hillary Clinton seeks the White House. It will continue after the election. It will continue until we create a government which represents all of us and not just the 1 percent – a government based on the principle of economic, social, racial and environmental justice."
There are even some younger Native American voters who see Donald Trump as an agent of change and worth the risk (all the while proclaiming support for Standing Rock or calling for more federal action on climate change.)
Part of the problem is that Clinton does not understand the priorities of younger voters. Recent hacked audio conversations between Clinton and high-value donors back in February explain that gap. "There's just a deep desire to believe that we can have free college, free healthcare, that what we've done hasn't gone far enough, and that we just need to, you know, go as far as, you know, Scandinavia, whatever that means, and half the people don't know what that means, but it's something that they deeply feel," she said according to Politico.
That's where the Standing Rock story comes into play.
Clinton has been silent about Standing Rock and the Dakota Access Pipeline dispute. The narrative from the camps is that she doesn't care. I suspect the real issue is that her staff sees this as another pipeline dispute similar to Keystone XL pipeline. She was not eager to weigh in on that issue either. They don't see this as unique moment in history when all of North America's indigenous people are speaking with one voice.