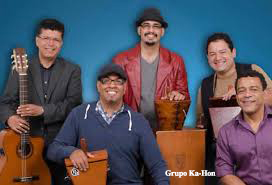 Compiled by the El Reportero's staff
What's in that box, you ask? In the hands of Ka-Hon, a gentle spring shower, a flamenco troupe, a galloping stallion and a rumba circle.
Drawing on a pan-American array of rhythms, the high-energy ensemble displays the astounding versatility of the humble cajón, a simple wooden box usually played by a percussionist seated atop it.
Founded in 2012 by some of the Bay Area's finest Latin percussionists, Ka-Hon features Venezuelan-born Omar Ledezma Jr., Perú's Braulio Barrera and Pedro Rosales, and Mexican-born José Roberto Hernandez and Javier Cabanillas. Known for highly interactive performances, this band creates an experience that's definitely outside the box. Outdoors for Kids.
Hosted by Yerba Buena Gardens Festival, at Yerba Buena Children's Garden, 775 Howard St, San Francisco. June 7 – 11:00 a.m. to 12:45 p.m. | Cost: FREE
10x Grammy winner Arturo Sandoval at Yoshi's
Arturo Sandoval, a protégé of the legendary jazz master Dizzy Gillespie, anx Grammy winner, will be playing at Yoshi's next week.
He is one of the most dynamic and vivacious live performers of our time, and has been seen by millions at the Oscars, at the Grammy Awards, and the Billboard Awards. Sandoval has been awarded 10 Grammy Awards, and nominated 19 times; he has also received 6 Billboard Awards and an Emmy Award.
Friday, June 14. Doors: 7:30 p.m. / Show: 8 p.m., at Yoshi's, 510 Embarcadero West, Oakland, CA 94607 (510) 238-9200.
Dinner celebration of 4th anniversary of priestwood
The San Francisco community is gathering to celebrate the 40th anniversary of Father Javier Pudota (Father Shouraiah Pudota) Javier Pudota of St. James Churche at Guerrero and 23rd streets in San Francisco. It will be an event to raise funds for the construction of a school in Nicaragua. He is going to Ometepe, Nicaragua, with the mission of helping build the school. It will be a party with full dinner.
People are encouraged to reserve tables to share among friends to help fund this humanitarian project. Tickets can be purchased at Ibarra Brothers Printing, at 1009 Valencia Street. For more information please call at 415-826-6700. It will take place at Patio Español "Salón Picasso", at 2850 Alemany Blvd, San Francisco.
Admission per person: $65 (chicken or pasta), $70 (steak) incudes dinner, salad, dessert and 2 carafes of wine per table. Music by DJ.
LOS VAN VAN and Banda Sin Nombre at Stern Grove Festival 2019
San Francisco's Original Outdoor Music Festival Celebrating 82 Years! 
Los Van Van heats up the Grove with its revolutionary "songo" sound, a uniquely Cuban concoction of rock, jazz, and son designed for one thing—dancing! One of the most important bands in 20th century Cuban music, Los Van Van celebrates its 50th Anniversary this year. Don't miss this legendary group when they return to the Grove. (Los Van Van performed at Stern Grove Festival in 1999).
Opening the show on June 23, is local group Banda Sin Nombre, a five-piece street band from San Francisco's Mission District. Mixing rich vocal harmonies with acoustic instruments—including guitar, fiddle, charango, cajon, and bass—the band's inspirations range from Peruvian chicha to Catalan rumba, Appalachian old time to cumbia. Then they are followed by Los Van Van.
Stern Grove Festival, a San Francisco summer tradition, announced its line-up of free concerts—Sundays at 2 p.m. from June 16 through Aug. 18 — at Sigmund Stern Grove, located at 19th Avenue and Sloat Boulevard in San Francisco.
This summer's 10-week concert series kicks off with Digable Planets, and features performances by Los Van Van, Galactic, Mitski, Toots and the Maytals and Lee Fields and the Expressions, The Psychedelic Furs and James, Pink Martini, The Isley Brothers, and more, as well as the Festival's classical partners San Francisco Symphony and San Francisco Ballet.
Every Sunday 10,000 people gather to enjoy world-class live music in a breathtaking setting. And all for free! Celebrating its 82nd season, Stern Grove Festival is the Bay Area's original outdoor music festival where the sounds  of rock, hip-hop, jazz, folk, classical, funk, and blues all define the experience.