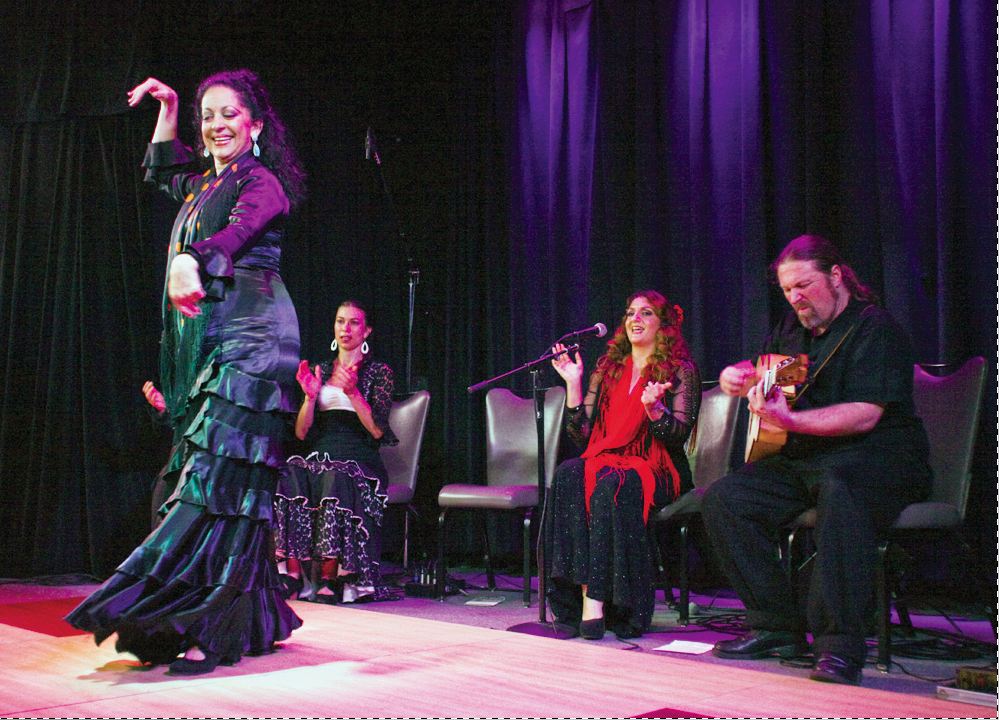 Compiled by the El Reportero staff
The groundbreaking flamenco company Caminos Flamencos has a brand new show that seamlessly blends flamenco, Latin, and jazz in music and dance with a cast of world-class artists from around the country who are rooted in a variety of musical genres.
Emmy Award-winning Artistic Director Yaelisa gathers an eclectic group of musicians and dancers in Nuevas Tendencias with an emphasis on new music by the virtuoso guitarist Jason McGuire "El Rubio.
Together, they recently have pushed the envelope even further, creating the music and dance show Nuevos Tendencias. The show made its premiere in July 2014 at Yoshi's Jazz Club in San Franciso to an enthusiastic crowd, and has since played at Yoshi's Oakland, Angelica's and The New Parish, all alternative venues with mostly jazz audience followers.
Duration: 90 minutes with intermission. Friday June 3, 8 p.m., at the Cowell Theater, Fort Mason, 2 Marina Blvd, San Francisco. General Admission $20 advance, $25 door.
Eliana López' What is the Scandal! is back at the SFIAF
What is the scandal? of Ileana López. Is an autobiographical story that explores what it means to be an immigrant woman of color in the United States of America. Immigrants don´t just face the outside challenges of the legal system but also the internal challenge of adaptation and integration. A reflection of self-transformation and a journey of human growth.
At Fort Mason Center Chapel, Sat., June 4, 2016 at 4 p.m., Sun, June 5, 2016 at 6 p.m. At 1100 Bay Street, San Francisco. Doors open at 5:45 p.m., starts at 6 p.m. Duration: 70 minutes, no intermission.

Five and Five: the works of 10 contemporary artists from the U.S., Mexico, and Latin America
SAN FRANCISCO, CA — May 12, 2016 — The Mexican Museum, the premier West Coast museum of Mexican, Mexican-American, Chicano, Latin American, and Latino art, culture and heritage, presents Cinco y Cinco/Five and Five, an exhibition of works by 10 contemporary artists from the U.S., Mexico, and Latin America. The exhibition, which is free and open to the public, will be showcased at The Mexican Museum's current facility at Fort Mason Center, Building D, Marina Boulevard and Buchanan Street, in San Francisco.
Cinco y Cinco/Five and Five is presented by guest curator Anthony Torres and will include works by the following artists: Victor Cartagena, Rolando Castellon, Adriana Castro, Ana de la Cueva, Lewis deSoto, Juan Jota Leaños, Gera Lozano, Geri Montano, Bernardo Roman Palau, and Gustavo Ramos Rivera.
Unique to most exhibitions, five of these artists were initially invited, each of whom has garnered regional, national, and international acclaim. The five invited artists were then asked to nominate another artist to participate as a means of extending opportunities to artists they deem worthy of greater public recognition. Works will be displayed in a variety of media, including photography, painting, video, and installations.
Exploring connections, commonalities, and differences in the 10 artists' values, practices, and visual sensibilities, Cinco y Cinco/Five and Five will spotlight contemporary "Latino Art" as a rich, ambiguous area of inquiry that moves beyond geography or ethnicity.
Special exhibition opens June 23 – Nov. 6, 2016 at Fort Mason Center in San Francisco.