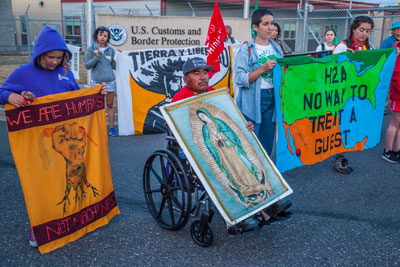 Exhibit opens for in-person and online viewing at Stanford Libraries
by the El Reportero's news services
Acquired by Stanford Libraries' in late 2019, the David Bacon Archive is now one of the largest collections of documentary photography at the Libraries, offering scholars and students stunning perspectives of labor and social justice movements as well as societal impacts of globalization and war.
Stanford, CA—From the streets of Oakland and Los Angeles to farmlands and factories across the United States, Mexico, the Philippines and Iraq, the images of photojournalist David Bacon reveal powerful, and often personal, portraits of resilience and courage from communities habitually overlooked or pushed to the margins of society.
These stories are now featured in a new exhibition, Work & Social Justice: The David Bacon Archive at Stanford, on display through May 9, 2021 in the Cecil H. Green Library at Stanford. Access to campus libraries is currently limited to Stanford ID cardholders due to COVID-19; however, the online exhibition, which includes additional content not included in the physical show, is accessible to everyone, and is part of an accessible digital spotlight collection that includes significant images from his body of work.
Palo Alto's Magical Bridge Playground to Re-Open on November 17
Learn more about the reopening including new safety requirements to be aware of before you visit and ways to volunteer
The City of Palo Alto and the Magical Bridge Foundation are partnering together to reopen the Magical Bridge Playground at Mitchell Park and creating a safe and welcoming place for the community to enjoy. This blog provides details about the reopening as the City and Magical Bridge Foundation welcomes the community back on November 17. Play safely and spread kindness in this magical all-inclusive playground.
Ways to Support Our Veterans This Veterans Day
Wednesday is Veterans Day and there are many ways to celebrate and honor our veterans even during the pandemic. We've gathered these resources to help you pay tribute, including attending virtual events, volunteering opportunities, and ways to donate to organizations helping our veterans. In addition to the resources we're sharing, the U.S Department of Veteran's Affairs has this listing of virtual events scheduled for the holiday. Also, see our Family Resources section below for more events.
San Francisco Symphony announces cancellation of all previously planned live concerts through June 30, 2021
SAN FRANCISCO, CA—The San Francisco Symphony today announces the cancellation of all concerts through June 30, 2021 due to COVID-19. "While it is deeply disappointing to have to cancel the remainder of the planned concerts in our 2020-21 Season, the ongoing impacts of COVID-19 make it clear that this is the best course of action for the Symphony at this time," says San Francisco Symphony CEO Mark C. Hanson.
"By canceling these performances, we are able to turn our full attention to investing in the creation of compelling and timely digital content and experiences that both fit within required safety guidelines and take advantage of them as a catalyst for innovation.
As we look ahead to 2021, we will continue to take a flexible, collaborative approach to identifying areas of opportunity, and planning meaningful projects that serve our community and excite our audiences." New digital programming for January–June 2021 will be announced at a later date. Should live concerts in Davies Symphony Hall become possible, the San Francisco Symphony will announce new performances accordingly.