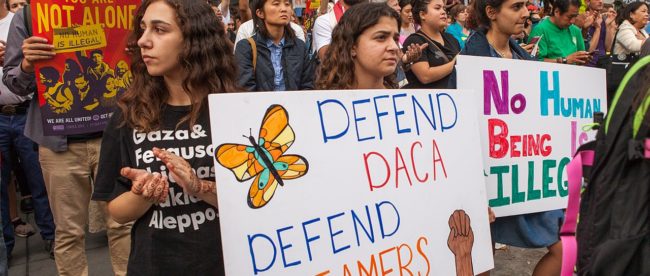 Immigration is not a political problem, it is a human problem
by Fernando A. Torres
While the Senate rejected four immigration proposals last Thursday, a group of experts discussed in a national conference the effects that the issue and the actions are having on the diverse communities of the country. The panelists agreed that the problem of immigration is a problem of flesh and blood that is being used to satisfy political ambitions and an agenda of nationalist targets.
Angelica Salas said that the administration's attacks against immigrants and refugees are part of the objectives with which Trump came to power: "the strictest vigilance against undocumented communities in collaboration with local police."
Salas, Executive Director of the Coalition for Human Rights of Immigrants (CHIRLA) in Los Angeles, added that "the most important thing is to understand" that with each attack on different programs, "life itself is attacked; to individuals that we see every day. They fear their future, for the protection of their families, the lack of work and the uncertainty of their status, "he said.
Among the proposals that were not approved by the Senate were the end of the lottery program for visas for ethnic diversity, a solution for the citizenship of Los Soñadores, the term of immigration based on family reunification and 25 billion dollars for the Trump wall.
Salas added that the programs for refugees are ending and for more than a year "we are seeing vigilance and indiscriminate attacks", the annulment of the legal process that must be followed to detain and deport a person … The dreamers are treated differently; with them a class of second category is being created, "he said.
CHIRLA has different support programs for immigrants, one of which is the California Dream Network, which has a youth presence in 33 state colleges and universities.
Salas also warned that these attacks are based on the "white nationalist" agenda that says that – based simply on the countries where they were born and their religion – "certain individuals are not qualified to enter the United States."
The speakers stressed that all immigration in general is being attacked and it is very likely that the United States will stop receiving refugees altogether. They also agreed that Trump's wall is a kind of ideological and populist flag; a "racist symbol".
Salas called the wall "Trump's ego project" because "it was something he based his entire campaign on. It became a symbol of racism that is being used against the Mexican community; of Mexicans in Mexico and the United States. " Trump's agenda "is an attack on refugees, on individuals who seek refuge by escaping violence, war and political persecution," he said.
The national conference was organized by the Ethnic Media Services, an organization that brings together media from the so-called minority groups, and moderated by its director, Sandy Close.
From Washington, DC, lawyer Sameera Hafiz said that "Trump's decision in September to cancel the DACA program" put "the lives of 800 young people in chaos and uncertainty."
But analysts also agreed to analyze immigration not as a police issue but as a social issue that has to do with racism and classism; how we relate to communities of other colors, that look different, with different religions and that come from poor countries.
Zahra Billoo said that Trump's attack on the Muslim community has been constant and does not seem to subside soon. Apart from physical attacks and the constant denigration they are suffering, there have been three specific entry bans against Muslims and another against refugees from poor countries. "In total there have been 4 bans on this administration to try to keep the Muslim community and other immigrants out of this country," said Billo, who is the Executive Director of the Council of American Islamic Relations.
"Trump has taken a very tough position … eliminating diversity in visa programs
severely cutting the visa program for families and increasing surveillance on the border … Today it is more important than ever to have plans that protect our loved ones and continue to resist this agenda that is attacking all the people we defend. " said Hafiz, who is a lawyer with the Legal Resources Center for Immigrants in the capital.
Adoubou Traore, is the executive director of the African Defense Network in San Francisco. Traore said it was essential to look at this problem from "the perspective of black immigrants. What does it mean when we can not request?
Adoubou Traore, is the executive director of the African Defense Network in San Francisco. Traore said it was essential to look at this problem from "the perspective of black immigrants. What does it mean when we can not petition for our families? What is the experience of black immigrants in America? How much do we know what it means to be black in America?
"What does it mean when you escape persecution, violence, discrimination and come here to America looking for a safe haven to face the greatest fears? Traore, who is originally from the Ivory Coast, concluded: "this has nothing to do with immigration, it has to do with being black in America."