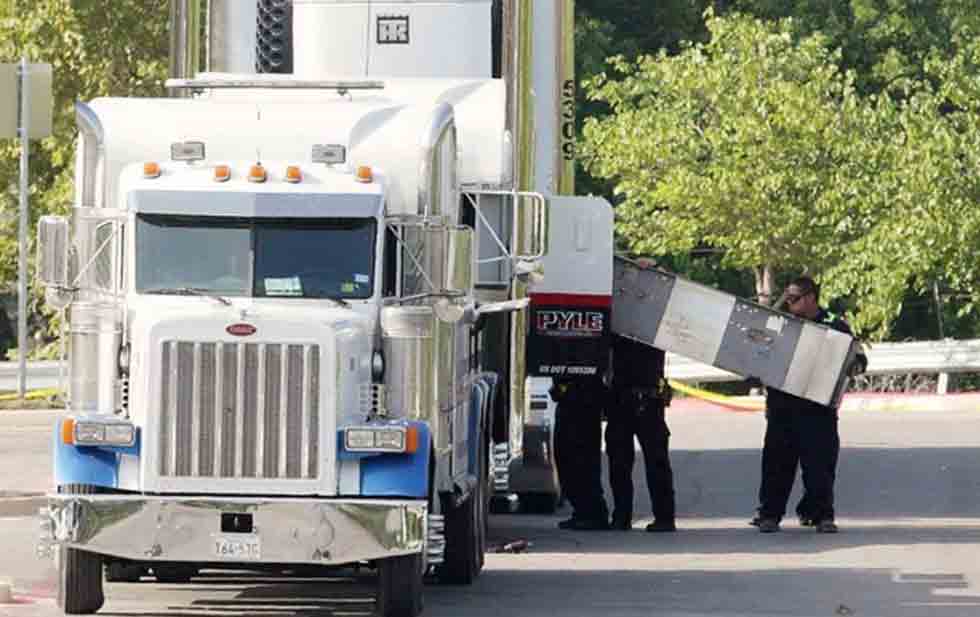 Their deaths, after being crammed into an uncooled trailer amid scorching summer heat, expose the callousness of smuggling along the US-Mexico border
by David Agren in Calvillo, Tom Dart in San Antonio and Nina Lakhani
One day earlier this month, Johny Serna was brought by his mother to pray the rosary at a parish shrine to Santo Toribio Romo, the patron saint of migrants, with his uncle and his best friend. They had a long journey ahead.
The next morning, the trio departed for the US-Mexico border, where they crossed the Rio Grande, finally climbing into a crowded 18-wheeler that would take them part of the way to their ultimate destination, Chicago.
The truck turned out to be a death trap.
Serna, 18, survived the scorching heat and asphyxiating conditions – as did his uncle. But 10 others died in a tragedy that exposed the perils of crossing the frontier illegally – and the callous indifference of the criminals who transport migrants.
About 30 more victims were hospitalized in San Antonio, where the truck and its grim cargo were discovered in a Walmart parking lot after a supermarket employee became suspicious and called police when one of the passengers asked him for water. As many as a hundred people from Mexico and Central America had been crammed inside.
At least 11 hailed from the small Mexican state of Aguascalientes, where young men head north to make enough money to better their lot in life back home. It's a long established rite of passage for successive generations tired of scratching meager livings from this region of dry highlands dotted with corn fields, guava groves and prickly pear cacti.
Unlike the migrants fleeing for their lives from Central America and violent corners of Mexico, those leaving Aguascalientes are drawn by the economic opportunities offered by the US.
Serna hated factory work and instead labored in construction and picked guavas. He had a single goal: buying a house. "He wanted to earn more and live a little better," said his cousin, Omar Romo Serna, a pudgy 18-year-old with a thin beard.
Aguascalientes, in the geographic heart of Mexico, is considered one of the country's more prosperous states, but even here the lure of the US is irresistible to many.
Gabriel Hernández, the city manager in Palo Alto – an hour east of Calvillo and home to seven of the trailer victims – cites pay at home as the problem. He says migrants work long and hard hours in the US but don't feel "exploited" like they do in Mexico, where shifts in factories are long and pay might amount to $85 (£65) a week.
Many migrants simply dream of buying their own homes. Walking the dusty but tidy streets of the town, Hernández –who spent nearly two decades in the US – points out the larger homes with brick facades mean "American money". Shabby concrete structures with corrugated metal roofs suggest no access to US funds.
Even Donald Trump's migration crackdown and the rise of anti-migrant attitudes in the US is not enough to dissuade the town's men from seeking better fortunes north of the border, said Patricia Briones, whose husband, José Rodríguez, perished in the truck. "He didn't want to go to the United States," she said. "But the economic situation is so dire here."
The Zetas are responsible for some of Mexico's most notorious migrant atrocities, including two massacres in 2010 and 2011 in which at least 265 migrants were kidnapped from buses, killed and buried in mass graves in the northern state of Tamaulipas.
However, the Zetas have never been directly involved in people smuggling, according to professor Rodolfo Casillas, an expert in migrant routes and criminal networks at the Latin American Social Science Institute (Flacso).
"Smuggling migrants is a specialist service, the Zetas don't have the knowledge, experience or prestige in this business. That doesn't mean the migrants didn't have to pay them for security at some point," he said.
"Criminal gangs don't start and stop at borders – they operate through networks of accomplices which include transport companies and drivers," said Erubiel Tirado, a security analyst. But he also said that it is not uncommon for other criminal groups to use the Zetas' name to generate terror or to detract attention from themselves and confuse the authorities.
Once in Texas, the migrants walked for hours and were picked up the next morning and taken to the trailer, where they assembled with others, all waiting to depart in the evening.
At about 9 p.m., a man appeared and handed pieces of colored tape to the groups to distinguish them for the smugglers who would be collecting them later. Don't worry, the man said: the truck has refrigeration, the trip will be fine.
But the cooling system was broken, and the container became an oven in the summer heat. The outdoor temperature reached a high of 38C (100F) and a low of 24C (75F) in San Antonio on 22 July, and the city is a two-and-a-half hour drive from Laredo.
Panic set in quickly, said Jonathan Ryan, executive director of Raíces, a San Antonio-based immigrant legal aid organization that is helping represent some of the survivors. Some cried, screamed and hammered on the walls. Others lost consciousness and hallucinated when they came round, believing they were dead.
It is one of the deadliest migrant-smuggling incidents in the US since May 2003, when 19 bodies were found in a milk truck abandoned at a truck stop in the Texas city of Victoria, 120 miles south-east of San Antonio. The first to die was a five-year-old boy who died in his father's arms. The refrigeration system had been turned off.
Yet the dangers are not enough to end the flow of migrants, who continue to put their money and their lives in the hands of smuggling networks engaged in a form of hide-and-seek with federal officers along an increasingly militarized border.
(This article has been cut to fit space).