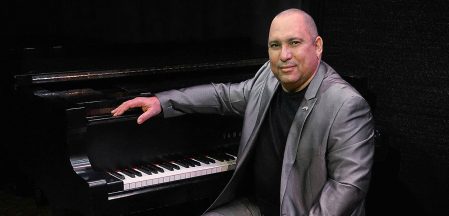 Compiled by the El Reportero's staff
Duende Del Sur is a Latin music group inspired by rumba flamenca, boleros and jazz. Damián Nuñez on piano & vocals, Garsha Shavankhani on cajon, Jose Vergelin on percussion, Francisco Ferrer on guitar, Chris Mayorga on bass, Matt Kelly on trumpet & Rasul Grayson on saxophone. Tuesday, Aug. 7, at 8 p.m. to 10 p.m.
Also at Cha Cha Cha:
Key Elements is a Latin/Brazilian Jazz ensemble and features Patricia Thumas on piano, Robin Nzingah Smith on sax, Sue "Suki" Kaye on percussion, Colin O'Leary on bass. Enjoy their vibrant and infectious rhythms for listening and dancing. Tuesday, Aug. 14, 8 p.m. to 10 p.m.
29th Annual San Jose Jazz Summer Fest
San Jose Jazz Summer Fest returns for its 29th festival season from Friday, Aug. 10 – Sunday, August 12 in and around Plaza de César Chávez Park in downtown San Jose.
A showcase for jazz, blues, funk, R&B, salsa, world and related genres, SJZ Summer Fest is nationally recognized as one of the biggest Latin festivals in the country and a magnet for international artists, who have marquee performance opportunities in Northern California. Above and beyond any other year, SJZ Summer Fest 2018 illuminates the depths of electrifying global jazz happening around the world by supporting new Summer Fest artists hailing from Cuba, Australia, Switzerland, Argentina, Spain, Ghana, Japan and Luxembourg.
A standout summer destination for music lovers and families alike, the three-day event includes 120+ performances on 12 stages, attracting tens of thousands of visitors to downtown throughout the weekend.
The 29th Annual San Jose Jazz Summer Fest 2018 features an acclaimed lineup, and today San Jose Jazz announces its initial round of confirmed artists including Sobrato Organization Main Stage headliners: Kool & the Gang; Herb Alpert and Lani Hall; Lalah Hathaway; Booker T.'s Stax Revue: A Journey Through Soul, Blues and R&B; Goapele; Yissy & Bandancha; Nachito Herrera Trio; and Vincent Herring's Story of Jazz: 100 Years.
Friday, Aug. 10 – Sunday, Aug. 12, 2018, Plaza de César Chavez Park, Downtown San Jose. Event Info: summerfest.sanjosejazz.org.

Celebrating Colombian filmmakers creativity
PANORAMA COLOMBIA showcases Aug. 17-19, 2018 some of the most stimulating works made by a new generation filmmakers in Colombia.
Four feature films and a program of shorts make up a series that celebrates not only the talent and the creativity of the Colombian directors, but also a cultural expression through its cinematography and story-telling. Images, screening links and interviews with select directors available upon request.
Among the films is Amazona – In this skillfully constructed personal film, director Clare Weiskopf explores motherhood and its lace of the spectrum between persona freedom and parental responsibility.
While expecting her own first child, Clare visits her mother Val in the Amazon region of Colombia in order to heal the wounds of the past and make sense of the elder woman's decision to leave her children behind to live in the jungle after a family tragedy. In the process, she opens a fascinating dialogue about sacrifice, guilt and self-determination.
A Q&A via Skype with director Clare Weskopf will follow the screening! Sunday, Aug. 19, 3:30 p.m., at Roxie Theater, 3117 16th Street, San Francisco.