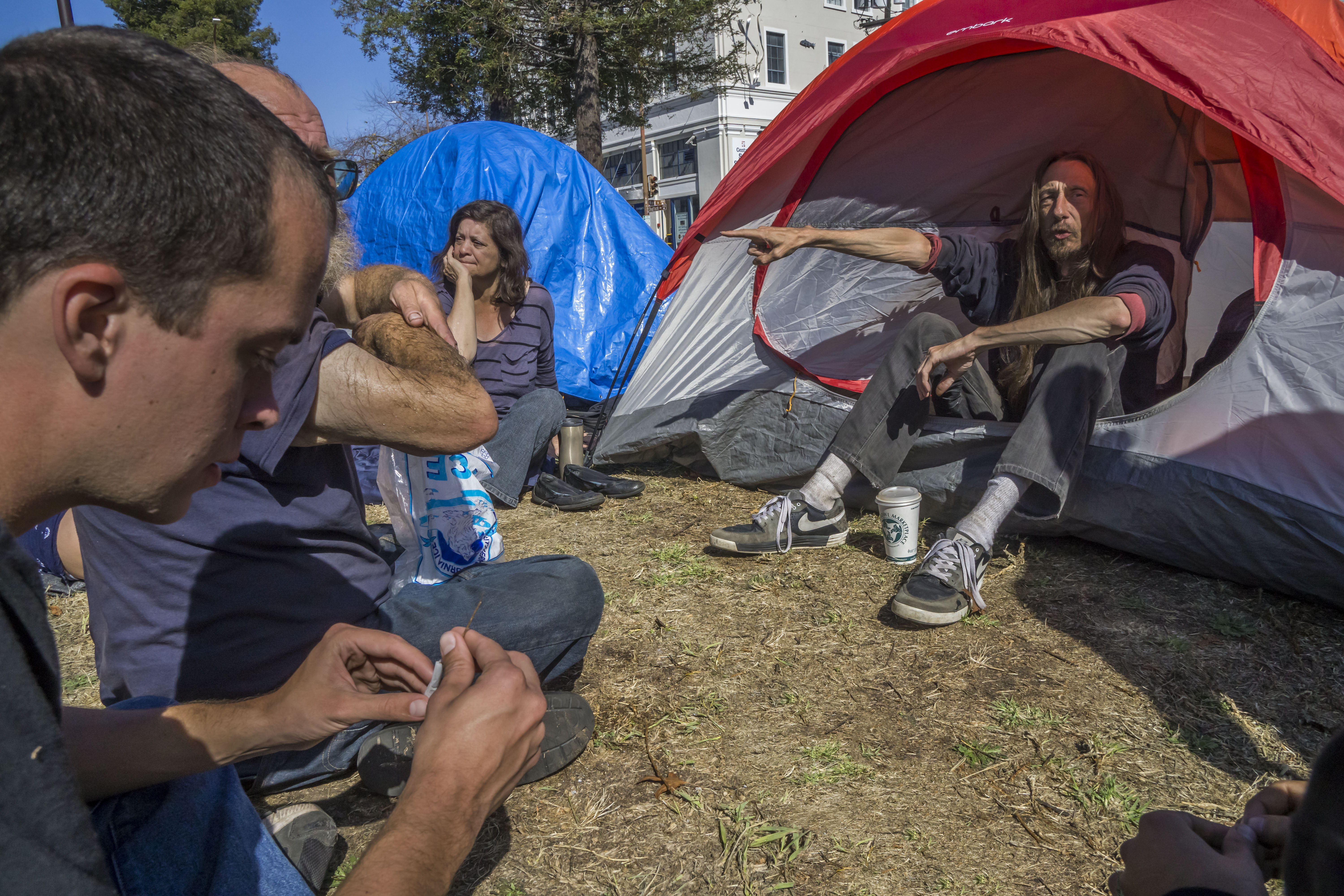 Homeless people want a voice in this election
by David Bacon
Berkeley, California — By the time you read this, Berkeley's intentional mobile homeless community will probably have been forced to migrate again, in yet one more forcible relocation.
A week ago, at 5 a.m., six city trucks and a U-Haul van pulled up at the tent encampment on a peaceful, leaf-covered median in the middle of south Berkeley's Adeline Street. Each truck had two municipal workers on board. Half a dozen police patrol cars accompanied them, red and blue lights flashing in the dark.
Brad, one of the camp residents, sounded the warning. Sleepy tent dwellers quickly began to text supporters, warning that the city was threatening once again to throw tents and belongings into trucks and force people to leave.
"We went into delaying tactics while we got community support mobilized," recalls Mike Zint, one of the leaders of this homeless community. "That doesn't stop them, but every time this happens we get more support. So they sat there in their trucks for the next six hours — a dozen city workers and a code compliance officer, all on overtime. They took seven cops off patrol. And in the end, after all the arguments, we only moved about 200 feet, across the street. And how much did that cost?"
This homeless community is not just a group of people trying to find a place to live. They call themselves an "intentional community" with a political purpose – forcing homelessness into public debate and defending the rights of homeless people. Homeless activists are fighting for the same things in many cities. Together, they are beginning to have an impact on local policies toward unhoused people [people who have no formal housing]. Political participation by homeless communities is giving them a voice in the national debate over homelessness as well.
Several weeks ago the group of people in this community "popped tents" as they say, in front of the Impact HUB, an office where the city has decided to centralize most services for homeless people. They protested an intake process they say screens out applicants for housing. Writing in the local Street Spirit newspaper, Dan McMullan, who runs the Disabled People Outside Project, recalls, "I spent a week trying to get help for a disabled woman in a wheelchair and had to watch as she slept in front of the women's shelter one night, and the Harrison House the next. But she could not get in. I couldn't believe it." He goes on to say that a HUB employee said the woman didn't fit the intake criteria, and that she was denied reconsideration of her case.
But the community's objections go beyond the immediate denial of services. They condemn the way the city treats homeless people as victims — as passive recipients of services — rather than people capable of governing themselves.
For weeks their camp has moved from place to place, in a peregrination Zint calls the Poor Tour. "It's a mobile occupation that can pop up anywhere," he explains. "We're exposing the fact that there is no solution — nothing but exposure for the homeless. And exposure [the physical cost of sleeping outside] is killing a lot of people."
A recent death was one of the reasons for launching the Poor Tour. On September 19, Roberto Benitas, a day laborer, died sleeping in a doorway. Benitas worked minimum wage jobs, standing in the bitter cold each morning in front of nearby lumberyards, trying to flag down contractors in their pickup trucks. Getting an occasional day's work was never enough to pay Berkeley's skyrocketing rents.
McMullan angrily charged, "Not a cent went into Social Security for the aging worker. When he died in a doorway of the defunct U-Haul rental shop at Allston Way and San Pablo Avenue, it took a day or so for anyone to even notice." McMullen and a progressive city council candidate organized a memorial for Benitas, and the Poor Tour started days later.
Another reason for the tour is the November election, and an effort by this group of activists to use it to assert themselves politically. For over two years, homeless activists have been increasingly involved in Berkeley city politics.
The roots of this mobile occupation actually go back to Occupy San Francisco, and the decision by some of its residents to cross San Francisco Bay to Berkeley in the wake of Occupy's dispersal. At first they lived for months in tents in front of a local Staples store. Then, two years ago, Zint and others set up an encampment in front of Berkeley's main post office.
The Post Office occupation became a political weapon, the most visible part of a broader coalition that successfully fought the sale of the New Deal-era building to private developers. That coalition eventually included even the mayor and the city administration, which filed suit to block the sell-off.
The community of tents, tarps and literature tables on the steps lasted for over a year and a half, before the Post Office Police finally drove the tent dwellers away. Postal authorities then built an imposing fence of iron bars around the empty space where the tents had been, to keep anyone from ever setting foot again on that section of sidewalk.