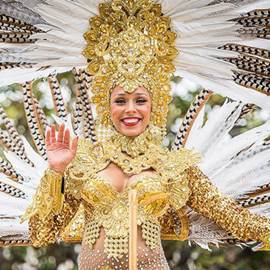 Compiled by the El Reportero's staff
Experience the largest Latino NYE in Bay Area at the 4,000-person capacity newly renovated historical structure.
Bring your dancing shoes, masks, costumes, cameras and celebrate this once-in-a-lifetime New Year's Eve party with Carnaval San Francisco!
The event will feature live performances by DJ Fama from Panama, DJ Bobby A, Hip Spanic AllStars, Salsa AllStars, La Gente, SF, Samba Sensation, Foga Na Roupa and Latin Dance Grooves, as well as Latin and Caribbean cuisine, exotic cocktails, dance performances and more.
Monday, Dec. 31, 2018, 7 p.m. – 2 a.m. At the historical Mission Armory, 1800 Mission Street (14th & Mission), San Francisco.
Ray Cepeda and José "Chepito" Aréas group
Everybody has been asking about the new Ray Cepeda and Jose "Chepito" Areas single. "Mi Gloria" is a Latin Rock ballad that features Rock and Roll Hall of Fame inductee, Jose "Chepito" Areas from the original Santana Band. Solid Latin Rock at its best. Great vocals and dual guitar leads. It's available exclusively at cdbaby.
Saturday, Dec. 29, 2018 at 7 – 10 p.m. Hosted by Ray Cepeda/Musical Artist and Art House Gallery & Cultural Center, Art House Gallery & Cultural Center 2905 Shattuck Ave, Berkeley.
ANNOUNCEMENT – Recruiting Bay Area High School Students: Apply Now for Paid MTC Summer Internship
Do the teens in your life have some extra time over the winter holidays to think about summer internships? If so, let them know that the Metropolitan Transportation Commission (MTC) is offering high school students around the Bay Area the opportunity to gain professional experience in transportation planning, engineering and related fields through its 2019 High School Internship Program. The internship program, now celebrating its 19th year, is now accepting applications for paid summer jobs with a variety of public transit agencies, city planning departments and public works agencies throughout the region. Internships are available in Alameda, Contra Costa, Marin, Napa, San Francisco, San Mateo, Santa Clara, Solano and Sonoma counties. A list of internship opportunities and the online application instructions are available at: https://jobs.mtc.ca.gov/internships.
Eligible students will be at least 16 years old and completing the 10th, 11th, or 12th grade by summer 2019. They will earn $15 per hour, with their wages paid by MTC, and can choose to work either full- or part-time, up to 250 hours. Students hired through the program are expected to attend an orientation session on June 18, 2019, as well as a closing forum in August, where they will present highlights of their work over the summer. Both events will take place at MTC's offices at 375 Beale Street in San Francisco.
Students will work closely with mentors at host agencies to create rich summer experiences that foster connections for college recommendation letters and future job opportunities.