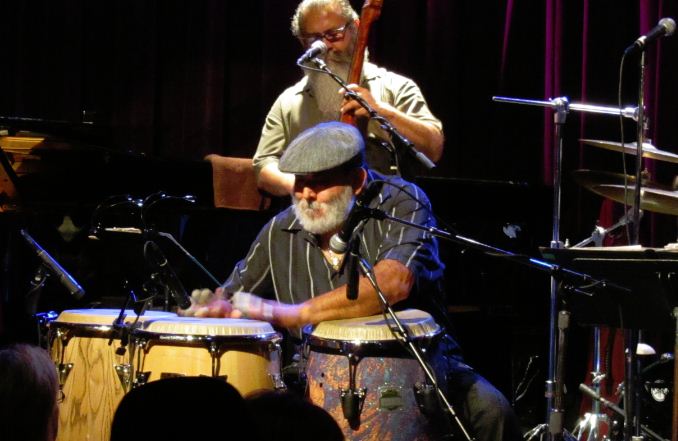 Compiled by the El Reportero's staff
Make new friends and make long-lasting relationships while learning the hottest dance around!
If you are hot for dancing for a night to have fun, come and join us every Wednesday night at Shboom Nightclub to dance salsa with Beto and Noelani. Delicious dinner buffet. 7:30 p.m. Beginner Friendly Salsa Class 8:15 p.m. Intermediate Salsa at 6-8 p.m. Class 9 p.m. open dancing with DJ Super Chino. Only $10.
Every Wednesday, Jan 16 – Jan 30. Shboom Nightclub 2410 San Ramon Valley Blvd, San Ramon.
https://www.facebook.com/events/393198637918865/
An icon of Latin percussion Poncho Sanchez in SF
Legendary percussionist Poncho Sánchez will bring his Latin-Jazz conga beat to the Bay Area in a few days. He will bring the musical power muscle that he got back when he performed with some of the best, such as Cal Tjader, Mongo Santamaría, Hugh Masekela, Clare Fischer, and Tower of Power and more.
At Yoshi's, 510 Embarcadero West, Oakland, CA 94607 510-238-9200. On Friday Jan. 25. Doors open at 7:30 p.m. Show starts at 8:00 p.m.
Live Latin Jazz @ Bird and Beckett
Hosted by Adrian Areas Latin Jazz Ensemble
Latin jazz and original compositions for your dancing and intellectual stimulation. New Music, new Energy, the new generation of Latin Jazz!!
The Adrian Areas Latin Jazz Ensemble will Be Performing Live. Cover Charge $5 Donation for Students/Musicians:$10-20 Donation for the Artists/Musicians.
Musicians Line up: Adrián Aréas on the Moperc Tumbadoras, Dan Neville On Vibes, Jordan Brysk On Baby Bass, Brian Andres On Drums.
Sunday February 3rd 2019, Show Time 4:30 p.m. -6:30 p.m., at Bird and Beckett Books in San Francisco.
The Inaugural COVEN Film Festival brings world-class short films made by women to San Francisco
Announcing the first-ever COVEN Film Festival, San Francisco's new world-class short film festival featuring films made by women, for everyone. A full day of curated short film screenings, complete with filmmaker Q&A's will take place Saturday, Feb. 9th, 2019 at the New People Cinema in San Francisco's historic Japantown neighborhood. A private networking event will take place the evening before on Friday, Feb. 8 for filmmakers and sponsors.
More than 200 films were submitted from 19 countries. COVEN is dedicated to showcasing short films by underrepresented emerging women filmmakers with a lineup that includes work from creators of all ages and genres while spotlighting Bay Area artists.
On Feb. 9, at New People Cinema in San Francisco's historic Japantown neighborhood, 1746 Post St, San Francisco. Tickets are limited and on sale now at covenfilmfest.com.
Dying in Vein, the Opiate Generation
Dying in Vein is an intimate and deeply personal exploration of opiate and heroin addiction. The film follows two young women trying to get clean, a 22-year-old in recovery, a family grieving the loss of their son, and a team of ER doctors trying to save their patients. Through these four stories, the film explores the pill to heroin pipeline and the shame and blame that surrounds the disease of addiction.
The film looks at the aftermath of death on loved ones, the daily commitment of sobriety, the reality of considering treatment after multiple relapses, and the culpability of our medical communities in the opiate crisis.
At the Tiburon Library located at 1501 Tiburon Boulevard in Tiburon, on Thursday, Feb. 14, 2019 at 6:30 p.m.