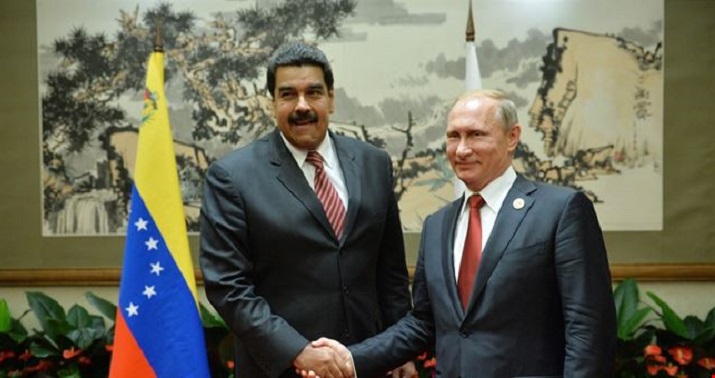 Maduro in Russia for the Moscow International Energy Forum
by the El Reportero's wire services
The President of Venezuela Nicolas Maduro has proposed oil producing countries should discuss creating a currency basket for trading crude and refined products.
"Developing a new mechanism of controlling the oil market is necessary," he said on Wednesday at the Russian Energy Forum, being held in Moscow this week.
According to Maduro, trading paper futures has an adverse impact on the oil market, undermining attempts by the Organization of the Petroleum Exporting Countries (OPEC) to stabilize prices.
Introducing alternative currency baskets, including the yuan, ruble, and other currencies will eliminate the impact of futures trading, according to the Venezuelan president.
Maduro insisted Venezuela is dealing with its debt to Russia, and that Rosneft's deal with Venezuelan state oil producer PDVSA is "subject to negotiation."
"We fulfill all the obligations to Russia. If we get more favorable terms for restructuring the debt, this will be the result of a deal between the two governments," said Maduro.
Maduro pointed out that US sanctions make it difficult to negotiate the debt issue with American debt holders.
Caracas is framing a plan to deliver its crude to alternative markets should the White House impose sanctions on trading the country's oil, Maduro said in response to a question on the possibility of PDVSA's default.
"Venezuela has plans A, B, C, and others. There are other international companies interested in buying oil and refined products. We will create the best terms for them," he said. Source: RT

Some 1,500 companies still not operating after earthquake in Mexico
Some 1,500 companies are still not operating after huge damage caused by the September 19 earthquake, Alejandro Salcedo said, president of the Latin American Association of Small and Medium Enterprises (ALAMPYME).
The business director said that the organization made a visit to the most affected areas of Mexico City, Oaxaca, Morelos and Puebla.
'The huge damage and disasters are higher than those reported by state, municipal and federal governments,' he said.
He affirmed that the economic supports offered by federal and local authorities are insufficient, so ALAMPYME 'requests instead of credits to grant resources from government programs.'
He recalled that the data updating made by the National Institute of Statistics and Geography (INEGI) reported that about two million companies and businesses suffered economic damages, accounting for over 40 percent of the country's economic activity.
Rescue operations after building collapse in Mexico conclude
Rescue team members found today the body of the last person reported as missing, due to the collapse of the building on Alvaro Obregon Avenue at 286, in this capital, giving way to the stage of rubble removal.
After 15 days of rescue operations, after the earthquake on September 19, at the ruins of an office building, the were a total of 28 people rescued alive and 49 dead bodies.
With the rescue of the last body, the total number of fatal victims due to the earthquake in Mexico City and other states in the country should increase to 367.