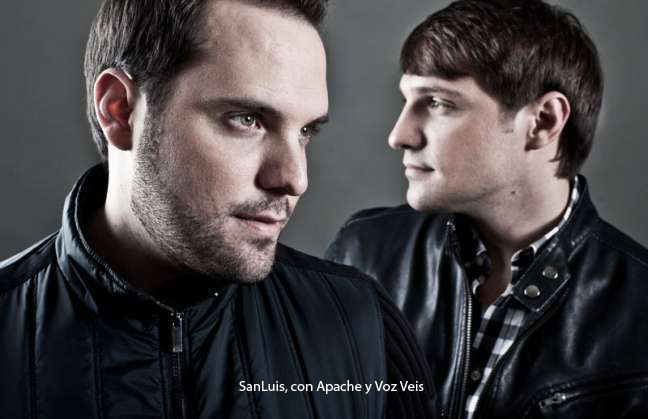 by the El Reportero's news services
Venezuela's political crisis has caused indignation among many, but during times of turmoil, Venezuelan artists — including actors, musicians and athletes — united in a powerful music video to send a message of hope and unity.
Titled Mis Ilusiones, the uplifting video by duo San Luis, featuring Apache and Voz Veis, includes the participation of Edgar Ramírez, who recently starred in Residente's Desencuentro music video, and television personalities Maite Delgado and Gaby Espino. 
La Oreja de Van Gogh announces extensive tour
Spanish pop group La Oreja de Van Gogh are set to play over a dozen cities in U.S. and Puerto Rico before hitting Mexico and South America.
The band's extensive Americas trek kicks off on May 3rd at the Energy Arena in Laredo, Texas, and includes stops at D.C.'s Howard Theatre, B.B. King's in New York, Royce Hall in Los Angeles and the House of Blues in Orlando, Houston and Dallas.
Premiere date for Juanes'special 'The Juanes Effect'
Following the release of Juanes' visual album Mis Planes Son Amarte on May 12, HBO Latino will air a special feature with the Colombian singer/songwriter titled The Juanes Effect: De Canciones Y Transformaciones on May 19. 
The episode will include interviews with other artists and producers to "explore the meaning of the Juanes effect, and how his passion for music touches everyone around him."
The Juanes Effect will be followed by an in-studio concert where the Grammy and Latin Grammy-winning artist will perform new tracks from the album. 
Cuban Film Esteban to make East coast premiere at Havana Film Festival New York
Esteban is a movie with a soundtrack by Cuban piano godfather Chucho Valdés and a heart-melting nine-year-old protagonist. The story of a little boy set on playing the piano against many odds, it's a Cuban Billy Elliot with a love-at-first sight star, Reynaldo Guanche.
Directed by Jonal Cosculluela and co-produced by the Cuban Institute of Music and Spain's RTV Commercial, Esteban has already won a handful of awards at festivals in Europe and Cuba. And on Thursday (March 30), the movie will have its U.S. debut as the opening film at the Havana Film Festival New York, with Cosculluela taking part in a Q&A session after the screening.
"Chucho Valdés agreed to make the original soundtrack for the film just because he believed in the project," Cosculluela said via a director's note on the film's website. He calls Esteban a story about "the determination of achieving your dreams," but also one that shows "the harsh side of the current situation in Cuba."
Several documentaries in the festival lineup delve into specific styles of Cuban music. Amparame!, directed by Patricia Ramos, covers the fertile subject of Cuban music's relationship with religion. Decir Con Feeling, directed by Rebeca Chávez, is a love letter to filin, the mid-century Havana swinging jazz ballad style.
And Valdés, along with Gonzalo Rubalcaba and Michel Camilo, anchors Pavel Giroud and JuanMa Villar Betancort's tribute to composer Ernesto Lecuona, Playing Lecuona. Ron Chapman's chronicle of contemporary Cuban music, The Forbidden Shore, will close the festival on April 7.