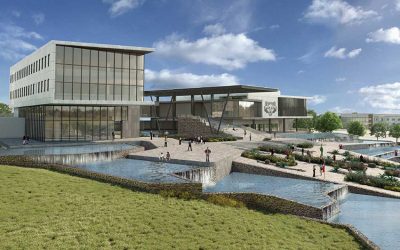 Arkansas State University offers eight degree programs in Querétaro
Compiled by Mexico News Daily
Mexican university students will soon have the opportunity to study at a United States public university without crossing the border.
Arkansas State University (ASU) will open a campus on September 4 in the municipality of Colón, Querétaro, about 60 kilometers northeast of the state capital, Santiago de Querétaro.
Apart from education, administrative and sporting facilities, the 37-hectare campus also has student residences where all students will be required to live during their first year of study.
About US$75 million has been invested in the first phase of the new school but future expansion is planned as the university has a total of 150 hectares at the site.
The campus — described as the first U.S.-style campus in Mexico — will follow a U.S. education model with all classes given in English. The initial goal is to enroll between 300 and 500 students for the first academic year, an objective not far from being reached with 250 already enrolled.
Seventeen professors will teach during the first year, including 10 from the U.S. and four from Mexico. The other three are from Nicaragua and Iran.
"All of them are experts in their teaching area," remarked rector Brad L. Rawlings.
Querétaro was chosen because of its climate, safety, economy and proximity to industries, such as automotive. The university plans to develop close links with industry and research institutions that are already established in the region.
Investors in the campus wanted to bring a U.S. standard of education to local students and found a suitable partner with the same goals in ASU, Rawlings stated.
Both Mexico's Education Secretariat (SEP) and the Higher Learning Commission —an organization that accredits tertiary education institutes in the U.S. — will oversee the degrees offered at the campus and students will graduate with a qualification recognized by both countries.
Eight degree programs will initially be on offer: electrical engineering, biological sciences, business administration, mechanical engineering, biotechnology, international business, chemistry and strategic communication.
A post-graduate engineering administration degree and an MBA are expected to begin in 2018.
New degrees will likely focus on science and technology although there will be flexibility to respond to student demand and meet the needs of both Querétaro and Mexico, the rector said.
Students will also have the opportunity to complete an exchange at the university's main campus in Jonesboro, Arkansas, although Rawlings stressed that all efforts are being made to replicate the U.S. college experience in Mexico.
"It's like being at a university in the United States, but here in Mexico, with the same experience," he said.
Tuition and fees for full-time enrollment for all degrees is 99,450 pesos (US $5,600) per semester while a room and meals cost an additional 10,990 pesos per month.
Source: Forbes México (sp)
Also about education in México:
Engineering student prolific inventor at 18
He has 171 inventions to his name, including an artificial intelligence device
Mexico has its very own budding Thomas Edison or Nikola Tesla in its midst.
Despite being just 18 years old, an engineering student at the Autonomous University of Nuevo León (UANL) already has 171 inventions to his name, including drones, pistons, combustion, electric and hybrid engines and even an artificial intelligence device.
José Armando López Martínez, currently in his fourth semester of a mechanical and electrical engineering degree at a Monterrey campus of the university, first started developing his own inventions while still a high school student.
Twenty-three of them have already made it to the latter stages of the patent application process of the Mexican Institute of Industrial Property (IMPI), meaning that they are likely to be officially registered soon.
One of his first inventions in his formative years while growing up in the Monterrey municipality of Guadalupe was a limited-slip differential that helped to cut down energy consumption.
Another was a temperature-controlled piston device that improves fuel efficiency in cars.
"Since I can remember I've always been very curious about electronic things and motors," the young inventor remarked, adding, "I remember starting by taking a Nintendo 64 controller apart, changing the buttons around and putting it back to together."
Pepe — as his friends call him — has also installed solar cells on a drone that allows it to stay airborne longer than any drones currently on the market.
However, the invention that perhaps stands out the most is an artificial intelligence device he created that goes by the name of Jarvis.
Pepe programmed the robot using the popular Python programming language, and it has the ability to respond to instructions in five different languages.
He talks to "her" frequently and goes as far as considering her a friend.
"I can strike up a conversation with her as though she were any other person. From any IP or LAN point she can be connected to the internet without needing a password. There is no need to decrypt anything," José declared.
He is now planning to build a full body robot, putting his other inventions to one side for the time being so that he can focus on improving his abilities in programming and artificial intelligence.
Eventually, José's dream is to work for Tesla, Inc., the innovative global company that is at the forefront of technological advances and manufactures electric cars in Silicon Valley.
That dream came one step closer to reality when representatives of the company visited Monterrey recently, heard about the prolific inventor and consequently granted him an interview.
"I'm in the selection phase with Tesla. They were looking for mechanical, manufacturing and automation engineers. They were surprised when I told them I had 171 patent applications," José recalled.
The future looks bright for the young innovator and opportunities beyond Mexico's borders are likely to beckon, although Guadalajara has also been developing as a technology hub over the past two decades.
Moisés Hinojosa, the former innovation head of the mechanical and electrical engineering faculty at UANL commented that José Armando's abilities "leave all of us behind" and is certain that he will have success in his future endeavors.
"If he was in Silicon Valley or Boston companies and investors would [already] be chasing after him."
Source: Milenio (sp)