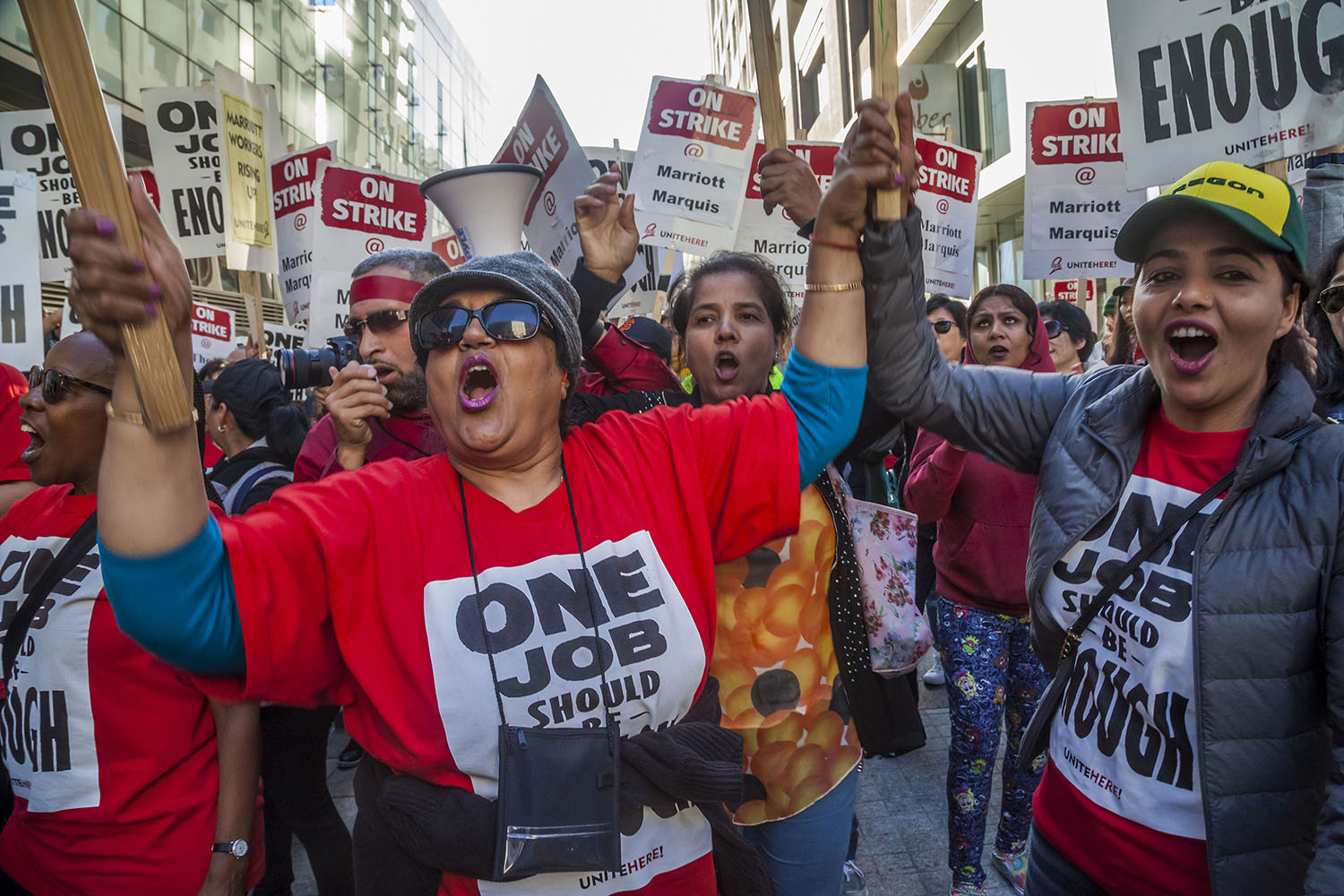 by David Bacon
When the novel coronavirus crisis hit, hotel workers everywhere were among the first to feel the massive job losses that are now worse than the Great Depression of the 1930s. In city after city, the women and men who clean rooms, make beds and cook food found themselves wondering if they and their unions would survive. In April 2020, David Bacon interviewed Anand Singh, President of UNITE HERE Local 2 in San Francisco, about that question. Singh's vision of the COVID crisis as a trial by fire, from which the labor movement can emerge stronger, is a welcome antidote to feeling powerless in the face of the virus.
An important force in San Francisco, UNITE HERE Local 2 has successfully organized almost all the city's Class A hotels, through two decades of turbulent strikes and lockouts. Its diverse membership of African American, white, Latino and Asian-American workers has made noisy drum-banging picket lines a vital part of the city's working-class culture. In 2018, UNITE HERE mounted a nationwide strike against the giant Marriott Corporation. Local 2 stayed out longest– 61 days–and achieved a contract setting a new standard for the city of San Francisco.
The strike won San Francisco hotel workers a dollar and a half wage increase each year for four years, with the employer continuing to pay for healthcare costs. Housekeepers won reductions in the number of rooms cleaned each day. The contract controls the introduction of technology in the workplace, and provides greater protection from sexual harassment and immigration-based discrimination. The strike stopped Marriott from contracting out room service and food service, and in San Francisco, laid-off workers can go into a pool for rehire at other hotels.
Striking Local 32 members, pictured here, remind us of the common struggles shared by workers, even in the time of COVID.
DB: When did the Union first realize what was going to happen with COVID-19?
We were tracking the news, seeing the events unfold in China late last year. A large portion of our membership emigrated from China, and they travel back and forth, so the virus was a topic of much discussion. It all came to a head in late January, when many of our members took their vacation and traveled back to China for the Lunar New Year celebrations.
Several members went to Wuhan. When one went back to work at the Marriott, there was an outcry -that she'd been allowed to work among everyone when she had just been there. I was poring over CDC guidelines on testing and quarantine, and Marriott ended up asking the worker to go home. The hotel paid her for 14 days, to shelter in place. I don't believe she was ever tested, and once the 14 days were up, she came back to work.
As the crisis was worsening, we started to talk with our members about CDC guidelines and testing, which wasn't available at that point.  We tried to impress early on that this is not specific to Chinese workers or Chinese people.  This is a global crisis.  Our members got it.  Many folks in San Francisco tried to get in front of that xenophobia and the backlash against the Chinese community.  I'm sure it exists here in the Bay Area, but we have experience talking about it here, and that made a difference.
Between reopening and our contract expiration in 2022, it's going to be a period of protracted struggle. We're going to have to fight day in and day out on the shop floor to get back what we had in years past. Workers everywhere will have to fight to get back what we're losing. It can be a great opportunity if we come together.
Working people will be spoiling for the chance to fight back. The pandemic profiteers will overreach as they always do. That's a moment for us. The power of working people in this country could grow in a way we haven't seen in decades, if we seize it and organize and come together.