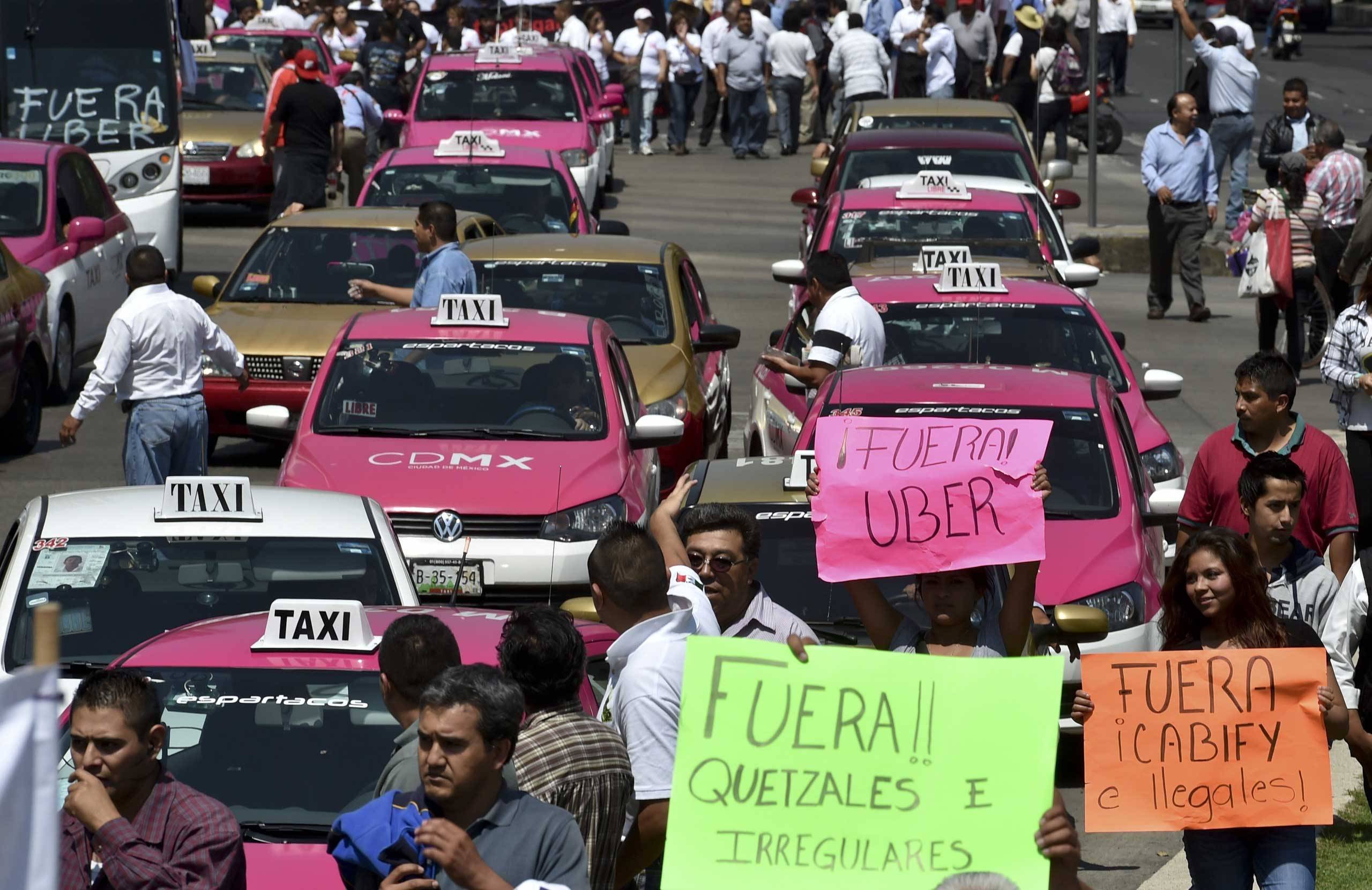 Uber's arrival in the city has not been welcomed by taxi drivers
Compiled by Mexico News Daily
Tempers flared in Mazatlán, Sinaloa, this week where there were at least three confrontations between drivers of the Uber car hire service and taxi operators.
On Wednesday, the two came to blows at various locations outside hotels in the Zona Dorada area of the city where the rivals are vying for the tourist trade. Authorities seized six taxis and eight Uber cars in an effort to quell the violence.
Uber began operating in Mazatlán, Los Mochis and Culiacán last October but taxi drivers, as elsewhere in Mexico, were not happy.
According to the state's deputy director of traffic and transportation, Jorge Castro Zamudio, Uber cannot legally provide its services in Sinaloa because the only two authorized and licensed organizations to do so are the Mexican Workers' Confederation (CTM) and the National Confederation of Popular Organizations (CNOP).
He said fines have been levied against Uber drivers as a result: from 1,500 pesos for first-time offenders to 35,000 pesos for repeat offenders.
Cab drivers are dissatisfied, Castro explained, because they are at a disadvantage: "They have to pay for a special license, license plates, an identification card that certifies their training and insurance. Uber drivers only have to pay their affiliation fees."
Mazatlán, a city of over 500,000 people, has 1,490 licensed taxis, including 500 pulmonías, small, open vehicles.
The resort city also has 11,900 hotel rooms, so hoteliers figure there is enough clientele for both transportation systems.
But there won't be any tourists if violence between the two continues, warned a member of the Mazatlán Hotel and Tourist Services Association.
"Effects on transportation . . . in which tourists have been inadvertently involved, have to cease," said José Gámez Valle.
Sinaloa Interior Secretary Gonzalo Gómez Flores said the state is open to modernization in transportation, but cautioned that the rights of taxi licensees must be protected in accordance with applicable laws.
Traffic and Transportation Secretary Guillermo Damián Haro Millán concurred with Gómez, saying that current regulations must be analyzed and studied to allow Uber to operate in the state.
But he also warned that any new violence will be met by a firm hand against all offenders.
An opposition Deputy claims that Uber is operating within the law in Sinaloa, and that the state's 30-year-old transportation legislation is obsolete and requires reform.
National Action Party legislator Roberto Cruz Castro said Uber generates about 12,000 jobs in the state and offers benefits to users that include better service, more comfort and reduced fares. He charged that Sinaloa is the only state in Mexico that has not reformed its transportation legislation.
Uber has a presence in 20 of the 32 states of Mexico, but only in five has its service been regulated and legislated: Mexico City, State of México, Puebla, San Luis Potosí and Jalisco.
This lack of regulation has sparked violent conflicts between Uber and established taxi services in at least 11 states, and at least two Uber partners have been murdered.
Uber halted its entry into Gómez Palacio, Durango, after being threatened by  taxi organizations and municipal authorities alike. In Yucatán, authorities have seized some 550 Uber-affiliated vehicles, which state law considers pirate cabs.
Source: El Universal, Línea Directa (sp)
In other news in México:
Another land dispute turns ugly in Oaxaca
Ambush kills five in region where communities engaged in 40-year conflict
There has been bloodshed in another decades-long territorial conflict between Oaxaca communities, a situation worsened by the alleged intrusion of drug trafficking organizations.
Five people were killed and eight wounded when they were ambushed last week by a gang of 40 heavily armed individuals, allegedly from Santiago Lachivía, who fired on longtime enemies from San Pedro Mártir Quiechapa.
The two communities, located in the state's southern sierra, have been embroiled in a dispute over some 2,700 hectares of wooded lands for over 40 years.
Last Saturday's one-sided shooting was triggered by an argument over the rights to a water hole and left five men from Quiechapa dead, including José Barriga, 65, community land owner, and two minors: Adalberto Montes Aquino, 17, and Alexander Montes Aguilar, 16, who had plans to become a priest.
Three of the wounded were in serious condition and had to be transported to the nearby city of Miahuatlán and later to Oaxaca city.
It was several hours later before police and soldiers arrived in Quiechapa, said a report by NVI Noticias.
The fathers of the two young victims, along with a group of citizens and municipal officials from Quiechapa, have denounced their murder and traveled to the city of Oaxaca to demonstrate on Wednesday in the city's zócalo.
They also protested what they see as scant attention being given to the newly rekindled conflict by Governor Alejandro Murat Hinojosa, and demanded increased security, charging that the 12 police and army personnel deployed in the town, and equipped with just two patrol cars, are not enough to guarantee their safety.
The mayor of Quiechapa claimed that drug trafficking is now part of the territorial conflict: "[the people of Lachivía] grow lots of drugs. They were carrying heavy weapons, and they ambushed us," said Luis Juárez Pérez.
He requested the intervention of federal forces in the belief that his neighbors are protecting opium poppy and marijuana plantations, and that with their latest armed actions they intend to control more territory, exploit the woodlands for timber and increase drug production.
The mayor lamented that despite a commitment by the governor's advisor, María del Carmen Ricárdez Vela, to help solve the territorial conflict no action has been taken.
Juárez said the only help they've received was the transportation of the injured to a hospital in the state capital.