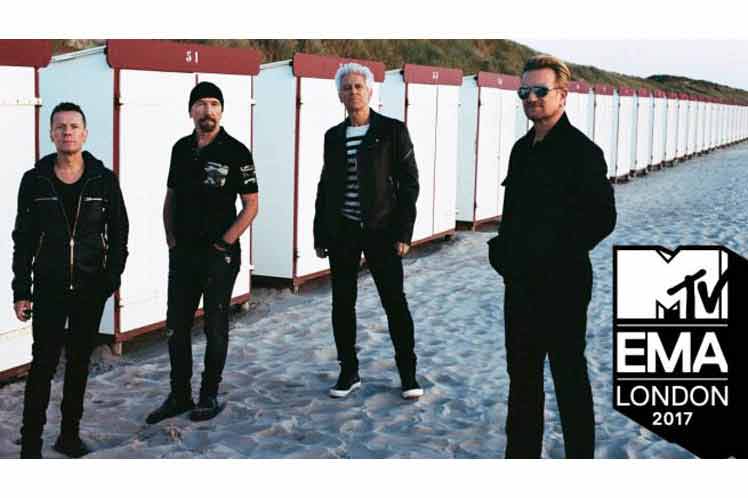 by the El Reportero's news services
U2 will receive this year''s Global Icon prize at the MTV European Music Awards (EMAs) on Sunday.
Bono and others will celebrate the prestigious accolade with a performance at London's landmark Trafalgar Square on Saturday evening (11.11.17) for MTV Presents Trafalgar Square, ahead of the ceremony.
Bruce Gillmer, Head of Music and Music Talent, Global Entertainment Group, Viacom, said: 'U2's impact on music, pop culture and social issues around the world has been tremendous.
For over four decades and counting, they've entertained, influenced, and inspired fans around the globe and we're thrilled and honored to announce that they are this year's Global Icon.
'Their EMAs performance for Londoners in historic Trafalgar Square is just the beginning of the electrifying celebration of music where artists from every corner of the world will unite in this extraordinary city!'
The Mayor of London, Sadiq Khan, today (06.11.17) welcomed the special MTV Presents Trafalgar Square event.
He said: 'London is one of the live music capitals of the world, with an unrivalled music heritage. It is fantastic to host the EMAs in our city for the first time in 21 years. I'm delighted that Trafalgar Square will host this special MTV Presents performance – an iconic venue for an iconic band.
'I have been saying, loud and clear, that London is open to talent, creativity and business. What better way to showcase this than one of the world's greatest rock bands performing to Londoners from all backgrounds, for free, in the heart of our great city?'
This year's EMAs' host Rita Ora will also take to the stage for a performance.
Other to got the prize before are Eminen, Queen, John Bon Jovi y Whitney Houston.
Leyo and J2 "The King of Re-Imaginations" set to release Sabor a Mi
LEYO and J2 aimed to reinvent the song with a contemporary twist, while maintaining the authentic feeling of romance the lyrics provide. The 1959 classic by composer and singer Alvaro Carrillo was popularized by the Latin trio, Los Panchos.
This new Sabor a Mi pays homage to Carrillo and iconic artist covers by Jose Jose, Javier Solis, and Luis Miguel. Even today the song remains as one of the most beloved Spanish songs of all time.