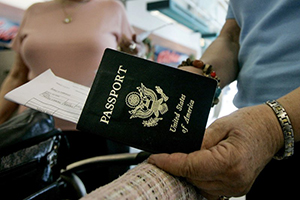 by the El Reportero's wire services 
The Trump administration is accusing hundreds, and possibly thousands, of Latinos along the border of using fraudulent birth certificates since they were babies, and it is undertaking a widespread crackdown on their citizenship.  
In a statement, the State Department said that it 'has not changed policy or practice regarding the adjudication of passport applications,' adding that 'the U.S.-Mexico border region happens to be an area of the country where there has been a significant incidence of citizenship fraud.'  
But cases identified by the Washington Post and interviews with immigration attorneys suggest a dramatic shift in both passport issuance and immigration enforcement. In some cases, passport applicants with official U.S. birth certificates are being jailed in immigration detention centers and entered into deportation proceedings. 
In others, they are stuck in Mexico, their passports suddenly revoked when they tried to reenter the United States. As the Trump administration attempts to reduce both legal and illegal immigration, the government's treatment of passport applicants in south Texas shows how U.S. citizens are increasingly being swept up by immigration enforcement agencies. 
The government alleges that from the 1950s through the 1990s, some midwives and physicians along the Texas-Mexico border provided U.S. birth certificates to babies who were actually born in Mexico. 
Under President Trump, the passport denials and revocations appear to be surging, becoming part of a broader interrogation into the citizenship of people who have lived, voted and worked in the United States for their entire lives. 
In its statement, the State Department said that applicants 'who have birth certificates filed by a midwife or other birth attendant suspected of having engaged in fraudulent activities, as well as applicants who have both a U.S. and foreign birth certificate, are asked to provide additional documentation establishing they were born in the United States.'  
"Individuals who are unable to demonstrate that they were born in the United States are denied issuance of a passport," the statement said. The State Department says that even though it may deny someone a passport, that does not necessarily mean that the individual will be deported. But it leaves them in a legal limbo, with one arm of the U.S. government claiming they are not North Americans and the prospect that immigration agents could follow up on their case. 
It's difficult to know where the crackdown fits into the Trump administration's broader assaults on legal and illegal immigration. Over the last year, it has thrown legal permanent residents out of the military and formed a denaturalization task force that tries to identify people who might have lied on decades-old citizenship applications. 
Now, the administration appears to be taking aim at a broad group of North Americans along the stretch of the border where Trump has promised to build his wall, where he directed the deployment of national guardsmen, and where the majority of cases in which children were separated from their parents during the administration's 'zero tolerance' policy occurred. 
The State Department would not say how many passports it has denied to people along the border because of concerns about fraudulent birth certificates. The government has also refused to provide a list of midwives who it considers to be suspicious. 
The denials are happening at a time when Trump has been lobbying for stricter federal voter identification rules, which would presumably affect the same people who are now being denied passports, almost all of them Latino, living in a heavily Democratic sliver of Texas. 
López Obrador meets with Latin American and Caribbean ambassadors 
President-elect Andrés Manuel López Obrador will hold a meeting today with ambassadors and consuls from Latin America and the Caribbean in Mexico.  
The meeting will take place at the transition house, located on Chihuahua Street in Colonia Roma, south of the capital, where access was restricted by fences. 
The next foreign minister, Marcelo Ebrard, said a few days ago that the meeting will address bilateral, multilateral and group agendas such as the Southern Common Market and the Pacific Alliance. 
He added the next administration will focus on relations with the countries of Central and South America and the Caribbean.