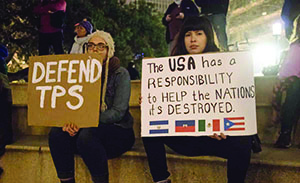 by Dave Goldiner
Shared from New York Daily News
President Trump won a legal round Monday in his fight to deport hundreds of thousands of immigrants from El Salvador and other countries who came to the U.S. after disasters in their homelands.
A divided three-judge panel of the federal Ninth Circuit appeals court ruled that Trump was within his rights to revoke so-called Temporary Protected Status from Salvadoran immigrants.
Assuming the ruling withstands possible scrutiny from the Supreme Court, the ruling means Trump could deport more than 300,000 immigrants, many of whom have been living and working in the U.S. for years.
The ruling is also expected to affect the status of people from Honduras, Nicaragua, Sudan and Nepal, whose separate lawsuit is expected to be governed by the outcome of the Salvadoran case.
TPS beneficiaries from six countries in all have been granted legal authorization to live and work in the U.S. through Jan. 4.
The ruling means that those immigrants must find another way to remain in the United States legally or leave the country after a winddown period of six months or a year in the case of El Salvador.
The timing means that the fate of the immigrants would likely be determined by the results of the upcoming presidential election.
Haitian immigrants who obtained TPS after a massive 2010 earthquake wreaked havoc on the Caribbean nation filed a separate case that is being heard by the Second Circuit Court of Appeals in New York.