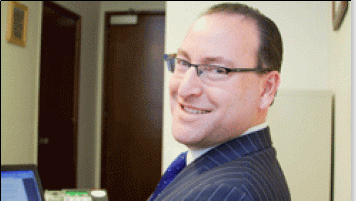 Kenneth Marcus' recent career has been largely focused on litigation targeting Palestine solidarity activists on U.S. college campuses, as well as on attempts to eradicate criticism of the Israeli state in educational institutions nationwide
by Whitney Webb
Laws preventing American citizens from choosing to boycott the nation of Israel have been cropping up across the country, most recently in Wisconsin and Maryland.
Apparently eager to take advantage of the legal push to criminalize dissent targeting the Israeli government, the Trump administration has decided to appoint Kenneth Marcus to a key post in the Department of Education.
Marcus, if confirmed by the Senate, will become the department's Assistant Secretary for Civil Rights, serving under Secretary of Education Betsy DeVos. Marcus previously served as the Deputy Assistant Secretary of Education at the Office for Civil Rights and then as Staff Director at the U.S. Commission on Civil Rights under former President George W. Bush.
Marcus' nomination has raised concerns given that, as president of the Louis D. Brandeis Center for Human Rights Under Law, he has consistently lobbied the sub-department he may soon lead to essentially ban the Boycott-Divest-Sanctions (BDS) movement – a movement that seeks to advocate for Palestinian rights by refusing to economically support Israel until it complies with international law.
Though he has been hailed as a "Jewish advocate" by several media outlets, Marcus' career since leaving his last government post has been largely focused on litigation targeting Palestine solidarity activists on U.S. college campuses, as well as on attempts to eradicate criticism of the Israeli state in educational institutions nationwide. Indeed, Marcus once boasted in a letter to supporters of the Brandeis center that his efforts had succeeded in instilling "fear" into BDS activists.
Marcus has consistently argued that allowing criticisms of Israel to be voiced on U.S. college campuses and at other educational institutions is a "violation of the civil rights of Jewish students." He noted, in a 2013 piece for the Jerusalem Post, that pursuing claims before the Department of Education's Office for Civil Rights (OCR) – the office to which he has now been nominated — is the means by which BDS could be shut down nationwide.
He himself has attempted to do so on numerous occasions, drawing accusations that he has sought to "weaponize" Title VI of the 1964 Civil Rights Act. Though Title VI prohibits discrimination on the basis of race, color and national origin in federal fund-assisted organizations, Marcus has attempted to equate activism against criticism of the Israeli government with anti-Semitism in the numerous Title VI complaints he has brought against Palestinian solidarity activists on college campuses nationwide. Marcus' firm has brought complaints against college students for a variety of reasons, including the formation of a Students for Justice in Palestine chapter as well as the hosting of guest speakers who support BDS.
"[Marcus] has approached the civil rights division of the DOE as a vehicle to suppress free speech based on nothing more than political disagreement," Maya Berry, executive director of the Arab American Institute, told Mondoweiss.
However, as Marcus himself noted, the results of his efforts have thus far been "disappointing," as every complaint he and his firm filed were dismissed outright by the OCR, which failed to find evidence of actual anti-Semitism — suggesting that Marcus' concerns were instead related to political disagreement. Indeed, Marcus' legal complaints have nearly universally claimed that alleged anti-Semitism is the driving force behind Palestinian solidarity activism, thus equating criticism of the Israeli government with discrimination against Jewish students. This argument, of course, fails to account for the many Jews who criticize Zionism and Israel's occupation of Palestine.
Also of concern is what Marcus' appointment could potentially mean for free speech on U.S. college campuses and at other educational institutions. Several of his numerous Title VI complaints brought in front of the OCR were dismissed due to constitutional concerns, specifically First Amendment rights. However, if installed in a key position at the OCR, Marcus would be a safe bet to override such concerns and use the office's enforcement capabilities to sue or withhold funding from schools that fail to comply with Marcus' singular view of what constitutes anti-Semitism.
"Marcus has no business enforcing civil rights laws when he has explicitly used such laws to chill the speech activities and violate the civil rights of Arab, Muslim, Jewish, and other students who advocate for Palestinian rights," said Dima Khalidi, director of Palestine Legal, in a statement. "His appointment will only further the white supremacist and anti-Muslim agenda of the Trump administration."
(Stories published in our commentary section are chosen based on the interest of our readers. They are republished from a number of sources, and are not produced by El Reportero. The views expressed in these articles are the author's own and do not necessarily reflect El Reportero's editorial policy).