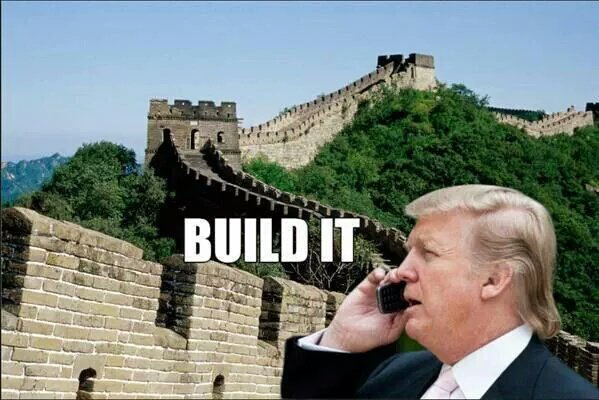 Trump and Peña Nieto met in Germany where trade was the chief topic
Compiled by Mexico News Daily
Despite an agreement between the leaders of Mexico and the United States that a border wall would no longer be the subject of public discussion by them, U.S. President Donald Trump today repeated earlier claims that Mexico would pay for the wall.
But he also spoke in positive terms about the progress being made on trade talks in preparation for renegotiating the North American Free Trade Agreement (NAFTA).
Following a meeting between Trump and President Enrique Peña Nieto on the sidelines of the G20 summit in Hamburg, Germany, the former was asked by reporters if he still expected Mexico to pay for the border wall, a key platform of his election campaign last year.
"Absolutely," Trump said.
His insistence that Mexico would pay and Mexico's insistence that it would not led to a war of words in January. After a meeting between the two leaders was canceled they ended the impasse with an hour-long telephone chat in which they agreed not to speak publicly about the wall.
Trump told this morning's joint press conference with Peña Nieto, whom he called his friend, that he thought they had made "very good progress" at today's meeting, their first since Trump took office in January.
Foreign Affairs Secretary Luis Videgary, who attended the meeting, told reporters trade had formed a major part of the conversation with Trump and he was optimistic about the upcoming NAFTA talks, expected to begin in August.
"We expect to have a meaningful, constructive, modernization of the agreement that is good for the three nations," the minister said. "And we think there is a lot of room to make it a better agreement for the three nations."
He said during a subsequent radio interview that the process should be "relatively quick" with general agreements being reached by the end of the year.
Somewhat less positive was Donald Trump today in his weekly address to the nation. He said the U.S. was pursuing "a total renegotiation of NAFTA and if we don't get it we will terminate it, that is, end NAFTA forever."
Mexican officials said the border wall did not come up during today's meeting between the two leaders.

Source: The Independent (en), Reuters (en)

Illegally-sold ejido land returned in Cozumel
The judge who bought it has returned 100 hectares to the ejido
One hundred hectares of community-owned land sold illegally in Quintana Roo during the administration of former governor Roberto Borge Angulo has been returned to its rightful owners.
According to investigations carried out by the anti-corruption organization Somos tus Ojos (We're your Eyes), Fidel Villanueva Rivero acquired 135 hectares of community-owned land in the ejido of Villa Cozumel, located on the island of Cozumel.
The accused has been president of the Supreme Court of Justice of Quintana Roo since 2011.
The land was sold by the former director of the state agency Real Estate Assets of the Public Administration (Ipae), Claudia Romanillos Villanueva, who has been under investigation for the sale of several pieces of land throughout the state.
There are several local and state agencies that should have a record of the sale of the Cozumel land, but no such record exists, said Fabiola Cortés Miranda, president of Somos tus Ojos, and Gabriel Yam Chan, a high ranking ejido (community land) official.
Ejido laws also prohibit a single individual from owning such an piece of land, said Yam.
After the non-governmental organization filed a formal complaint against Villanueva, generating vast coverage by local media, the judge was pressured to return 100 hectares to ejido authorities, reported the newspaper Milenio.
Villanueva has built a ranch known as San Gabriel on the other 35 hectares. It boasts a villa, baseball diamond, tennis courts and a stable of horses.
The ranch is located 18 kilometers from downtown Cozumel, where Somos tus Ojos claims he bought a 160-square-meter property from the state Urban Development and Housing Institute for only 11,000 pesos (about US $610).