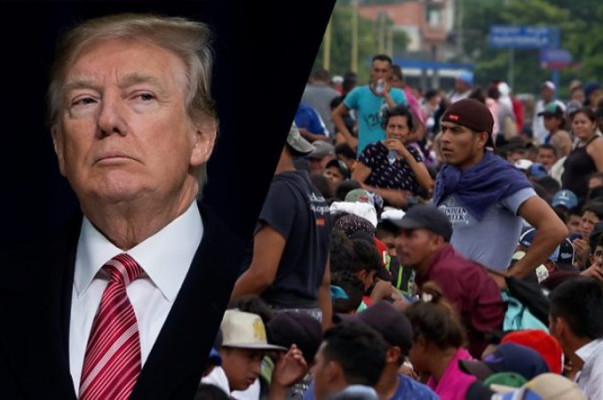 by the El Reportero's wire services
The Trump administration is drafting an executive action that would make it exceedingly difficult for Central American migrants seeking asylum at the U.S.-Mexico border to gain entry, according to three sources familiar with the proposed measures.
The exact details have not yet been finalized, the sources said, and some of the more extreme ideas are a source of internal debate within the administration.
They have been drafted as President Donald Trump and his National Security Adviser John Bolton have grown increasingly frustrated with the rising number of undocumented immigrants crossing the southern border and the Honduran migrant caravan currently making its way to the U.S.
The details are expected to be finalized by early next week, the three sources said, with plans for the proposals to be unveiled by Trump in a speech on immigration.
The proposed executive action was first reported by the San Francisco Chronicle.
A White House official said, "The administration is considering a wide range of administrative, legal and legislative options to address the Democrat-created crisis of mass illegal immigration. No decisions have been made at this time. Nor will we forecast to smugglers or caravans what precise strategies will be employed." (Source: NBC News).
Thousands evacuated in Nayarit, Mexico, due to Hurricane Willa
Some 10,000 people were evacuated from the municipalities of Tecuala and Acaponeta, in the north of Nayarit, to the threat on Tuesday of Hurricane Willa, category three, which must touch land in the Mexican Pacific this afternoon-night.
Wilma must penetrate the limits of Nayarit with Sinaloa, to the northwest of this capital, while in Michoacan the entrance of the tropical depression Sergio is expected today, which has already claimed the lives of 14 people in Oaxaca and Veracruz, as well as damages in many houses.
Nineteen shelters were installed in the north of Nayarit to serve the evacuated population.
Since yesterday in the afternoon most of the shops in Tecuala and Acaponeta closed.
The governor Antonio Echevarria made supervisory tours of the coastal area of the municipality of Tecuala, where the hurricane is expected to impact.
'The most important thing at this time is to ensure the welfare of families living in the municipalities of the north coast of Nayarit, from San Blas to Tecuala, which is expected to have the greatest impact on Willa," he said.