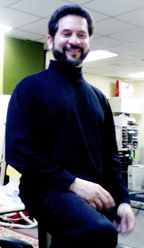 NOTE FROM THE EDITOR:
Dear readers, following is a news article written by Kevin Gosztola, that I am sharing with you so you can get informed of the latest move by the current President – which aimed at to target immigration activists, a new strategy to deport more immigrant, causing to separate American children from their undocumented parents. – MR.
Since Donald Trump's inauguration, multiple high-profile cases have surfaced where immigrants involved in community activism were deported or faced an increased threat of deportation
by Kevin Gosztola
Immigration and Customs Enforcement appears to be escalating its targeting of immigrant rights activists for deportation.
Since President Donald Trump was inaugurated, there have been at least ten prominent cases where immigrants involved in community activism were deported or faced an increased threat of deportation.
Maru Mora-Villalpando received a notice from ICE to appear before an immigration judge. She is from Mexico City and leads an organization known as Northwestern Detention Center Resistance. It was launched in 2014 to protest a private immigrant detention facility in Tacoma, Washington. At the time, hunger strikes were launched by detainees to protest abusive conditions.
She has engaged in civil disobedience, which means she likely has an arrest record. She believes ICE is targeting her for her activism. Her "notice to appear" indicated deportation proceedings were initiated.
"For us, it's clear that although their actions against immigrants, starting with their campaign, actually hitting Mexicans has grown. But we still fight. We still resist. And we have been winning. So we believe that ICE is really sending us a message to stop our political activity, to stop our activism. When I saw that letter, I immediately knew what it was. And I laughed to myself, because I felt, 'They are sending me a message. They want me to stop. And I won't stop,'" she added.
There are several other cases that garnered attention in 2017 that show ICE is developing into a major tool for political oppression.
Siham Biyah, a 40-year-old mother, and activist in Boston, was deported to Morocco a day after Christmas. She had a check-in at ICE headquarters on Nov. 7 and was detained. The Massachusetts Department of Children and Families took her 8-year-old son Naseem and refused to let Biyah's family decide who would take care of Naseem.
She was removed from her cell on Dec. 26, transferred to Virginia and placed on a plane to Casablanca the next day. Each time she was moved, authorities would not allow her to use the phone so she could rally supporters to make phone calls against her deportation.
The Denver Post reported in October that Colorado had more immigrants living in sanctuary in churches than any other state. One of those individuals who sought sanctuary is Sandra Lopez, a 42-year-old mother who fled violence in Chihuahua, Mexico, about 20 years ago.
Lopez took refuge in the church in November after she was informed ICE would likely deport her if she went to her annual check-in on Oct. 19. She was arrested in 2010 on "misdemeanor criminal mischief and domestic violence" charges but that was "after one of her children mistakenly dialed 911." Officers reported her to ICE when she could not show a Colorado ID.
"It's important that we call this what it is. I'm an undocumented mother, and that does not make us criminals. I'm just a mother, and I'm fighting for my family to be together. I had the option to flee and go into hiding, but instead, I'm here. I have dreams. My family has dreams," Lopez stated.
A California State University student named Claudia Rueda, who is an immigrant rights activist, was arrested on immigration charges on May 18. She was outside of a relative's home in Los Angeles. The U.S. Border Patrol claimed her arrest was part of a "drug smuggling investigation."
Rueda had no criminal record but was arrested twice during protests for immigrant rights. Fortunately, immigration judge Annie S. Garcy found her detention without bond to be "unduly severe." In June, she was ordered released and the judge even was "incredulous when a government attorney asked that Rueda be required to wear a monitoring device."
A retail janitor and organizer for low-wage workers in Local 26, Luciano Mejia Morales was arrested in Minnesota last summer when he was stopped by police and officers discovered he had no driver's license. Family and colleagues raised funds for his bail. But a few hours after, ICE arrested him and initiated his deportation. The community was unable to stop his deportation back to Guatemala.
In May, Carimer Andujar, an undocumented Rutgers University student, was summoned by ICE to go to their office in Newark, New Jersey. She feared they would deport her to the Dominican Republic but left the meeting without ICE detaining her.
Both Enrique Balcazar, a 24-year-old human rights activist from Mexico, and Zully Palacios, a 23-year-old activist from Peru, were arrested in March after ICE agents surrounded their human rights organization, Migrant Justice, in Burlington, Vermont. They were detained and face deportation proceedings in March.
Another Migrant Justice advocate, Cesar Alex Carillo, who was 23 years-old, agreed to "voluntary departure" back to Mexico in May after he was arrested the same week as Balcazar and Palacios. He had a prior driving under the influence (DUI) charge, which led a Boston immigration judge to order Carillo be held in detention without bail. ("Voluntary departure" was accepted so Carillo was not formally deported and could attempt to return to the U.S. in the future).
Migrant Justice strongly believes immigration authorities targeted their organization for their political activism. They filed a Freedom of Information Act lawsuit in October.
Jeanette Vizguerra, a mother, and immigrant rights activist, sought refuge at the First Unitarian Church in Denver after her stay of removal expired. She was supposed to meet with ICE but instead sought sanctuary to avoid deportation to Mexico. She was granted relief in May, weeks after Time Magazine named her one of the 100 most influential people.
Three Colorado Democrats—Michael Bennet, Jared Polis, and Ed Perlmutter—fought for a stay of removal to be granted. They introduced legislation. ICE responded affirmatively to the bill, however, as the Los Angeles Times reported, the agency changed its policy of reversing deportation proceedings if a member of Congress introduces a bill. Now, "ICE will consider and issue a stay of removal for up to six months only if the chairman of the House or Senate judiciary committee, or appropriate subcommittee, makes a written request to ICE."