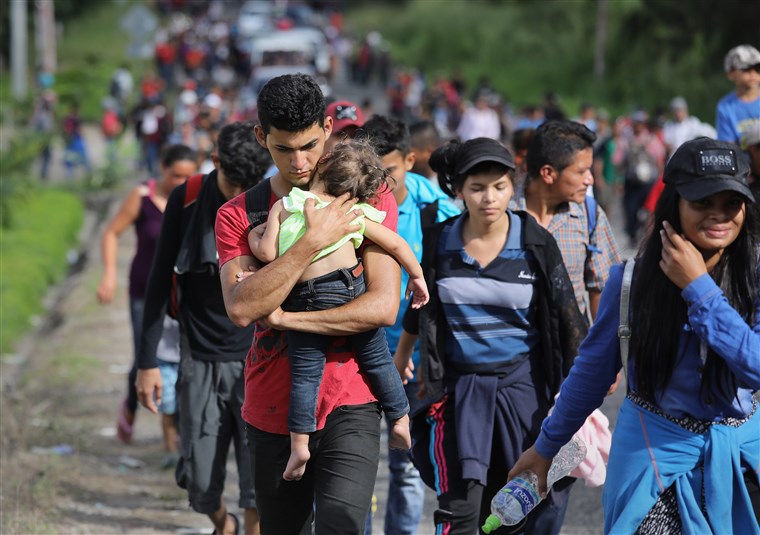 The number of migrants traveling through Mexico could soon reach 10,000
by Mexico News Daily
A third caravan of migrants is expected to leave Central America within the next week, which could bring the total number of people escaping poverty and violence by making the northward trek to nearly 10,000.
The third wave, believed to have been inspired by the caravan now traveling through Chiapas, is scheduled to leave El Salvador on October 28 and cross the border into via Tecún Umán, Guatemala, according to one report.
Organized on a Facebook group called El Salvador Emigrates for a Better Future, the caravan's communications on social media are being monitored by the United States Department of Homeland Security, NBC News reported after obtaining an internal government report. That document indicated the departure date would be October 31, and that so far the migrants were largely families traveling with children.
The first and largest caravan entered Mexico via Ciudad Hidalgo, Chiapas, last Friday and according to the United Nations is composed of more than 7,000 people. Today it is en route to Mapastepec, Chiapas.
A second caravan of about 2,500 people from Honduras that is currently in Guatemala has divided into two smaller groups.
Guatemala police said one group of about 1,500 people is en route to Tecún Umán while the other group of about 1,000 is planning to cross into Mexico at El Ceibo, Tabasco. Local media reported that the second group's numbers have been augmented by migrants in the Honduras caravan who were deported from Mexico last week.
"Several units of the police are accompanying the caravan for security reasons," said police spokesman Pablo Castillo. He also explained that military personnel and police attempted unsuccessfully to stop the advance of the group on Monday.
The Guatemala government said it was adopting measures to stop the entry of more migrants from Honduras and El Salvador into its territory, although attempts by both Guatemala and Mexico to halt the flow have failed.
In El Salvador, the government has taken a different stance. President Salvador Sánchez Cerén expressed support yesterday for the first caravan of migrants and criticized the position of U.S. President Donald Trump despite the latter's announcement that he would cut aid to El Salvador and other Central American countries for not preventing the migrants from leaving.
"For us, to migrate is a human right so the rights of migrants have to be protected; we are totally opposed to the policy of Donald Trump," he said.
Emigration from El Salvador has contributed to the development of the U.S. and helped the North American economy, Sánchez continued.
Trump has claimed that there are "Maras," or members of the criminal gang Mara Salvatrucha, among the migrants, although the gang originated in Los Angeles, California. However, most were originally from El Salvador.
Source: El Universal (sp), NBC News (en), Infobae (sp)

UN warns some migrants are in danger should they be deported
Refugee agency says they are fleeing 'real danger' back home
The United Nations Refugee Agency (UNHCR) has warned that the migrant caravan currently traveling through Mexico is likely to include people fleeing "real danger" in their countries of origin.
UNHCR spokesperson Adrian Edwards told a press conference in Geneva, Switzerland, today that "in any situation like this it is essential that people have the chance to request asylum and have their international protection needs properly assessed, before any decision on return/deportation is made."
The federal government last week warned members of the caravan, made up mainly of Hondurans, that if they enter Mexico illegally, they will be detained and deported.
However, after attempts to prevent the caravan from entering Mexico on Sunday proved futile, the migrants have walked and/or traveled on the back of trucks or in other vehicles through Chiapas unimpeded.
The government invited the UNHCR to help attend to the migrant caravan, whose numbers have been estimated as high as 7,000 people.
Most of the migrants don't have visas and haven't formally requested asylum with the National Immigration Institute (INM).
Around 200 migrants remain camped out on the bridge in Ciudad Hidalgo, Chiapas, on the border between Guatemala and Mexico waiting to enter Mexico legally, the newspaper Milenio reported.
Edwards said that as of yesterday there were 45 UNHCR staff in Tapachula, Chiapas, and that others are en route.