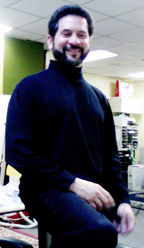 FROM THE EDITOR:
Much has been said about a so-called 'conspiracy theory' about the depopulation of the planet. In this article, Stephanie R. Pasco, follows the trails of statements – going back decades -made by world leaders confirming that in fact exists a plan to depopulate the planet Earth. You be the judge, readers. Due to the length of the article, El Reportero will publish in several parts, extending to several weeks. THIS IS PART 7 AND FINAL OF A SERIES.
by Stephanie R. Pasco
It is my intention to give you clips from documents, many from the United Nations that prove there is a plan to depopulate this planet. I will also provide quotes from various people and organizations that further show this agenda is afoot. I pray the guidance of the Lord God Almighty will be with me in this pursuit to warn others of this dark plot against humanity.
Everything written in this paper is easily verifiable. It may take some time and effort, but I took great pains to make this paper as accurate as I possibly could.
The depopulation agenda is based on nature worship, or Gaia worship. In Genesis, God clearly told Adam and Eve, and then Noah and his family to go forth and multiply to fill the earth. Nowhere in the Bible does God rescind that clearly spoken commandment. Therefore man is attempting to supersede the command of the Lord God in heaven: The Creator! I ask you, who knows more about the state of the earth, the created, or the Creator?
The basis for the depopulation agenda is a standard all elitist's hold dear. This standard is called:
The Hegelian Dialectic:
Problem – Reaction-Solution
From Esoteric Agenda, a documentary by Ben Stewart:
"In 1962 it was decreed that there would be a move toward total global implementation of Codex Alimentarius. The date set for implementation is December 31, 2009. WHO and FAO are the commissions in charge of CA. They fund it and run it at the request of the U.N.
According to WHO & FAO, epidemiological projections, it is estimated that according to the vitamin and mineral guideline alone; when CA goes into global implementation on December 31, 2009, it will result in a minimum of 3 billion deaths; 1 billion due through starvation. The next 2 billion will die from preventable diseases due to malnutrition."
"The U.N. has put out dozens of reports calling for an 80% reduction in population (most put the number at 90%). At the 1997 Women's World Conference in Beijing, the head of the U.N. Food Program said, "We will use food as a weapon against the people."
In conjunction with Codex Alimentarius, food will be limited and water consumption will be decreased to 10 gallons per day, per person. The average American uses 140 gallons of water every day. The food provided will be Genetically Modified and nutrient deficient.
As of the Codex Alimentarius (CA) implementation date of 12/31/09, if there were a famine anywhere in the world, it will be illegal to send any high nutrient density biscuits. Or to distribute them!!
Once a country becomes CA compliant, CA can never be repealed. Membership with the WTO robs the member nations of any and all sovereignty. Germany is now CA compliant.
Codex Alimentarius goes hand in hand with Agenda 21 and the Kyoto Treaty. The deadline to implement both Agenda 21 and the Kyoto Treaty is 2012." (Rima Laibow)
Agenda 21 was birthed out of the Rio Summit 1992. Agenda 21 (A 21), a.k.a. Smart Growth, Regionalism, Visioning Processes, Action Plans, Shared Values; 20/20, Best Practices; Community Festivals & Public/Private Partnerships. These are the names you will hear A 21 called, the buzzwords.
Every county must set up a council to oversee the implementation of A 21. A 21 is Sustainable Development. Steven Rockefeller set up the Earth Charter, referenced above. The Earth Charter is the new One World Religion: Earth worship. The earth is considered to be 'sacred', and its protection is a 'sacred trust'. Global responsibility will demand basic changes in values, behaviors and attitudes of government, the private sector, and civil society.
Under Sustainable Development man is considered to be responsible for the pollution of the planet and is subordinate to all other living creatures. This is a direct contradiction to the Bible where God placed man in a position of dominance over the entire earth. The elite will worship and serve the creature, rather than the Creator.
"The environmental agenda is a spiritual agenda with earth worship at its root. As such, the following practices are all considered to be unsustainable: Fossil fuels, artificial fertilizers, modern systems of agricultural production, irrigation water, herbicides, pesticides, farmland, pastures, grazing of livestock, consumerism, dietary habits, salt, sugar, private property, paved roads, dams, reservoirs, logging activities, fencing of pastures". – Joan Peros
"Every environmental resource must be measured. What can be measured can be managed under the Millenium Ecosystem Assessment Project." – Joan Peros
Among the things considered to be unsustainable, as listed above, these are included: Monotheism and the family unit. The health care plan of President Obama is under A 21. Under this health care plan, the family unit is very much being attacked. Anyone over age 65 must undergo 'end of life counseling' by their doctor every 5 years. Abortion will be pushed that much harder, especially with the Science Czar wanting sterilants put into our water supply! One of the new appointee's to the Obama Administration once said in a book he co-wrote that a child could be killed up to the age of 2 years old! What kind of a monster could think that is acceptable?
Nearly the exact language used to define Sustainable Development was taken from the 1977 Soviet Constitution!
The Family Dependency Ratio, under the United Nations, will look at every household. They will gauge what that household has produced in accordance with what it has used (i.e., resources) by the water bills, energy bills, etc. Are you using more than you are producing? Are you adding to the collective, or merely taking away? This is how the powers that be will determine whether you are a productive citizen, or, in the words of Henry Kissinger, "A useless eater".
In 1990, Prince Charles formed The Prince of Wales Business Leaders Forum to bring together 50-60 of the world's topmost multi-national/transnational corporations to start buying up governments around the world. This is Public/Private Partnerships: This is the very definition of fascism.
I must stop here. At the rate things are now moving, I could add to this daily. But, December 31 is not so far away now, only four months. I must get this out now. Time is short.
If you find this to be worthy, please, spread it everywhere you can. Email it, blog it, post it on forums; mail it. Do what you must. People are asleep. They must be woken up. Forced immunizations are right around the corner. These things will come to pass. It is our job to warn people. Please, I ask you, warn them.