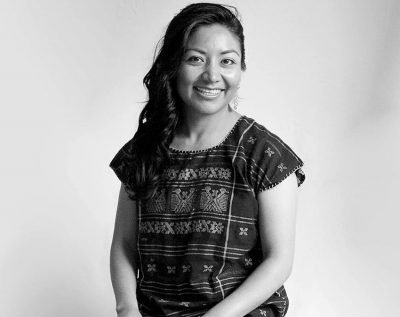 Oaxaca-born soprano sings opera in five indigenous tongues
by the El Reportero's news services
A list of Mexican opera singers would not be a long one, but a list of those who can sing opera in five indigenous languages would probably bear a single name.
Soprano Edith Ortiz is known as the Mixtec Skylark and has earned a name for herself as a successful opera singer and a promoter of the preservation of indigenous languages.
Ortiz started singing at an early age, both at school and accompanied by her father's string ensemble in the village where was born, Villa Guadalupe, in the Oaxaca municipality of San Miguel el Grande.
Later she traveled to the state capital where she formalized her music studies at the Miguel Cabrera Artistic Education Center before traveling to Mexico City and enrolling at the National Music School of the National Autonomous university (UNAM).
"Music has always been part of my family, a tradition. My grandfather played the violin, as did my father. This tradition has been encouraged in my family and I am fortunate enough to carry it on," Ortiz told the news agency Notimex in a recent interview.
She is also grateful to her parents for teaching her both Spanish and Mixtec.
Ortiz finds inspiration in the music of her native Mixtec culture, which she sings not just in Mixtec but in four other indigenous languages as well: Maya, Nahuatl, Zapotec and Mazatec.
Ortiz has performed at Mexico City's Auditorio Nacional and the Palacio de Bellas Artes, at other venues throughout the country and abroad, introducing Mexico's cultural diversity to audiences in the United States, New Zealand and Spain.
Ortiz says an important lesson she has learned over the years is that indigenous peoples should not be ashamed to speak their own language.
"It is very important to continue promoting our mother tongue . . . she said, adding that love for her people is love for her language and gratitude to her elders, "who have passed on this tradition."
Ortiz believes Mexico is very fortunate to have a vast cultural diversity which should be "valued and encouraged among youths and children.
Promoting native languages motivates her to travel throughout Mexico, where she has visited indigenous communities in her native Oaxaca and in the states of México and Baja California, where she teaches the importance of local languages through song.
The singer has recorded six albums and is currently working on her seventh.
Source: El Universal (sp)
Latin Songwriters Hall of Fame Inducts and honors Carlos Vives with 2017 La Musa Awards
The Latin Songwriters Hall of Fame announced July 5 that international music figure Carlos Vives will be inducted into this year's Latin Songwriters Hall of Fame at the 5th annual La Musa Awards. In addition LSHOF will honor the singer/songwriter with the organization's Icon Award.
A singer, composer, actor and entrepreneur, Carlos Vives is one of Colombia's most iconic artists and one of the most important figures in Latin music.
With more than 20 million albums sold worldwide, he is considered a pioneer of the new Colombian and Latin American sound, who continues to sell out in many of the most important venues in the world. He has transcended more than two decades, has won 2 Grammys and 11 Latin Grammy Awards, has had 23 Grammy nominations (American and Latin), and has won multiple gold and platinum albums. He became the first Colombian artist to bring home a gramophone from the Recording Academy.
For more than 20 years, Carlos Vives' creative impulse as a visionary of music has produced a significant footprint in how we've been accustomed to listen and dance to the different rhythms of the Caribbean coast of Colombia.