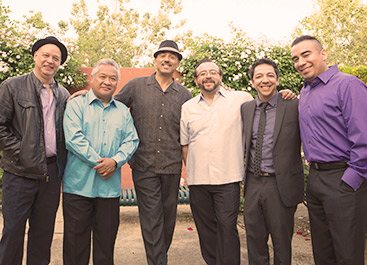 Compiled by the El Reportero's staff
Erik Jekabson is a remarkable trumpet player, composer, arranger and educator who lives in the San Francisco Bay Area. He has six CDs out under his own name: his most recent album is "Erik Jekabson Quintet" (2017) on the Wide Hive Record Label.
Friday, July 28, 2017 at 8 p.m., the at Piedmont Piano Company, 1728 San Pablo Ave. (at 18th), Oakland. Cover charge $20 – To reserve tickets with your credit card, please call (510) 547-8188.
And here's Johnny, again:
The Alameda Rhythmix Cultural presents The John Santos Sextet
Seven-time GRAMMY-nominated percussionist John Santos and his namesake sextet return to Rhythmix Cultural Works in Alameda for an enchanting summer evening of Afro-Latin-inspired music, song and culture.
Saturday, July 29th, 2017, 8 p.m., at the Rhythmic Cultural Works, 2513 Blanding Ave., Alameda. For more info call (510) 865-5060.
A special Latin dance night
"Edgardo & Candela" is a Salsa Band based in the San Francisco Bay Area for over 30 years, making them one of the most established Salsa Orchestras in California.
Better known as simply "Candela," their trade mark is their high energy level performance, featuring great vocals, a tight rhythm section and the powerful sound of the horns.
The band features the crop of professional musicians in the Bay Area, which makes for an incredible musical experience every time they play!
During the evening, Edgardo will personally assure that everyone is entertained while he mixes singing tunes by Oscar De León, Marc Anthony, Eddie Palmieri, Rubén Blades, Tito Puente, Guaco, Pete "Conde" Rodríguez, Celia Cruz and Ray Barretto among others, but the real treat here is Edgardo's original music, presenting him as a mature composer and poetic lyricist.
At Le Colonial, 721 Sutter St. San Francisco, on Saturday, July 29. Also with the presence of DJ EldelaClaveSF.
Silicon Valley's Premier Annual Music San Jose Jazz Summer Fest 2017
San Jose Jazz Summer Fest returns for its 28th festival season from Friday, August 11 – Sunday, August 13 in and around Plaza de César Chavez Park in downtown San Jose, Calif.
A showcase for jazz and related genres, SJZ Summer Fest is also nationally recognized as one of the biggest Latin festivals in the country. A standout summer destination for music lovers, concert-goers and families alike, the three-day event features 120+ performances on 10 stages, attracting tens of thousands of visitors to downtown throughout the weekend.
The 28th Annual San Jose Jazz Summer Fest 2017 features an acclaimed roster of artists from around the world as well as homegrown Bay Area talent.
San Jose Jazz announces today its second round of confirmed artists: Óscar Hernández and Alma Libre; California and Montreal Guitar Trios; Peter Cincotti; Dayme Arocena; Orgone; Anton Schwartz Sextet; Eddie Henderson Quartet; Kalil Wilson With Love; Naughty Professor; Allan Harris Quartet; Hip Bone Big Band with Michael Davis; Zydeco Flames; Claudia Villela Quintet; Jackie Gage; The Sons Of The Soul Revivers; JC Smith Band; Aaron Lington Sextet; Conjunto Karabali; Juan Pollo Raffo; A.C. Myles; Big Sandy and His Fly Rite Boys; CABANIJAZZ Project; Carlitos Medrano; The Bay Area Salsa All-Stars featuring Jimmy Bosch; Lily Hernández Orchestra featuring Calixto Oviedo; and additional artists to be announced!