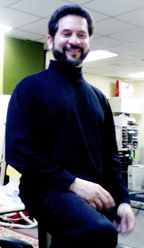 NOTE FROM THE EDITOR
Dear readers:
The following article, written by American Pulitzer Prize-winning journalist, professor at Princeton University, and author of several New York Times best-sellers, Chris Hedges, is one of those pieces that extracts real juice from the things the mainstream media almost never get to touch – because they are mostly submitted and controlled by the power to be, private interests and corporate greed. Because of lack of space, it will be published in two parts. THIS IS PART TWO OF TWO. – Marvin Ramírez.
The elites won't save us
by Chris Hedges
"The resiliency of democratic institutions has been encouraging—the courts, the protests," Nader said. "Trump boomerangs himself. He personally outrages people around the country based on race, gender, class, geography, his lies, his false statements, his narcissism, his lack of knowledge, his flippancy and his morbid desire to respond to slurs with tweets. He is not a smart autocrat. He weakens himself daily. He allows the opposition to have more effect than it ordinarily would."
"Most dictatorial heads of state deal with abstract ideologies—the fatherland and so forth," Nader went on. "He doesn't do much of that. He attacks personally, low on the sensuality ladder. You are a fake. You are a loser. You are a crook. You are a liar. This arouses people more, especially when he does this based on gender, race and religion. The best thing going for the democratic awakening is Donald Trump." 
Nader said that Trump will, however, be able to consolidate power if we suffer another catastrophic terrorist attack or there is a financial meltdown. Dictatorial regimes need a crisis, either real or manufactured, to justify total suspension of civil liberties and assuming uncontested control.
"If there is a stateless terrorist attack on the U.S. he is capable of concentrating a lot of power in the White House against the courts and against Congress," Nader warned. "He will scapegoat the people opposed to him. … This will weaken any resistance and opposition."
The tension between the Trump White House and segments of the establishment, including the courts, the intelligence community and the State Department, has been misconstrued as evidence that the elites will remove Trump from power. If the elites can work out a relationship with the Trump regime to maximize profits and protect their personal and class interests they will gladly endure the embarrassment of having a demagogue in the Oval Office.
The corporate state, or deep state, also has no commitment to democracy. Its forces hollowed out democratic institutions to render them impotent. The difference between corporate power and the Trump regime is that corporate power sought to maintain the fiction of democracy, including the polite, public deference paid to bankrupt democratic institutions. Trump has obliterated this deference. He has plunged political discourse into the gutter. Trump is not destroying democratic institutions. They were destroyed before he took office. 
Even the most virulent fascist regimes built shaky alliances with traditional conservative and business elites, who often considered the fascists gauche and crude.
"We have never known an ideologically pure fascist regime," writes Robert O. Paxton in "The Anatomy of Fascism." "Indeed, the thing hardly seems possible. Each generation of scholars of fascism has noted that the regimes rested upon some kind of pact or alliance between the fascist party and powerful conservative forces. In the early 1940s the social democratic refugee Franz Neumann argued in his classic Behemoth that a 'cartel' of party, industry, army, and bureaucracy ruled Nazi Germany, held together only by 'profit, power, prestige, and especially fear.'"
Fascist and authoritarian regimes are ruled by multiple centers of power that are often in competition with each other and openly antagonistic. These regimes, as Paxton writes, replicate the "leadership principle" so that it "cascades down through the social and political pyramid, creating a host of petty Führers and Duces in a state of Hobbesian war of all against all."
The little führers and duces are always buffoonish. Such strutting demagogues appalled liberal elites in the 1930s. The German novelist Thomas Mann wrote in his diary two months after the Nazis came to power that he had witnessed a revolution "without underlying ideas, against ideas, against everything nobler, better, decent, against freedom, truth and justice." He lamented that the "common scum" had taken power "accompanied by vast rejoicing on the part of the masses." The business elites in Germany may not have liked this "scum," but they were willing to work with them. And our business elites will do likewise now.
Trump, a product of the billionaire class, will accommodate these corporate interests, along with the war machine, to build a mutually acceptable alliance. The lackeys in Congress and the courts, puppets of corporations, will, I expect, mostly be submissive. And if Trump is impeached, the reactionary forces that are cementing into place authoritarianism will find a champion in Vice President Mike Pence, who is feverishly placing members of the Christian right throughout the federal government.
"Pence is the perfect president for the Republican leaders who control Congress," Nader said. "He is right out of central casting. He looks the part. He talks the part. He acts the part. He has experienced the part. They would not mind if Trump in a fit quit, or had to resign…"
We are in the twilight stages of the rolling corporate coup d'état begun four decades ago. We do not have much left to work with. We cannot trust our elites. We cannot trust our institutions. We must mobilize to carry out repeated and sustained mass actions. Waiting for the establishment to decapitate Trump and restore democracy would be collective suicide.