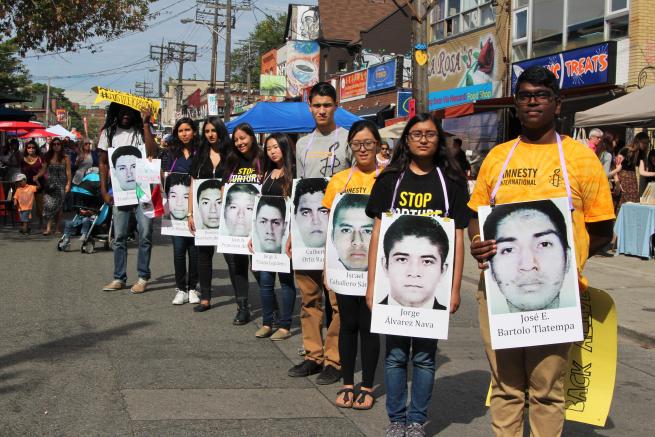 by the El Reportero's wire services
In Mexico the National Coordinator of Education Workers (CNTE, in Spanish) is today maintaining roadblocks in Oaxaca despite warnings from the Interior Secretary, Miguel Ángel Osorio.
The roadblocks have affected the supply of food to the area and the government has declared that time has run out for the protesters.
Protest leaders have, however, vowed to continue their fight. José Antonio Altamirano, the leader of the coordination chapter in Oaxaca, told the newspaper El Universal that the educational reform bill would have to be decided in the Representative National Assembly.
However, he said that the protests would continue in Oaxaca, Michoacán and Chiapas, the main regions opposed to the reform, which has already been approved by congress.
In response to government accusations that the roadblocks are affecting food supply, he stated that the teachers have intermittently opened roads. The government has for their part set up airlifts to deliver food basics to Ministry of Social Development shops, especially in poor communities.
Meanwhile, there are voices advocating the resumption of dialogue between the parties, including those of deputies, senators and leaders of civil organizations.
The bishops of Chiapas have asked the government not to try to move the protesting teachers. Eight were killed and dozens wounded in attempts to evict protesters in a village in Oaxaca on June 19.
Members of the National Single Commission for Negotiation said the teachers opposed to the aforementioned reform, which they call punitive, would continue with mobilizations, road blockages and acts of protests planned throughout the country.
Mexico restores food supply in Oaxaca
Meanwhile, 82 percent of the 2,021 stores of the Ministry of Social Development (SEDESOL) in Oaxaca, Mexico, were resupplied with food, reported that federal agency. SEDESOL said that operations continue today to complete the supply of basic items, which was affected by roadblocks and other forms of protest against the education reform taking place in this southern state.
The supply strategy was launched in coordination with the Secretariat of National Defense (Sedena) and public agencies DICONSA and Liconsa.
Is guaranteed food supply of the basic basket for the next 15 days, noted SEDESOL.
Food supplies are moved airlift as well as alternate routes and rural roads, at different times, even at dawn. On the eve arrived at the airport of Huatulco, Oaxaca, two Hercules C-130 aircrafts of the Mexican Air Force carrying 18 tons of corn each.
During the day, at least 200 additional stores are in the way to be stocked.
Meanwhile, the Interior Ministry maintains its warning that it will restore the roads in Oaxaca and other areas where demonstrations and roadblocks by the National Coordinator of Education Workers (CNTE) continue, along with settlers.
Political and social sectors, in turn, demanded both the government and the CNTE begin a genuine dialogue to end the teaching conflict.