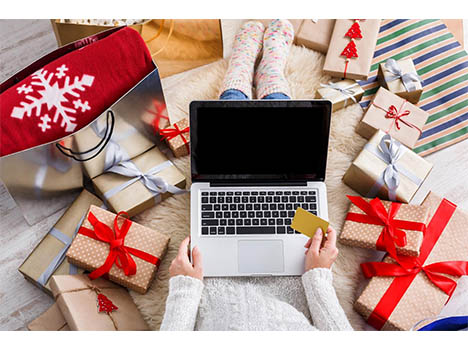 Get ready since starting Friday, November 22, comes the week of Amazon Black Friday deals with daily deals and huge discounts never seen before.
All Amazon offers for Black Friday can be found at amazon.com/blackfriday or in the Amazon app. Customers can also shop at smile.amazon.com/blackfriday to find the same incredible discounts and Amazon shopping experience, but with the added benefit that AmazonSmile will donate a portion of the sale price of eligible products to the charity that you choose
This year customers can also shop at the largest selection in Amazon's history of selected gift guides and exclusive stores, which offer inspiration to give away and more: list of festive toys, Amazon fashion gifts, home gifts, gifts electronic, luxury beauty gifts, active lifestyle gifts, small business gifts. For the first time, you can have a little look at how Mariah Carey celebrates the parties at amazon.com/mariahcarey and Oprah's favorites at amazon.com/oprah. Customers will also be able to get even more comfort by choosing to have the gifts wrapped and sent directly to their loved ones without any hassle or select from a variety of gift cards with Amazon Christmas designs, other stores, restaurants, Audible and more. You can even receive a one-time promotional credit of $ 15 dollars when you buy $ 50 or more on Amazon gift cards (limited to customers who buy gift vouchers for the first time).
Buying does not have to mean long lines since Amazon keeps innovating and improving your experience when making your purchases. Buy in your language on Amazon.com/espanol, on the Amazon App, with Alexa on an Echo device simply by asking "Alexa, what are my offers? and more. You can also visit Amazon 4-star stores that offer products that have 4 stars or more, to find the store closest to your location visit: www.amazon.com/stores. Do you want to know more about the products and offers? Watch the live broadcast of Black Friday on Amazon Live throughout the day on November 29 with special appearances of your favorite celebrities. Tune in to the broadcast after 4AM (PT) by visiting www.amazon.com/live. Discover fantastic gifts that never occurred to you in the Treasure Truck. Participate by sending a text message with the word 'TRUCK' to 24193 and receive notifications for offers on the same day, order the product and pick it up in the truck that same day. Also take advantage of the benefits and discounts of being a Prime member when you shop at Whole Foods. Visit woot.com from November 24 to 29 or download the Woot! To find fantastic offers.
Among the offers you can get a Fire TV Stick 4K with Alexa Voice Remote and Echo Dot for only $ 46.99, a Ring Video Doorbell Pro with Echo Show 5 for only $ 179, also up to 50% discount on Oakley and Ray sunglasses. Ban, up to 35% in products of the Adidas brand, 45% in Philips Sonicare electronic brushes, as well as more household and electronic products including the popular Xbox One, among many others.
ZTo go straight to Christmas shopping and support your favorite charity at the same time, simply visit smile.amazon.com/blackfriday. Charity Lists offers charities a simple way to create wish lists of the products they need while at the same time giving customers a convenient way to donate these essentials directly to these causes. You can explore thousands of Charity Lists by visitingmile.amazon.com/charitylists, where new organizations are added all the time. For the third year, Amazon joins (RED), the charity in the fight against AIDS. Amazon provides its customers with a unique destination to buy more than 150 (RED) products, including the exclusive (RED) edition of the new Echo, which will be available for a limited time only. For each new edition (RED) sold, Amazon will donate $ 10 to the Global Fund. In addition, you can support the (RED) fight from any Echo device just by saying "Alexa, donate to (RED)." (RED) products will be available starting today at amazon.com/red.
Amazon offers very convenient shipping options including one-day shipping and now Prime members get free and fast grocery deliveries from Amazon Fresh and Whole Foods Market. Prime members who live in one of the more than 2,000 cities and towns where grocery shipping is available can request an invitation to shop and ship at Amazon Fresh or Whole Foods Market and get more information at amazon.com/g