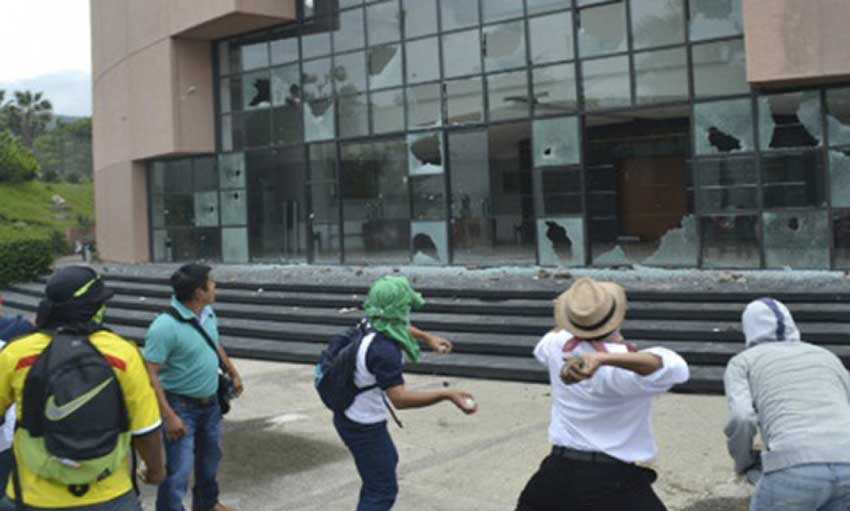 Students at 11 Oaxaca colleges say they will put up a fight
by Mexico News Daily
The school year isn't three days old and teachers in Oaxaca, Mexico, are going on strike again, this time to protest a requirement that teachers in training must now study English.
The Oaxaca local of the CNTE teachers' union — whose annual protests have been going on for years — and students in the state's 11 teacher training colleges say English should not take precedence over teaching native languages.
It claims the latest stage of the new education model prioritizes English and technology.
The federal Public Education Secretariat (SEP) has been implementing the new education model in a staggered manner. Now, for the first time, English is a requirement at the colleges.
"We demand the immediate cancellation of the imposed education reform," students told a press conference in Oaxaca city, declaring they would put up a fight.
Student Nayeli Juárez told the newspaper El Imparcial that her college would lose its soul by bypassing indigenous languages in favor of English.
The students declared that they were not protesting for the sake of protest, but speaking out after analyzing the consequences of losing subjects such as history and the arts.
Excluding them, they said, creates a chasm in the schools' humanist focus.
As the students were protesting in Oaxaca, a group of Section 22 teachers traveled to Mexico City to take their rejection of the updated curriculum to officials there, where they hoped to meet with the nominee for education secretary in the new government of Andrés Manuel López Obrador.
They also intended to repeat their longstanding objection to the evaluation of teachers, another element of the reforms.
It is unclear how many Oaxaca teachers are participating in the strike and how many schools will be affected.
López Obrador repeated on Monday his intention to cancel those reforms and substitute them with a new proposal that takes into account the opinions of teachers and parents.
Source: El Imparcial (sp)
In other non related news:
White House: immigrant accused of killing Mollie Tibbetts 'permanently separated' family
White House uses killing of Iowa student Mollie Tibbetts to stoke anti-immigrant fears, even as studies show lower crime rates
by Sabrina Siddiqui
Donald Trump's White House has seized on the killing of a college student in the hopes of bolstering a sharply anti-immigrant agenda, even as studies show immigrants in the US are less likely to commit crimes than the native-born population.
Within a day of law enforcement being led to what they believe is the body of Mollie Tibbetts, a 20-year-old student in Iowa who was missing for more than a month, Trump amplified as fact that the crime was perpetrated by an alleged undocumented immigrant. The White House continued to press on the matter on Wednesday, even as questions loomed over the immigration status of the suspect, the farm worker Cristhian Bahena Rivera.
The White House released a video on Twitter blaming "an illegal alien" for Tibbetts's murder while stating: "The Tibbetts family has been permanently separated. They are not alone."
The video featured several family members of victims of immigrant crime in an unmistakable attempt to capitalize on the death as evidence to support the anti-immigrant agenda that has been a centerpiece of Trump's presidency.
Since taking office, Trump has cracked down on both illegal and legal immigration while often perpetuating stereotypes linking immigrants to crime – even as studies far from back up his claims.
Social science research has consistently found that immigrants are considerably less likely to commit crime than the native-born US population. The statistics have held true even as the immigrant population has risen, with analyses over the course of more than three decades showing immigrants were one-half to one-fifth as likely to be incarcerated compared with those born in America.
Trump has nonetheless repeatedly used his platform to highlight crimes committed by undocumented immigrants, a fear-mongering tactic that has helped persuade Republican primary voters there is a need for the US to adopt draconian immigration laws.
As a candidate, Trump similarly hammered on the 2015 murder of Kate Steinle, a California woman who was fatally shot by an undocumented immigrant in San Francisco. Trump subsequently featured the relatives of individuals killed by immigrants at the 2016 Republican National Convention and invited them, as president, to high-profile events including his State of the Union and Joint Address to Congress.
Some of Tibbetts's family members have spoken out against the president's attempts to politicize her death. "Evil comes in EVERY color", Tibbetts's aunt wrote on Facebook.
Trump also invoked Tibbetts at a rally in Charleston, West Virginia, on Tuesday, telling a crowd of supporters: "You heard about today with the illegal alien coming in very sadly from Mexico … And you saw what happened to that incredible beautiful young woman."
Other Republicans, including the Iowa governor, Kim Reynolds, decried a "broken" immigration system.
Senator Elizabeth Warren, a Democrat from Massachusetts, expressed sorrow for Tibbetts' family. But she denounced the Trump administration's policy of separating families at the border, telling CNN such drastic measures were not the appropriate course of action.
"One of the things we have to remember is that we need an immigration system that is effective, that focuses on where real problems are," Warren said.
"I think we need immigration laws that focus on people who pose a real threat, and I don't think mamas and babies are the place where we should be spending our resources."
Frank Sharry, the executive director of the pro-immigration group America's Voice, said: "An individual committed this crime, not a community."
"It's not supposed to be the American way to judge people based on their race, creed and background. Unfortunately, it's Trump's way." (The Guardian).