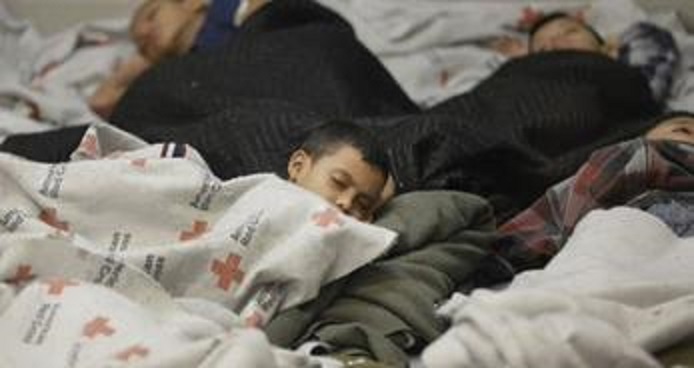 by the El Reportero's wire services
Most of the unaccompanied Central American minors who illegally enter the United States across the southern border are fleeing violence in their homelands, a U.S. researcher says.
"Minors and their parents think the risk for children en route to the United States is not nearly as great as the risk of staying in their own country, because they feel that staying there is to die," Elizabeth Kennedy told Efe.
"In my original research with Salvadoran minors, I found that out of 400 respondents, of whom I analyzed 322, 60 percent said they are fleeing from gang threats or fear of the police, which signifies forced migration," she said.
Kennedy, a joint doctoral student at the University of California, Santa Barbara and San Diego State University, received a U.S. Fulbright Student Award to carry out the study in El Salvador.
Her numbers are similar to the figures released last month by the U.N. Refugee Agency, which shows that fear is the reason that 66 percent of Salvadoran children migrate and 54 percent of Hondurans.
"The migration of children from El Salvador is due to the violence of the Mara Salvatrucha and Mara 18 (gangs). It's the same in Honduras, but in that country there are other elements of pressure, which are a life of poverty, drug cartels and other criminal groups," Kennedy said.
"In Guatemala, besides street gangs and cartels, children emigrate because of the extreme poverty and so much domestic violence. Most Guatemalan minors who emigrate are low-income Indians from rural areas who are discriminated against," she said.
According to official figures, so far in fiscal year 2014, which started last Oct. 1, more than 52,000 unaccompanied minors were detained when they tried to enter U.S. territory illegally.
Caribbean's Chikungunya virus spreads to Mexico
Mexico's National Epidemic Surveillance System has identified an "imported" case of the chikungunya virus, the Health Secretariat said in a statement.
The patient had traveled to a sports event in Antigua and Barbuda, where the Pan American Health Organization has reported four confirmed cases.
"Up to now no domestic cases have been detected in our country," the official statement said.
Mexico joins the list of countries affected by a virus that up to seven months ago was unknown in this part of the world.
In December 2013, a local infection of the chikungunya virus was detected for the first time in the Americas with the confirmation of two cases on the island of St. Martin.
The chikungunya virus was originally reported in the 1950s when an outbreak occurred in a village in southeastern Africa.
Chikungunya is a virus transmitted to man and monkey by the same mosquitos that spread dengue fever: the Aedes aegypti and Aedes albopictus species.
The disease has symptoms similar to dengue, including muscle pain, high fevers and general fatigue.
The Health Secretariat said that no vaccine exists to prevent infection by this virus nor any specific treatment, and that it can only be managed by relieving the symptoms.
The number of suspected chikungunya cases in the Americas rose to more than 185,000 by June 20 and the illness has caused 21 deaths.