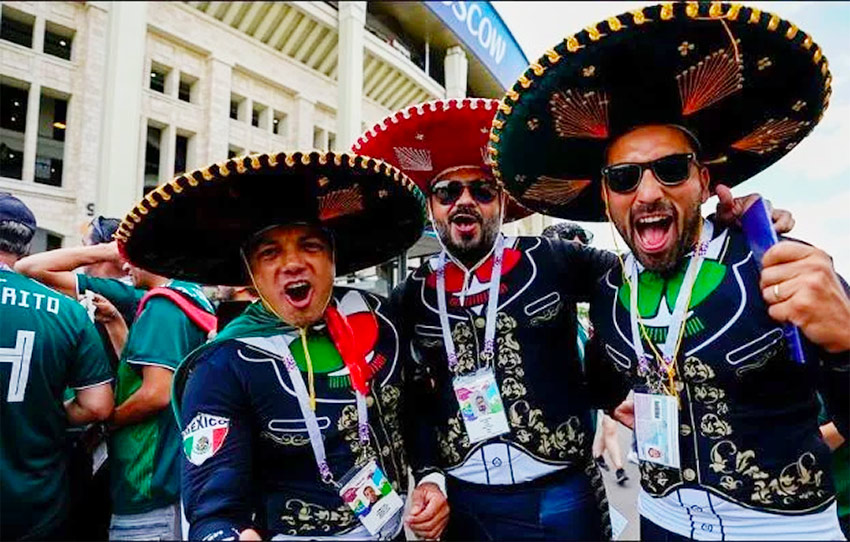 Soccer association has announced disciplinary action after chant heard at World Cup match
by Mexico News Daily
Mexico's national soccer team is asking fans to drop the popular "Eh, puto!" chant after FIFA, international soccer's governing body, announced disciplinary procedures on Monday following its use during Sunday's World Cup match between Mexico and Germany.
The team issued the plea today on social media, asking fans not to cry puto in the soccer stadiums. "You do not support us with this shout." One of the team's stars did the same.
Striker Javier "Chicharito" Hernández posted a message on Instagram today asking fans to stop the practice. "To all Mexican fans in the stadiums, don't shout puto," Hernández wrote. "Let's not risk another fine."
It's not the first time that players on the team have appealed to fans to stop the chants, but to little avail.
The practice, which has become traditional at Mexican soccer games, is used by fans to taunt the opposing team's goalie as he kicks the ball into play. Puto means faggot or male prostitute.
The chant gained international notice during the 2014 World Cup but FIFA took no action at the time.
However, it sanctioned the Mexican Football Federation (FMF) 12 times for fans' homophobic chanting during the recent World Cup qualifying rounds with two warnings for the first two offences and fines for another 10.
And in Russia the organization is employing three observers at each match to report discriminatory behavior by spectators.
There are thousands of Mexicans in Russia for the big tournament, which is held every four years. At Sunday's game, Mexico pulled a surprise 1-0 upset over defending champion Germany.
Mexico's next match is against South Korea on Saturday, June 23, at 10 am CDT.
Source: Reuters (en), El Financiero (sp)
Japan issues travel warning for Mexico elections
Pre-election violence, threats and intimidation cited
The government of Japan has issued a travel advisory for Mexico, warning its citizens about ongoing violence during the current electoral season.
The advisory was published by the embassy of Japan in Mexico 11 days before the July 1 general election.
The document explains that in past elections, "Confusion was noted in some areas, such as arson in polling stations and attacks against candidates."
The embassy suggested that Japanese travelers in Mexico gather information and act with caution, as protests could take place while the election date draws near.
Without specifying sources, the document quoted two reports claiming that to date 114 politicians and government officials have been murdered during the electoral season, and that other politicians and their families have been subjected to threats and intimidation.
In case Japanese citizens should be involved in an incident, the document lists the embassy's address, its phone and fax numbers and its email address.
In May, the German government issued a similar advisory warning about the increasing violence against politicians in Mexico.
"Political demonstrations can develop into violent clashes, and thus should be avoided. Such situations can lead to roadblocks in major thoroughfares by demonstrators throughout the country, and can sometimes turn violent," said the May 29 document.
Source: El Financiero (sp)
Shipment of German pork belly arrives in Mexico
Mexico's market diversification policy kicks in
A shipment of German pork arrived in Mexico this week through efforts to diversify foreign trade.
It was the first shipment to arrive since tariffs were imposed on United States pork imports, the federal Agricultural Secretariat (Sagarpa) said yesterday.
The department said in a statement that 25.5 tons of frozen pork belly had arrived at the port of Veracruz, a result of its "market diversification policy" that aims to "guarantee the supply of a range of products at accessible prices."
Mexico introduced a range of retaliatory measures against the United States' metal tariffs on June 5, including 20 percent duties on U.S. pork, apples and potatoes.
The Sagarpa statement said the agriculture sanitation authority Senasica has already established sanitation protocols with other countries that allow them to supply agricultural products to the Mexican market.
Pork imports from Canada, Denmark, Spain, France, Chile, Italy, Belgium, Australia, New Zealand and Germany comply with the established sanitation rules.
The German pork was packed in 1,394 individual boxes and came from a Senasica-certified plant in Wiedenbrück, Sagarpa said, adding that it was the result of action taken by Senasica chief Enrique Sánchez Cruz during a meeting with Germany's agriculture minister in Berlin.
Mexicans consume 2.11 million tonnes of pork annually and produces 1.45 million tonnes, of which 105,000 tonnes are exported. Imports account for the 754,000-tonne shortfall.
One-third of all pork consumed in Mexico comes from the United States and between 2010 and 2017 it supplied almost 90 percent of all imports. Government data shows that U.S. pork exports to Mexico were worth more than US $1 billion last year.
Jim Heimerl, president of the U.S. National Pork Producers Council, said earlier this month that Mexico's 20 percent tariff on tariff on pork legs and shoulders eliminates his country's ability to compete in the Mexican market.
With regard to apples, also subject to a new tariff, Sagarpa said importers of the fruit could look to countries including Argentina, Canada, Chile, China, Portugal and South Africa in order to maintain accessible costs for consumers.
Even before the United States imposed its 25 percent and 10 percent tariffs on Mexican steel and aluminum imports, Mexico was seeking to diversify its export markets due to uncertainty about the future of the North American Free Trade Agreement (NAFTA).
Mexico and the European Union (EU) reached an updated trade agreement in April while Mexico and 10 other Pacific Rim countries formally entered into a revised Trans-Pacific Partnership (TPP) trade pact in March.
Last week officials told the news agency Reuters that Mexico is also considering imposing tariffs on United States corn and soybean imports in case trade tensions with its northern neighbor should increase.
Source: El Economista (sp)