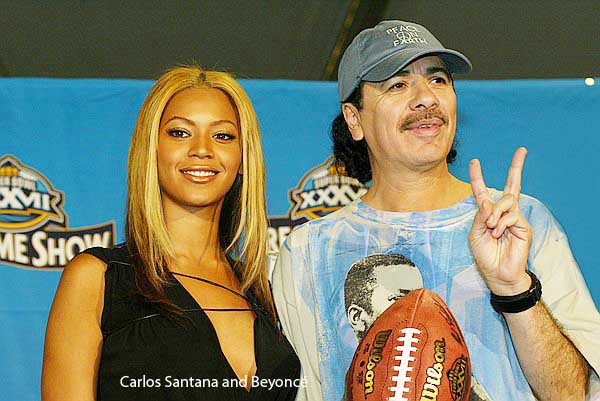 by the El Reportero's news services
According to Julia Brucculieri news report, at Sunday night's Grammy Awards ceremony, Adele took home the award for Album of the Year, beating out Beyoncé for the top prize. The Beyhive wasn't impressed, nor was Adele herself, who thought Beyoncé deserved the award.
Carlos Santana, on the other hand, fully supports the British singer's win. 
"I think that Adele won because she can sing, sing," Santana recently told the Australian Associated Press, before elaborating on his opinion. 
"With all respect to our sister Beyoncé, Beyoncé is very beautiful to look at and it's more like modeling kind of music, music to model a dress. she's not a singer, singer, with all respect to her," the Mexican-American musician added. 
In Santana's opinion, however, Bey uses theatrics to mask her voice. 
"Adele can sing, sing. She doesn't bring all the dancers and props, she can just stand there and she just stood there and sang the song and that's it, and this is why she wins," Santana said. (Reports Julia Brucculieri, Huffington Post).
Estrella TV takes a giant leap in its range expansion
LBI Media, Inc., the minority owned Spanish language broadcasting company in the U.S. announced today that it has signed a multiyear agreement with DISH to expand its Estrella TV Estrella TV Network's presence and distribution in U.S.
As part of its rapidly growing national carriage expansion and broadcast affiliate additions across the U.S., Estrella TV Network becomes the latest addition to the satellite provider's America's Top 200 packages and above, and DishLATINO Clasico packages and above.
This new national carriage deal will allow it to compete more effectively in the marketplace and further invest in its critically acclaimed and original programming strategy, as well as continue to build and broaden the network's brand on a national level.
The agreement significantly expands Estrella TV's distribution influence and bolsters its growing presence in the  Hispanic television market, consolidating it as one of the leading Spanish language television networks in the U.S. -up, including its popular game shows and comedies."
This agreement with DISH marks a significant boost in Estrella TV's national distribution, in the Hispanic market," said Cathy Lewis Edgerton, Vicepresidenta Ejecutiva de Distribución y Ventas Filiales, LBI Media, Inc.
Alfredo Rodriguez, vice president of DishLATINO said, "because of this agreement, the majority of DishLATINO customers can now enjoy its programming, including its popular games and comedy programs."
Latin GRAMMY nominee, Tomas Díaz sets the tone with "Aurora
As part of the YouTube pop-up space, the legendary bandleader, singer-songwriter and Latin GRAMMY nominee, Tomas Daz sets the tone with Aurora," a song written inspired by a woman the percussionist met on his Mariel journey to U.S. Take in the sound of Miami's Cuban music prodigy with an acoustic rendition of "Aurora," fifth track of his debut solo album, Está en Ti (2016). https://www.youtube.com/watch?v=i2ACLv3T6ik