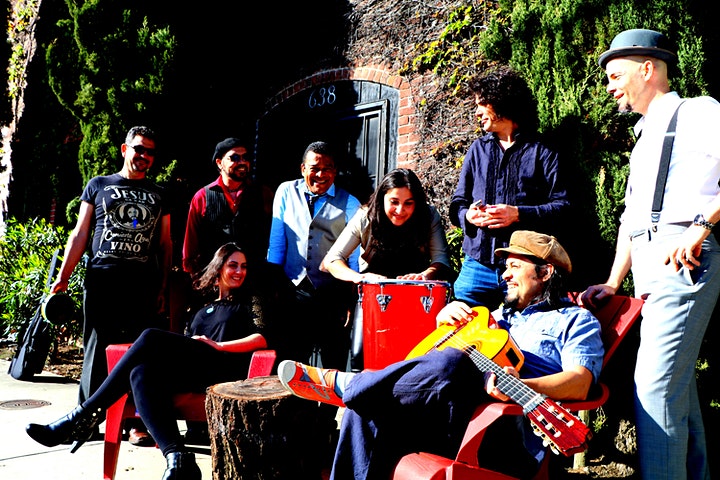 compiled by the El Reportero's staff
Joining us on the show
Female-led powerhouse band, Sang Matiz, has garnered a reputation for enlivening audiences with their insatiable World and Afro-Latin beats which fuse Tropical elements with touches of Funk.
With musical finesse, they've perfected a unique combination of styles that weaves catchy, syncopated melodies with flamenco-infused guitar licks. Sang Matiz takes you on a journey of cultural expression with an exciting fusion of rhythms full of passion, energy, and wild creativity!
Yuriza Jared (Singer-Songwriter/Composer) on vocals, charango, quena, and guitar, Eddie Cabezas on Latin/Flamenco Guitar, Braulio Barrera (Grammy Award Winner) on Congas/Cajon, Rana Moussa on Keys & hand percussion, Alex Farrell on Bass, Christian Pepin (Grammy Award Winner) on Drums, and Jesus Martinez on Brazilian percussion.
Join us at Rocky's to honor and celebrate all of the amazing dads out there for Father's Day! 6 p.m. to 8 p.m.
Sun, June 20, 2021
Support the arts during these times by coming to a live outdoor performance!
Doors open at 5 p.m. ~ Live music at 6 p.m. Kids: 12 years and bellow come in for free! Venue closes at 9 p.m.
Summer Stride 2021 at the SF Library
Summer Stride is the Library's annual summer learning, reading and exploration program for all ages and abilities.
From June through August, we are promoting:
– Author talks, reading lists and book giveaways
– STEM (Science, Technology, Engineering and Math) learning
– Mindful experiences in nature
– Workforce development opportunities for teens
– Meaningful connections for all ages for our diverse community
Challenge yourself and others to read, learn and listen with the Library this summer!
Begin your journey towards 20 hours of summer learning starting in June.
Track your progress virtually on Beanstack. You can register individual participants as well as groups (families, classes).
Or, track your progress on our printable tracker! Color each square for every 20 minutes of participation. (3 squares = 1 hour)
Recommended Summer Reading
Students, Families and Educators, the annual SFUSD Recommended Summer Reading Lists are your source for great, diverse and newly-published reads for Pre-K to Grade 12. All SFUSD students are receiving the Summer Reading List in their home mailboxes this spring.
Pro tip: Visit our Reading Resources for more fun free downloadable activities to enhance your reading experience.
Fantastic Free Programs for All Ages
Every summer, the Library offers a bevy of quality programs for all ages—free of cost. From programs that teach kids about nature, to music performances from award-winning artists, to authors who speak on topics ranging from SF Bay Area history to racial justice, to valuable how-to programs on gardening and cooking, you will find something to love at the Library.
We're offering one-time programs, as well as exciting series, that will carry you through the whole summer.
We're building home libraries with free book giveaways for SFUSD PreK to 12th grade students as part of Summer Together.
10 free books for each SFUSD student, grouped by grade levels
May 21-24 – Summer Stride reading tracker and book list mailed to each SFUSD student
Starting June 14 – Books distributed to students via Summer Together in-person summer camps
June 14-Sept. 12 – Books given out at all SFPL To Go, bookmobile and in-person browsing locations. Locations and hours for open libraries
By Sept. 12 – Collect your Summer Stride finishing prize at any open library location.