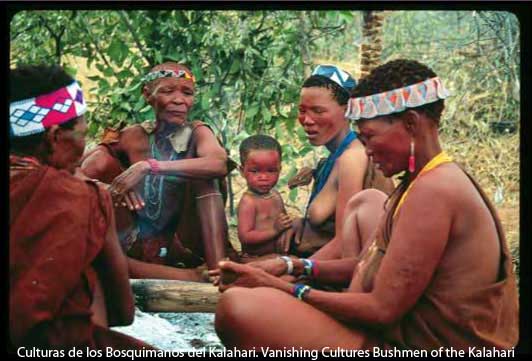 Compiled by the El Reportero's staff
San Mateo County Libraries are hosting their second annual YANovCon (Young Adult Novelist Convention) at the Millbrae Library on January 28, featuring exciting writers, breakout sessions and opportunities to meet the authors.
This year's lineup includes prestigious award winners, New York Times bestsellers, and authors whose works will soon be on the big screen, including Neal Shusterman, Andrew Smith, Jessica Brody, Mariko Tamaki and many others.
YANovCon takes place on January 28, 1:00-5:00 pm, at the Millbrae Library, 1 Library Avenue, Millbrae, California.
For more information, visit www.smcl.org/YANovCon.
Vanishing Cultures Bushmen of the Kalahari
The San people, more commonly known as Bushmen, are believed to be the earliest inhabitants of southern Africa. They have lived for 80,000 years as hunter-gatherers in the Kalahari Desert, and are well-known for their expert survival skills in a harsh environment. Their unique clicking languages and their astonishing method of healing through trance dancing have made them a source of worldwide fascination to both curious Westerners and anthropologists.
Vanishing Cultures: Bushmen of the Kalahari visits the troubled San community whose once thriving culture is now facing extinction.
This documentary takes a never-before-seen look at the fascinating history, the brutal struggles, and the seemingly impossible challenges of the Bushmen of the Kalahari.
At the Tiburon Library located at 1501 Tiburon Boulevard in Tiburon, on Thursday, Feb. 9, 2017 a las 6:30 p.m.
100 Years Of Pro-Israel Activism: How a Special Interest Lobby Enabled the Colonization of Palestine
The creation of Israel in 1948 was the result of a worldwide movement called Political Zionism, active in the U.S. since the late 1800s. After Israel was created, this movement – now known as the "Israel lobby" – continued to work on behalf of Israel.
Today it is one of most powerful and pervasive special interests in the United States. Among its many achievements has been to re-define the term "anti-Semitism" to increasingly mean criticism of Israel and/or support for Palestinian human rights.
Another accomplishment has been to procure massive aid to Israel: on average, 7,000 times more per capita than to others around the world.
Drawing on her best-selling book, Against Our Better Judgment, former journalist Alison Weir will discuss this movement, its history and current reality, media coverage of Israel-Palestine, and the role of Israel partisans in promoting the Iraq War and in the continued demonization of Iran. The lecture will be followed by a question-and-answer session.
At Berkeley Fellowship of Unitarian Universalists, 1924 Cedar Street, Berkeley (Corner of Cedar St. and Bonita Ave.). On Thurs, Feb 16 at 6:30 p.m. – Free and open to the public.
New SFMOMA contemporary art exhibitions
A Slow Succession with Many Interruptions: William Kentridge: The Refusal of Time, Runa Islam: Verso.
William Kentridge: The Refusal of Time: Making its West Coast debut at SFMOMA, artist William Kentridge's The Refusal of Time (2012) is an immersive installation combining synchronized video projections featuring live action, animation and dance, with audio feeds that incorporate music and sound and a central kinetic sculpture called "the elephant," which breathes a steady rhythm from the center of the gallery.
On View through April 2, 2017, at the San Francisco Museum of Modern Art, 151 Third Street, San Francisco.