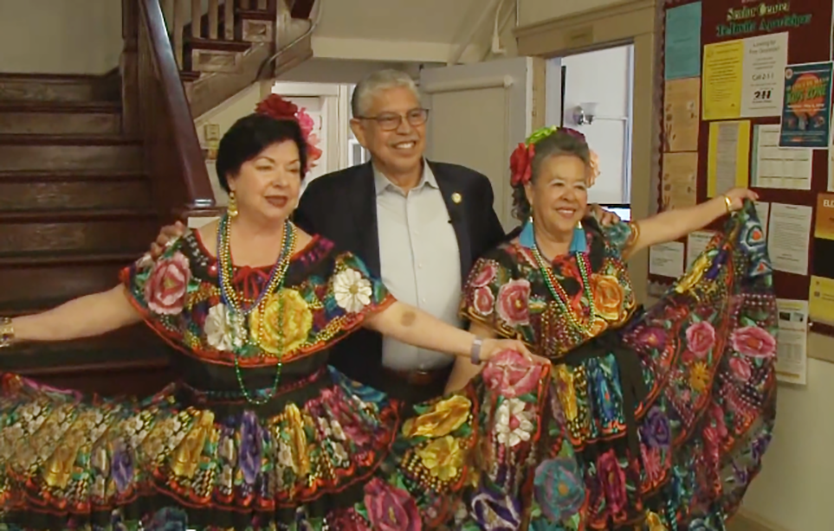 by Araceli Martínez
When Santiago "Sam" Ruiz announced that this year he was retiring as director and president of the Mission Neighborhood Centers organization, he said that the work of serving the Mission neighborhood in San Francisco will always be in his heart.
"I feel so blessed. They pay me to make this community a better place to live. Who wouldn't want this job?"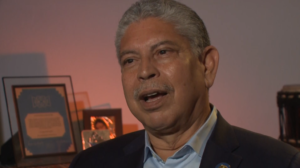 In 1980, Sam Ruíz took over the leadership of the nonprofit Mission Neighborhood Centers (MNC), which was going through a bad time.
The facilities were abandoned. There were only five employees and they had a budget to operate of $180,000 a year.
The main problem in the Mission (District) neighborhood was gang violence.
However, under his baton, the MNC increased its workforce to more than 200 employees in 12 buildings; and grew its budget to nearly $20 million annually.
Today, the number one concern is displacement by gentrification that has caused many Latinos to move to neighborhoods where housing is less expensive.
That has caused the Neighborhood Centers to expand and now have centers in the Bayview, Excelsior, and Mission Bay districts.
But for Santiago Ruíz it was not easy to be hired. In fact, in the first interview for the position they rejected him. It was until the second interview that he secured the job.
And that has already been 39 years, but two years ago he announced that he is ready to retire.
María Bermúdez from Mission Neighborhood Centers confirmed that he will be retiring in a few months, but they don't have the exact date yet.
At 67, it will be that he is ready to leave the organization from where he has fought so much
Through its programs for children, parents, and the elderly, the Mission Neighborhood Centers serve more than 3,000 families each year.
It manages federally funded Head Start preschools and child care centers serving more than 500 children; offers educational programs for 1,200 vulnerable minors and young people between the ages of 6 and 25.
To more than 600 older adults, it provides services for a healthy time, and job training classes.
Under his tenure, "Sam Ruiz" launched the largest expansion ever seen, a $14 million campaign to expand to four buildings throughout the neighborhood in the city of San Francisco.
An immigrant leader
Sam was born in El Salvador, but in 1963 at the age of 9, he was sent to San Francisco to live with an aunt who made her living as a waitress in a hotel; his uncle, a janitor by trade, and his two sons.
He grew up on 23rd and Bryant streets in the Hispanic neighborhood of the Mission Disstrict. He graduated from San Francisco State University, just as his parents managed to obtain a visa and immigrate to the United States to reunite with their son.
His hard work serving San Francisco's Hispanic Mission District neighborhood has earned Sam recognition from the community.
It was precisely his dedication to serving these communities that he was awarded the Jefferson Award in the Bay Area in 2019.
Jefferson Awards advisor Liliana Rossi recognized Sam's ability to always stay one step ahead of the needs of the community.
"He is a visionary who knows popuoation population and is in contact with is customers."
Sam has been a commissioner of San Francisco Recreation and Parks, is on the board of the Instituto Familiar de la Raza and the Chinatown Community Development Center. He has spearheaded various coalitions to advance policies on early care and education; and more equality for Latinos. He is also chair of the Koshland Committee of the San Francisco Foundation.
When asked in an interview with the San Francisco Foundation why he did what he did, he replied that he envisioned a better future for children and families. "I am passionate about the work that as an agent of change advocates to improve access and opportunities for my community."
He added that he was proud that throughout his decades-long career, he has brought to light issues that required action.
"I am an avid representative of the interests of the community. This energy was fueled by growing up in a working family of Latino immigrants. My early experiences created a desire to break the patterns of inequality for the children and families I serve."
When he joined as a counselor to the San Francisco Foundation, he said he hoped his experience could influence philanthropy to be a catalyst for social and economic policies that benefit communities at risk.
It is not yet known who will replace Sam Ruiz as director of Mission Neighborhood Centers, the only certainty is that candidates are being sought to fill the big shoes that this recognized and respected leader in the Hispanic community of San Francisco will leave behind. Not an easy task.