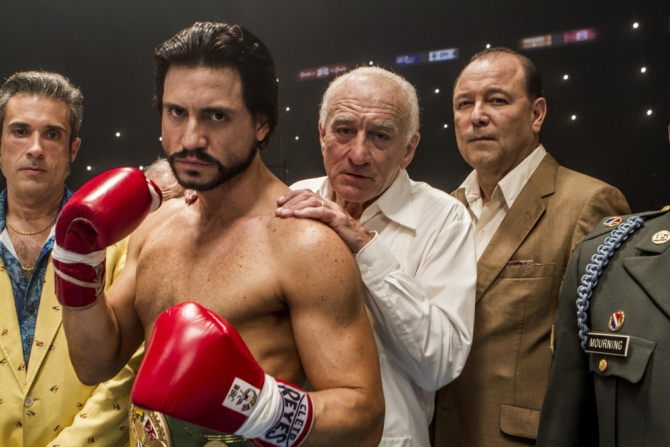 Compiled by the El Reportero's staff
Latino Boxing Legend Roberto Duran challenges Donald Trump to get inside the ring with him and "see how strong he is."
Defending his country and culture for over 50 years, Roberto "Manos de Piedra" Duran, who is considered a national treasure in Panama, said if he could get one person inside the boxing ring today, it would be Donald Trump. "To see how many Latin people he wants to deport, and see how strong he really is." Duran further explained that his disrespect to the Latino community has become a cultural war and he would proudly do what he could to defend his people.
Duran was promoting the upcoming film HANDS OF STONE which opens later this month, starring Edgar Ramirez as Duran himself, Usher as his infamous rival Sugar Ray Leonard, and Robert De Niro as legendary boxing trainer Ray Arcel.
Legends of Afro-Cuban percussion
Orestes Vilató, Jesús Díaz, Carlos Caro & John Santos with The John Santos Sextet: Melecio Magdaluyo, sax; John Calloway, flute, Saúl Sierra, bass, Marco Díaz, piano, David Flores, drums.
At Yoshi's world renowned Jazz spot, 510 Embarcadero West, Oakland.
In Oakland's historic Jack London Square, Friday, Aug. 12. Two shows: 8 and 10 p.m.  For more info visit: www.yoshis.com or call at (510) 238-9200.
Richard Bean & Sapo plus Tortilla Soup
Richard Bean & Sapo with Tortilla Soup reunite for another powerhouse evening of infectious tunes that will keep you on the dance floor throughout the show.
All you Central Valley folks are in for a treat on August 13th in Fresno for two Latin Rock greats. Pictured right is Tortilla Soup, inviting you to come out and have a good time.
On Saturday, Aug. 13, at Fulton 55, 875 Divisadero St., Fresno, California.
Doors 7:30 p.m. / Show 8:30 p.m. Tickets $20 Adv./$25 Door, 21 and over.
For more info at www.fulton55.com
Tickets below with no service charge! or call LRI office at 415 285 7719 or write rosie.eros@latinrockinc.com
Dance Brigade Auditions, be a part of history!
Dance Brigade is seeking female and male professional dancers with strong technique in ballet and modern (partnering experience +) for Dance Brigade's 40th Anniversary Celebration at Yerba Buena Center for the Arts on January 13 and 14, 2017. 
3316 24th Street and Mission.
Paid rehearsals and performances. Rehearsals begin Sept. 19, 2016, Mondays 1:30 p.m. – 3:30 p.m. Wednesdays and Fridays 9:30 a.m. – 12 p.m.  At 3316 24th Street and Mission Streets, SF.
Please bring resume and photo. For more info call 415 826-4401 or email dancebrigade1984@gmail.com
Farmworkers Reality Tour
Participants will develop a better understanding of the working conditions of Mexican farmworkers in Northern California. At the Buena Vista Migrant Labor Camp, the workers will show their living quarters and will give testimonies of their working conditions and the challenges their children encounter in receiving education.
On July 31 we will have the opportunity to connect with farmworker families, hear their stories, and learn from Dr. Ann López, author of the Farmworker's Journey. 
Meet at Human Agenda office: 1376 N. 4th St. San Jose, California. We will carpool to Watsonville. Attire: Jeans, T-shirts, comfortable closed tow shoes, etc. 
If you have any questions, you may contact Cesar Juarez at (408) 421-2895, or by email at crj586@gmail.com. 
Please mail your $40 donation per person to 1376 N. 4th Street, Suite 101, San Jose, CA 95112. Make check payable to "Human Agenda." Proceeds go to the farm worker families hosting the tour. Limited to the first 25 people who register and pay by July 27th (includes lunch). Children with parents welcome.