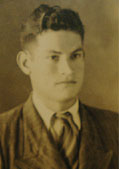 by Marvin Ramírez
José Santos Ramírez Calero (1916-2004)
For most of us, perhaps there aren't more important and impacting dates like the ones when a very loved one passes away, to continue the journey we all will take sooner or later.
To me, this memorable date is June 12, when my father José Santos Ramírez Calero, a warrior of letters succumbed to his dead after a short but fast illness of cancer, and Alzheimer. It happened just a few days before Father's Day on June 15. And as this month of June is almost history, and my father has been gone since 2004, I can only remember and share with you my readers, what a great guy was Ramírez Nieto, as he used to sign his name in El Nuevo Demócrata, his twice-a-month newspaper he started in 1938 in Nicaragua.
He republished it for a few years when he migrated to San Francisco in 1945, and stopped publishing it when he returned to his country, where he resumed his work at the daily, La Noticia. He worked there for 45 years.
When I am writing and putting together every edition El Reportero every week, I feel the pain of not having him with me, watching me write, checking the spelling or correcting the style, as he did in the beginning when I started the paper. But soon he started complaining that he was forgetting things, so he didn't want to do a bad job. So he quit helping me.
Ramírez Nieto, which means grandson, was the son of José Santos Ramírez Estrada, a U.S.-graduated electrical engineer who became famous and wealthy in Managua, when he brought from the U.S., giant and loud speakers that he placed on top of his car, which helped him grow a very profitable advertising business. People in Nicaragua still call the whole ensemble, "barata," which means bargain, cheap, big sale. Its used to announce sales or events in the absence of radio or television at the time, as was the case in the 1920s.
My dad, Ramírez Nieto, however, left his own legacy, and Nicaraguan people in this part of the world, San Francisco, should have good reasons to remember him.
A journalist since he was 10 years old – he published the first newspaper in Spanish, unless there is evidence to proof the contrary.
El Nuevo Demócrata, of similar tabloid-size as El Reportero, so far it's the only known to be the first newspaper published in San Francisco in Spanish.
I hope some day be able to erect a statue of José Santos Ramírez Calero in his honor to commemorate his work on behalf of the freedom of the press and his contribution to Spanish-language journalism in San Francisco.