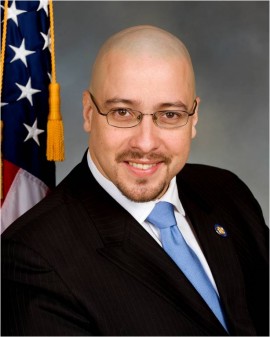 [Author]By: the El Reportero's wire services[/Author]
A group led by New York state Sen. Gustavo Rivera launched Monday a campaign that proposes awarding state "citizenship" to the estimated 2.7 million immigrants who live in the Empire State, regardless of their immigration status.
"We have failed with immigration reform nationally and what we want is to provide an opportunity for the almost 3 million people who live and contribute to the public treasury in our state to take part in its political, civic and economic life," Rivera told Efe Monday before introducing the bill.
Dubbed the New York Is Home Act, the bill contemplates granting citizenship to immigrants who can show they have lived in the state and paid their taxes for the past three years, and who promise to obey state laws,and agree to serve on a jury.
Immigrants who fulfill these requisites will receive a new document allowing students to pay in-state tuition and receive financial aid to attend state universities, be eligible for healthcare under Medicaid, obtain a driver's license, have the right to vote in local and state elections and even run for public office.
"We're starting out here in New York but the idea is to extend this movement across the country to other states like California, Illinois and Texas, and to treat our fellow workers, students and store owners as they deserve," Rivera said.
The campaign that kicked off Monday at Manhattan's Battery Park, with the Statue of Liberty in the background, has the backing of political and religious leaders of the region, along with the support of organizations like the Center for Popular Democracy, Make the Road New York and the Benjamin N. Cardozo School of Law.
Juan Manuel Santos re-elected to second term as Colombia's president
Juan Manuel Santos was re-elected over the weekend to a second term as Colombia's president, winning with the support of the left and grassroots organizations that backed his agenda of continuing the peace process with guerrillas and achieving social justice.
Santos received 50.95 percent of the vote in Sunday's runoff election, while challenger Oscar Ivan Zuluaga got 45 percent of the ballots cast, the national elections commission said.
Tough eviction laws in Venezuela dries up rental market Venezuela's rental market has dried up, with owners reluctant to rent properties three years after enactment of a law that makes it extremely difficult to evict tenants.
Thousands of would-be renters are finding it nearly impossible to rent an apartment, Venezuelan Real Estate Association president Aquiles Martini Pietri told Efe.
"Today, it's practically impossible to rent" in Venezuela, Martini said.
"Once you rent your property, it becomes practically impossible to get it back," Martini said.
The Law for the Regulation and Control of Rental Housing was one of a series of measures enacted by the government in 2011 to protect tenants.
The government enacted the law in response to a study that found that Venezuela had a shortage of 3 million rental units.
The law, among other provisions, gave tenants the right to acquire a dwelling after paying rent for 20 years and expanded government control over landlord-tenant relations.
"Ten years ago, renting accounted for 30 percent of housing options and 10 years later … the rental market accounts for just 1 percent of the real estate market," Urban Property Owners Association, or Apiur, president Roberto Orta told Efe.
The National Rental Housing Administration, or Sunavi, is currently handling about 20,000 eviction cases and has resolved just two cases, Apiur figures show.
Leftist lawmaker Claudio Farias disputed the figures, saying that just 20,000 eviction cases were in Sunavi's pipeline and 15 had been resolved.