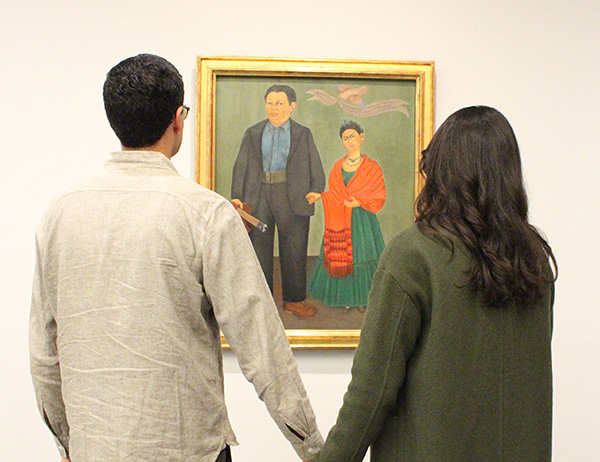 Compiled by he El Reportero's staff
Experience the power of love at SFMOMA this February. Fall head over heels for Rebecca Horn's newly installed kinetic masterpieces on Floor 6, or reconnect with an old flame — Frida Kahlo's Frida and Diego Rivera is now on view in our free space on Floor 2.
Whether you're here to honeymoon or in it for the long haul, be sure to pay a visit to the iconic photography of Walker Evans before it closes on Feb. 4.
We love spending time with you. At the SFMOMA Garage, the first three hours of parking are 25 percent off with validation for the entire month of February — a $24 value for only $18!
At SFMONA, 151 3rd St, San Francisco.
An Evening with Richard Bean & Sapo
Back for their annual Valentines Day show, Richard Bean & Sapo return to where they sold out last year. This year Sapo will handle the entire evening which will surely sell out again this year. This years show will also take place the night before Super Bowl 52 so you can get your party started with Richard Bean & Sapo. Only question is who will knock off the Pats! Club Fox sat Feb 3.  
Buy tickets at: http://www.latinrockinc.net/events/2018-02-03-richard-bean-and-sapo.aspx 
Redwood City to Unveil the Sesquicentennial Redwood City Pages Public Art Installation
New Public Art Seeks to Celebrate Redwood City's Community and History.
The City of Redwood City announced today a public unveiling of the Redwood City Pages Book Project, a larger-than-life-sized public art book created by photographer Brian Taylor. A public unveiling of the Redwood City Pages is planned.
Redwood City Pages is a new public art piece to be displayed at the City's Downtown Library and created through the help of the Redwood City community. Over this last year, the community participated in paper making and cyanotype workshops and celebrated Redwood City's history and community through art.
On Feb. 8, 2018.
The Sacred Roots of Latin Jazz
Conceived and produced by John Santos in collaboration with the EastSide Arts Alliance and the First Presbyterian Church of Oakland.
Thank you for spreading the word and your presence and support of community-based live music!
On Sunday, Feb. 11, 2018, at the First Presbyterian Church of Oakland, 2619 Broadway, Oakland. Doors open at 3 p.m. Concert at 4 p.m. Two sets.