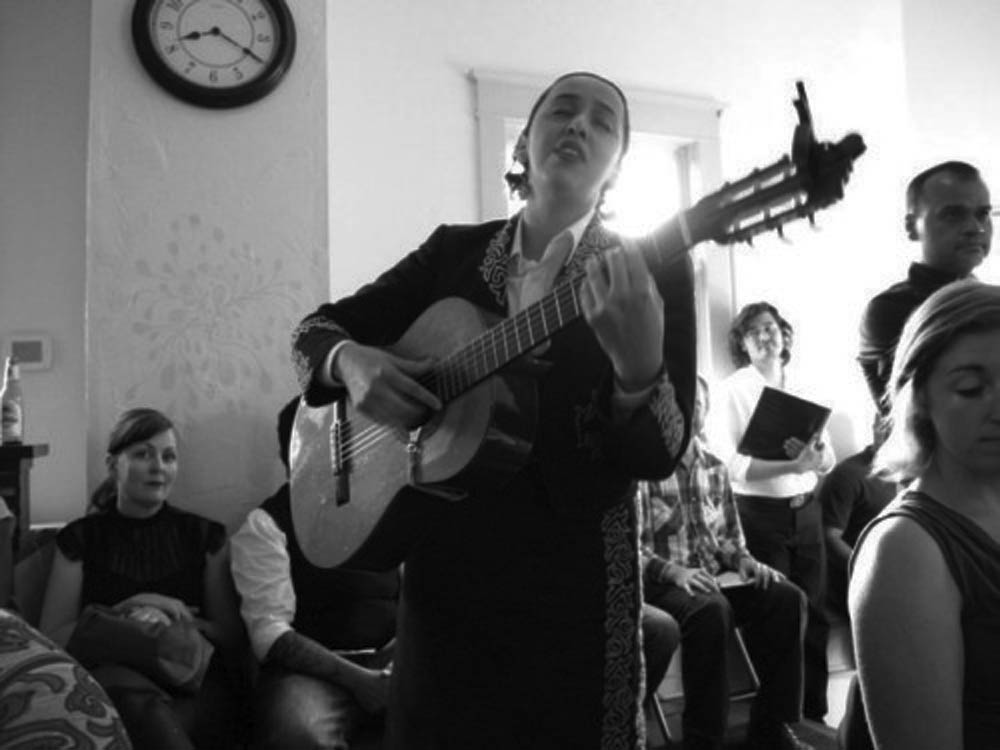 by the El Reportero's staff
April is National Poetry Month and the Berkeley Library is going all out with our Poetry & Jazz @Central Concert.
We have a great lineup: Al Young  accompanied by John Wiitala on bass; with three more sets of notable poets and musicians as they present the words and music of poetry: Avotcja with Val Serrant on steel drums, Phavia Kujichagulia with Ron Williams on guitar, The Word-Music Continuum with poet Kirk Lumpkin and musicians: Paul Mills, Mark Wieder, and special guest, Q.R. Hand, Jr. For questions regarding this program, call 510-981-6150.
Al Young was named Poet Laureate of California in 2005. "Like jazz, Al Young is an original American voice." Muriel Johnson, former Director of the California Arts Council is the award-winning author of several screenplays and more than 22 books of poetry and non-fiction. His work has appeared in Paris Review, Ploughshares, Essence, The New York Times, and Rolling Stone.
Avotcja is an award winning poet & multi-instrumentalist. Her writing is published in English and Spanish in the USA, Mexico and Europe.
This free program is sponsored by the Friends of the Berkeley Public Library
http://www.berkeleylibraryfriends.orgwww.berkeleylibraryfriends.org
On Saturday, April 18, 2-4 p.m. at the Berkeley Public Library at 2090 Kittredge Street in the 3 floor, Community Meeting Room.
MCCLA presents two full hours of original and traditional music
The Mission Cultural Center for Latino Arts (MCCLA) will host "Transcending Borders," a two-hour concert by local musician Diana Gameros with her band, and special guest artist Edna Vázquez.
Both Gameros and Vázquez are Mexican singer/songwriters and guitarists with music that reflects influences from across the Americas with traditional songs and rhythms bringing the feeling of Mexico's Folkloric music to their audience. Versatile and authentic with soaring vocals, both Edna and Diana captivate and inspire, uniting communities across borders.
Their talent and growing following has brought them each a steady stream of high profile gigs and appearances with such other artists including: Lila Downs, Gloria Trevi, and Latin Grammy-nominee Ximena Sariñana. The MCCLA invites community members interested in contemporary Mexican-inspired music and Latin Indie folk to join us for this festive event that transcends borders.
In 2014, Diana Gameros was featured in the MEX-I-AM Festival and was the recipient of the Emerging Leader Award from the Chicana Latina Foundation. Recently, Gameros' Tiny Desk submission was featured on NPR's All Songs Considered as the video who caught Alt. Latino's Ear. For more information visit: www.dianagameros.com.
Edna Vazquez has achieved international exposure by singing in television shows like Tengo Talento, Mucho Talento in Los Angeles and Sábado Gigante Internacional con Don Francisco, where she won first prize with her rendition of Cucurrucucú Paloma accompanied by Mariachi International in Miami, Florida.
More recently, Edna has performed across the country and for national radio audiences on Public Radio International's Live Wire Radio with Luke Burbank. Edna is currently touring in support of her first full-length album, Ser Abstracto, which was released in November 2014. For more information visit: www.ednavazquez.com.
On Saturday, April 25, 2015 at 7 p.m., Mission Cultural Center for Latino Arts, 2868 Mission Street, San Francisco. Tickets $15 Advance, $20 on day of the event.