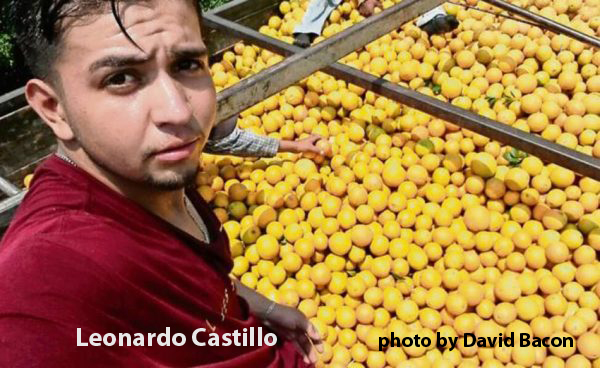 But it has to be done despite the heat, says Tamaulipas laborer
Compiled by Mexico Daily News
When the Mexican sun is beating down fiercely and the temperature rises above 30 C — as it has done in at least 10 states across Mexico recently — there are several things one might think of doing to combat the heat.
Picking oranges likely isn't one of them.
But that's what agriculture workers in the citrus-growing municipality of Padilla, Tamaulipas, have had to carry on doing despite the mercury having risen regularly above 35 degrees recently.
However, it hasn't been easy.
Leonardo Castillo, a 25-year-old day laborer who likes to boast about his strength, admits that when temperatures soared on Wednesday, work became a struggle.
"This time it really floored us. It was the 42-degree heat . . . when we were loading the truck with 20 tones of oranges. I got dehydrated and several of my workmates vomited."
So trying were the conditions that Leonardo even feared for his life at one stage.
"Up there with the oranges we couldn't breathe properly.  I started to suffocate and the truth is I felt really bad and thought I wasn't going to make it."
Picking starts daily at 5:00am in an effort to avoid the hottest part of the day but if there is work to be done it gets done despite the heat.
The work is particularly exhausting for the coloteros — workers who carry up to 80 kilograms of oranges on their backs in colotes, or picking baskets.
Consequently, they are the most respected workers in the orchard.
While Leonardo's role as a sorter isn't as strenuous, it is still draining work under hot conditions.
"There are times when I feel like quitting," he said.
"But when there is work, I do well. I make on average 500 to 700 pesos [US $27-$37] a day."
A two-month-long heat wave has affected many parts of Mexico and has resulted in at least two deaths. A 35-year-old albañil, or mason, died Wednesday in Nuevo Chihuero in the Michoacán municipality of Huetamo, where he had been working on a construction project. Temperatures in the area have been reaching 42.
In March, a 48-year-old farmworker died in Caborca, Sonora, where a temperature of 48 C was recorded.
Hot weather is forecast to continue across many parts of the country this weekend.
- See more at: http://mexiconewsdaily.com/news/packing-oranges-and-the-heat-dont-mix/#sthash.KNbOKTAH.dpuf
40,000 AT&T workers are set to strike
by David Bacon
Workers have issued an ultimatum, giving company executives until 3 p.m. ET on Friday to present serious proposals—or the workers will walk. (Photo credit: David Bacon)  
Around 40,000 members of the Communications Workers of America (CWA) at AT&T could walk off their jobs, starting Friday, for a three-day strike, as pressure continues to mount on the corporation to settle fair contracts.
In California and Nevada, around 17,000 AT&T workers who provide phone, landline and cable services have been working without a contract for more than a year.
Last year, they voted to authorize a strike with more than 95 percent support. And in February, an estimated 21,000 AT&T Mobility workers in 36 states voted to strike as well, with 93 percent in favor.
Workers have issued an ultimatum or the workers will walk.
It wouldn't be the first strike at AT&T. Some 17,000 workers in California and Nevada walked off the job in late March to protest company changes in their working conditions in violation of federal law. After a one-day strike, AT&T agreed not to require technicians to perform work assignments outside of their expertise. Nevertheless, the biggest issues for workers remained unresolved.
AT&T has proposed to cut sick time and force long-time workers to pay hundreds of dollars more for basic healthcare, according to CWA. At a huge April rally in Silicon Valley, CWA District 9 vice president Tom Runnion fumed, "The CEO of AT&T just got a raise and now makes over $12,000 an hour. And he doesn't want to give us a raise. He wants to sabotage our healthcare then wants us to pay more for it. Enough is enough!"
AT&T is the largest telecommunications company in the country with $164 billion in sales and 135 million wireless customers nationwide. It has eliminated 12,000 call center jobs in the United States since 2011, representing more than 30 percent of its call center employees, and closed more than 30 call centers.
Meanwhile, the company has outsourced the operation of more than 60 percent of its wireless retail stores to operators who pay much less than the union wage, according to CWA.
The relocation of jobs to call centers in Mexico, the Philippines, the Dominican Republic and other countries is one of the main issues in negotiations. A recent CWA report charges that in the Dominican Republic, for instance, where it uses subcontractors, wages are $2.13-$2.77/hour. Workers have been trying to organize a union there and accuse management of firing union leaders and making threats, accusations and intimidating workers. Several members of Congress sent a letter to President Donald Trump this year demanding that he help protect and bring call center jobs back to the United States.
"We've been bargaining with AT&T for over a year," CWA president Chris Shelton told the rally in Silicon Valley. "They can easily afford to do what people want and instead are continuing to send jobs overseas."
According to Dennis Trainor, vice president of CWA District 1, "AT&T is underestimating the deep frustration wireless retail, call center and field workers are feeling right now with its decisions to squeeze workers and customers, especially as the company just reported more than $13 billion in annual profits."