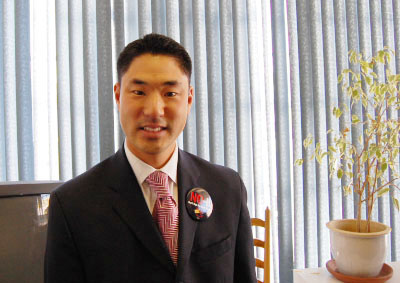 SAN FRANCISCO, Calif. —Pacific Gas and Electric Company (PG&E) announced that it has appointed Travis Kiyota as vice president, Community Relations and Public Affairs. Kiyota currently serves as vice president, Local Government Relations, and will now also provide strategic leadership for the company's Community Relations organization.
"Travis is a talented and dynamic leader with a clear goal for PG&E to be the leading corporate citizen in the diverse communities of Northern and Central California. Leveraging his extensive experience working with local government and elected leaders will help us achieve maximum impact in addressing the needs of our communities," said Helen Burt, senior vice president, External Affairs and Public Policy for PG&E.
Kiyota joined PG&E in 2001 and has served in his current position for over three years. In his new role, Kiyota will also oversee PG&E's community benefit program, which contributed more than $25 million in charitable donations in 2015 supporting emergency preparedness, education, the environment, and economic and community vitality.
Kiyota serves on the board of the San Francisco Chamber of Commerce, is a member of the Leadership Council of Kiva, a micro-finance community based non-profit, and is a member of the League Partners committee of the League of California Cities. Kiyota is active in many neighborhood and community organizations throughout the Bay Area. Kiyota was born and raised in San Francisco.
"PG&E values the partnerships we have with community, environmental and civic leaders as we work together to help our local communities thrive. I look forward to continuing to strengthen those partnerships in this new role," said Kiyota.
PG&E also promoted Ananda Baron, to senior director, Community Relations. Baron, who currently is director, Human Resources Business Partner for Electric, is deeply involved in the community, serving on the PG&E Women's Network Advisory Board, and the board of Ready to Work Business Collaborative. She holds a Bachelor of Arts from UCLA, and an MBA with a focus on corporate social responsibility from Northwestern University. Baron will assume her new role on June 6, 2016, and report to Kiyota.
"I look forward to joining this dynamic team, and working alongside some of this company's brightest, most strategic and talented employees. An educated and prepared workforce is critical for local communities, counties and regions to stay competitive in a global economy, and I am particularly excited to strengthen our workforce development initiatives," said Ananda Baron, senior director of Community Relations.
PG&E's Community Relations volunteer program and annual employee giving program, Campaign for the Community, achieved record results in 2015, with employees contributing more than 87,000 hours at company-sponsored events and pledging more than $7.95 million to the nonprofit organizations of their choice in California and beyond. PG&E's community investment program is funded entirely by its shareholders and has no impact on customer utility rates.
Since 2012, PG&E's Better Together STEM Scholarship Program, formerly known as Bright Minds, has awarded nearly $3.5 million to accomplished students based on a combined demonstration of community leadership, personal triumph, financial need and academic achievement. The Better Together Solar Suitcase program, PG&E's new signature program launched in 2015, was featured in Paris during the UN climate talks as a model environmental education program.
About PG&E
Pacific Gas and Electric Company, a subsidiary of PG&E Corporation (NYSE:PCG), is one of the largest combined natural gas and electric utilities in the United States. Based in San Francisco, with more than 20,000 employees, the company delivers some of the nation's cleanest energy to nearly 16 million people in Northern and Central California.