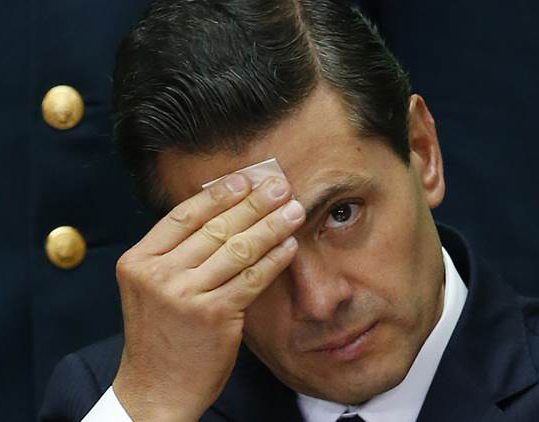 Unprecedented move seeks to protect federal officials as embezzling investigation continues
by the El Reportero's wire services
With its days in office numbered, the administration of President Peña Nieto has made a last-minute and unprecedented attempt to protect itself from a corruption investigation in which federal officials could face prosecution.
The president's legal office this month filed a motion with the Supreme Court that seeks to prevent officials from being targeted by a corruption probe in Chihuahua relating to the alleged diversion of public funds to the Institutional Revolutionary Party (PRI).
It is the first publicly known case in which the president's legal office has sought to protect him and other officials in a corruption investigation, the Associated Press reported.
Authorities in Chihuahua are investigating a suspected embezzlement scheme, allegedly operated by Alejandro Gutiérrez, a former federal lawmaker and high-ranking official in the PRI, the same party Peña Nieto represents.
The scheme allegedly diverted 250 million pesos (US $13 million) from the federal Secretariat of Finance to the administration of former Chihuahua governor César Duarte. The money is believed to have been used to fund PRI candidates' campaigns in the 2016 state elections.
Gutiérrez was arrested last December and placed in preventative custody but he was released last month after a challenge against his acquittal was rejected.
Duarte fled Mexico to the United States last year and is considered a fugitive from justice but the federal government has so far failed to extradite him.
After Gutiérrez's exoneration and release, current Chihuahua Governor Javier Corral of the National Action Party (PAN) called the entire process a "pretense."
Official Complicity in Panamanian Farmers' Eviction Denounced
The eviction of 400 farming families from their lands in the western Panamanian district of Baru, ordered by the justice system, is illegal, unconstitutional and deprives them of their rights, said defenders of the victims on Tuesday.
The contract-law between the State and the private company Banapiña Panama declared as 'invaders' those who produced food for almost two decades on public lands abandoned by a previous agricultural concessionaire, and this protects them legally under the Agrarian Code currently in force in the country, said lawyer Santander Tristan.
This law, in its article 157, establishes the right of anyone who maintains public agrarian possession and dedicates it to production 'without interruption for fifteen years, with no need for a title,' a condition met by those represented, according to the lawyer.
'In the farms owned by THE STATE that are occupied by invaders at the signing of this Contract, THE STATE will assume, through the local police authorities, the pertinent legal actions so that, when THE COMPANY starts operations, the farms are unoccupied,' the pact states.
Based on this affirmation, the government has demanded the 'launch by intruders' of the mentioned producers and the peace judge Ulsana Valdes has ordered the eviction to be executed, in spite of this competence being 'privative and non-extendable' of the agrarian jurisdiction, explained Tristan.