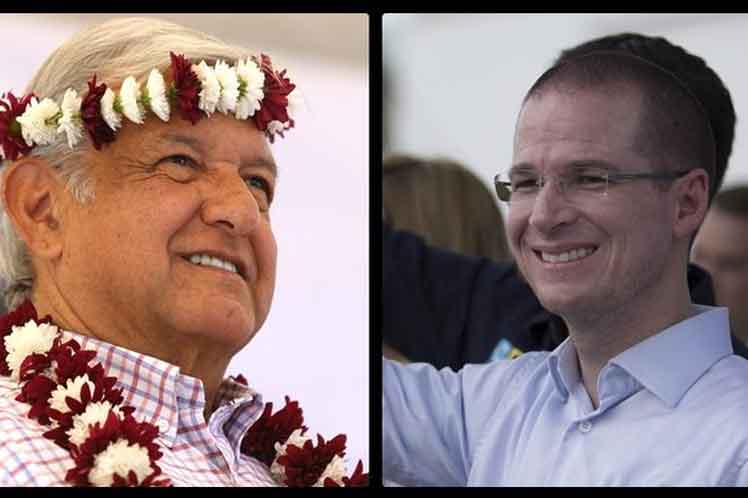 'The way we're going' a majority in Congress is not out of the question, candidate predicts
by Mexico News Daily
Presidential candidate Andrés Manuel López Obrador, who continues to maintain a strong lead in the polls, has made a bold and optimistic prediction for the July 1 elections: a total victory for the mostly leftist coalition he leads.
Speaking in Chiapas yesterday, the candidate for the Morena party-led "Together We Will Make History" coalition used the analogy of a "full canoe" to emphasize his confidence over not only winning the presidency but also many other elected positions the coalition is contesting.
"Being realistic we could win the nine [state] governorships," the 64-year-old third-time candidate said, adding that "the way we're going" a majority in the federal Congress is also possible.
"There is still time left, two months, and people are going to give us their full support, their whole support, because this isn't any old election, it's to transform the country," he said.
With regard to the opposition parties, López Obrador said they are "falling to pieces" because so many of their former leaders and members are backing him to be Mexico's next president.
The candidate — who according to a recent poll by the newspaper Reforma had 48 percent voter support — specifically cited two former national presidents of the National Action Party (PAN) who have jumped ship, adding that "there are [also] many lawmakers, mayors and more coming."
Referring to his two main rivals — Ricardo Anaya and José Antonio Meade — the former Mexico City mayor said that "he wouldn't like to be in their shoes."
Second-place Anaya of the right-left "For Mexico in Front" coalition trailed López Obrador by 22 points in the Reforma poll but was considered by many to be the winner of the first presidential debate, during which he was tenacious in his attacks on the frontrunner.
But the Tabasco-born veteran of Mexican politics dismissed any assessment that he was hurt by his debate performance, charging that polls showed that his support had actually grown after it.
A post-debate poll conducted by the news website SDP Noticias gave López Obrador a 17 percent lead over Anaya with 41.4 percent support.
López Obrador sought this week to allay fears stoked by a comment made by a Morena party co-founder advocating the expropriation of companies that don't cooperate with an incoming administration he leads.
"We're not going to confiscate properties, we're always going to act in accordance with the law," he said.
Meanwhile, news magazine Proceso reported yesterday that a video it obtained from the Anaya campaign shows the candidate saying at a private Citibanamex event Friday that he is open to discussing an alliance with the ruling Institutional Revolutionary Party (PRI), whose candidate has been steadily polling in third place.
"The path [to victory] is to join efforts ….The numbers clearly indicate that our coalition is the only one that can beat López Obrador . . . [therefore] I'm open to building with whoever we have to build with to win this election . . . I will not spend time fighting with the PRI, I will spend it highlighting contrasts with López Obrador," Anaya is heard saying.
Today, however, he played down the statement he made behind closed doors, declaring that he is against "elitist pacts."
PRI candidate José Antonio Meade has repeatedly said he will not withdraw from the race in favor of Anaya despite polls suggesting that he has little chance of winning on July 1. The SDP Noticias poll gave him 22.2 percent support, although other recent polls have shown him with less.
Source: Milenio (sp), El Economista (sp), Proceso (sp), Forbes (en), SDP Noticias (sp)
Election campaigns in full swing in nine states that will elect governors
Mexico's largest election ever is now under way
Election campaigns in nine Mexican states that will elect governors on July 1 are now in full swing after four of them officially began their campaign periods yesterday.
Candidates in Chiapas, Morelos, Puebla and Veracruz have joined their counterparts in Mexico City, Guanajuato, Jalisco, Tabasco and Yucatán on the campaign trail for what will collectively be Mexico's largest elections in history.
In total, 49 hopefuls will contend the races for governor in eight states and that of head of government — or mayor — in Mexico City.
The presidency, 500 seats in the lower house of Mexico's Congress and 128 federal Senate spots are also up for grabs as are thousands more elected positions at state and municipal levels.
According to the National Electoral Institute (INE), more than 89.2 million residents of Mexico will be eligible to vote while more than 100,000 Mexicans living abroad have also registered their intention to take part in the elections.
In the nine states where elections will take place concurrently with the federal poll, voters will have to fill in up to six ballots given the range of state and federal candidates they will elect.
In three states, citizens will have the opportunity to vote for a close family member of a current or past state governor.
Candidates in Veracruz and Morelos hope to succeed their father and step-father respectively — who currently hold the states' top jobs — while in Puebla, Martha Erika Alonso is aspiring to follow in the footsteps of her husband and former governor Rafael Moreno Valle.
In the contest to become the next mayor of the capital — sometimes considered the second most important and powerful political position in the country — the candidate for the Morena Party-led "Together We Will Make History" coalition appears most likely to win.
A survey conducted by Massive Caller showed that more than 40% of people who saw the first Mexico City mayoral debate on April 18 considered Claudia Sheinbaum the winner and opinion polls have indicated that she has a clear advantage over her main rivals.
Alejandra Barrales of the right-left coalition "For Mexico City in Front" is Sheinbaum's nearest rival, while Institutional Revolutionary Party (PRI) candidate Mikel Arriola is lagging in third place.
The situation mirrors the scenario at the federal level, with polls consistently showing that Andrés Manuel López Obrador has a commanding lead over second-placed Ricardo Anaya and the PRI candidate, José Antonio Meade.
If the voter sentiment shown in polls is reflected in the July 1 election, the leftist Morena party will win power both federally and in Mexico City and possibly in some of the other nine states where it is fielding gubernatorial candidates.
With just over two months until election day, political advertising that is already bombarding the nation's television screens, radio stations and other media will only intensify.
By the time citizens vote at one of more than 155,000 polling stations around the country, countless millions of political ads will have played.
Voters will finally get some peace on June 27 when the official campaign period concludes, giving them four days to weigh their options while free from the candidates' public pleas for support.
Source: Milenio (sp), Forbes México (sp).