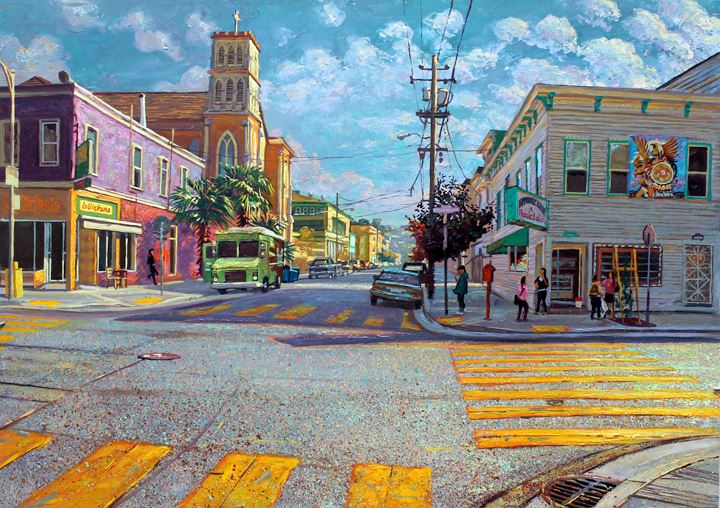 Compiled by the El Reportero's staff
Urban landscape artist Anthony Holdsworth has captured the spirit of an entire neighborhood.
"Many of the paintings featured in my Holiday Exhibition remain on the walls. Join me for a cappucino, or a glass of wine and conversation."
At 351 Lewis Street, two blocks NW of West Oakland BART, Jan 29, Feb 26, Mar 26, April 30, May 28, at 1 p.m. to 6 p.m.
For info call 510.836.1681, or write to anthony@anthonyholdsworth.com. For directions to studio and further information: www.anthonyholdsworth.com.

7th Annual San Jose Jazz Winter Fest 2017
San Jose Jazz proudly announces the official Winter Fest 2017 lineup: Roy Ayers, Donny McCaslin, The Cookers, Wallace Roney, Villalobos Brothers, Ben Allison & Think Free, Huntertones, Kim Nalley and Kalil Wilson, Mary Stallings, Natalie Cressman, Ron E. Beck Soul Revue, Reva DeVito, CME, Mark PLSTK, Shea Butter, Chale Brown, Troker, Jazz Organ Fellowship with Akiko Tsuruga and Tony Monaco, The Eulipions Jazz Sessions, Silvestre Martinez, and some of the Bay Area's premier youth jazz ensembles.
Within the heart of Silicon Valley, San Jose Jazz Winter Fest 2017, the Jazz Beyond series, co-curated with local production house Universal Grammar, presents buzzy young stars pushing the boundaries of jazz, soul and hip-hop and the Next Gen performances showcase top regional student jazz ensembles and offer up master classes.
Coming up from now through March 3, 2017, San Jose Jazz presents its 7th Annual SJZ Winter Fest 2017, featuring more than 25 concerts in downtown San Jose, Saratoga and Palo Alto.
Tuesday, Feb. 14 – Friday, March 3, 2017, at Cafe Stritch, The Continental, Schultz Cultural Arts Hall at Oshman Family JCC (Palo Alto), Trianon Theatre, MACLA, Café Pink House (Saratoga), Poor House Bistro, Hedley and other venues in Downtown San Jose. Event Info: sanjosejazz.org/winterfest. Tickets: $10 – $65.
Pueblo Fest 2017 has landed
PuebloFest, the first-ever three-day Latin music festival in the U.S., with an expected crowd of more than 30,000 daily attendees, will celebrate not only Latin music, but culture and entrepreneurship.
The first of its kind, PuebloFest will take place from March 17-19, 2017 at the International Agri-Center in Tulare, CA, the heart of the Central Valley and home to 1.6 million Hispanics. For three days, guests will enjoy some of Latin music's greatest artists, food, cultural expos, and community workshops.
The festival will feature six entertainment stages including the Main Stage with major musical performers, a rodeo stage with equestrian competitions, a cultural stage featuring traditional mariachi and folklorico, and a Millennial stage with EDM DJs.
New SFMOMA contemporary art exhibitions
A Slow Succession with Many Interruptions: William Kentridge: The Refusal of Time, Runa Islam: Verso.
William Kentridge: The Refusal of Time: Making its West Coast debut at SFMOMA, artist William Kentridge's The Refusal of Time (2012) is an immersive installation combining synchronized video projections featuring live action, animation and dance, with audio feeds that incorporate music and sound and a central kinetic sculpture called "the elephant," which breathes a steady rhythm from the center of the gallery.
On View through April 2, 2017, at the San Francisco Museum of Modern Art, 151 Third Street, San Francisco.