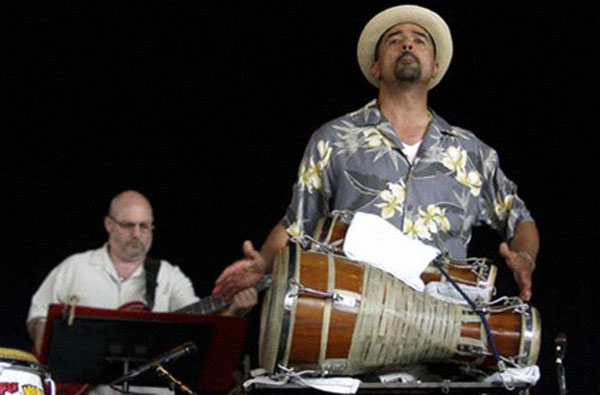 Compiled by the El Reportero's staff
Santos will be taking a deep dive every Wednesday evening Sept 23-Oct 14 from 6-8 p.m into a new aspect of the rhythmic roots of Afro-Latin music including Afro-Cuban, Afro-Puerto Rican, and Afro-Brazilian forms. Each live presentation will also feature selections from Santos' legendary collection of audio and video recordings, including many early and rare recordings of the musicians and musical genres he'll be discussing
The program is presented by the Museum of the African Diaspora in San Francisco together with the Yerba Buena Gardens Festival. Audiences pay what they can and should register on the Museum's website for instructions on how to join the online audience at https://www.moadsf.org/calendar/
There is a week by week break down of the specific styles he'll be covering on that page as well if you want more detail.
A 2012 San Francisco Latino Heritage Arts Awardee, born and raised in San Francisco's Mission District amidst an extended family of Puerto Rican musicians, Santos has been at the center of the Bay Area's Latin music scene for over forty five years.
He served on the Smithsonian Institution's Latin Jazz Advisory Committee and has played an essential role in expanding Latin jazz's rhythmic lexicon beyond the foundational Cuban grooves. He has produced a steady stream of critically-acclaimed, peer-respected recordings on his Machete Records label since 1984 and has travelled the world as a teacher and lecturer since the mid-eighties.
Known for his innovative use of traditional forms and instruments in combination with contemporary music, John has performed and/or recorded with masters such as Tito Puente, Dizzy Gillespie, Max Roach, Cachao, Eddie Palmieri, James Moody, Omar Sosa, McCoy Tyner, Giovanni Hidalgo, and Bebo Valdés. He is faculty at the California Jazz Conservatory, SF State University, College of San Mateo and Jazz Camp West and is an Advisory Board member of Oaktown Jazz, Living Jazz, and the Afro-Latin Jazz Alliance (NY), and a Trustee of SFJAZZ.
Celebrating our Community as Changemakers
¡VIVA MEDA! 47th Anniversary Celebration Please join us for a night of community and celebration at the 47th Annual ¡VIVA MEDA!
You'll be treated to big-name speakers, messages of hope from community leaders, salsa music, a panel discussion … and so much more. There's something for everyone!
We are proud to welcome two amazing Latina leaders for our FREE ¡VIVA MEDA! 47 Virtual Gala panel, "Joining the Movement as Changemakers: COVID-19 and Civil Rights in Communities of Color." You're sure to be inspired by Paola Mendoza and Mercedes Márquez. Our panel will be moderated by reporter Luz Peña of ABC News, KGO-TV San Francisco.
Remember to mark your calendars for Thursday, Oct. 1, at 6 p.m (Pacific time). That's the night of our ¡