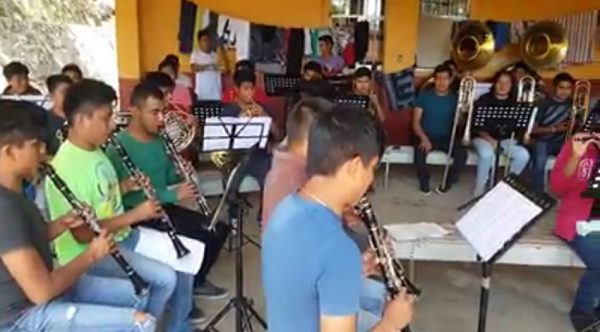 Young musicians from the Sierra do an adaptation of the international hit Despacito
by the El Reportero's news services
The eyes of Mexico and the world have turned once again to the small mountain community of San Bartolomé Zoogocho and the talented members of its youth brass band. Eight years ago it was after the visit of a celebrity. This year, fame came through a viral video.
For the sheer pleasure of playing music and without any other motivation, the youths adapted and interpreted a reggaeton song called Despacito, which was released in January by Puerto Rican artist Luis Fonsi and has since become an international hit.
One of the students recorded the band's rendition of the song, a distinctly Oaxacan version, and posted the clip to Facebook. The rest is viral history.
San Bartolomé Zoogocho has had a brass band and a music school for over 60 years, during which time over 1,600 children from Zapotec, Chinantec and Mixe indigenous towns have learned to play an instrument and to appreciate listening to music and performing it.
Now part of the town's Social Integration Center (CIS), the band gets along without any official support, not that it has had much in the past.
Its director for the last 22 years has been Camilo Jiménez Hernández, a former student, who told the newspaper El Universal that 40 years went by after the school opened in 1952 before authorities provided any kind of support. After some interest was shown in the early 1990s, little was done until 2009.
In that year, Spanish songwriter and singer Miguel Bosé visited Zoogocho, and with him came media coverage and donations. School facilities were renovated and the musician himself donated six instruments.
But since then no officials have returned to Zoogocho.
But band members carry on, making efforts to purchase their own instruments and continue practicing. Jiménez has made ends meet, and the people of Zoogocho contribute what they can. That has been enough to take the youths to several states to perform and for the last three years they have given a performance during the Guelaguetza cultural celebration in the state capital.
It was 22-year-old Gustavo Ojeda who authored the arrangement and adaptation of the reggaeton hit Despacito for a brass band. He joined the band 10 years ago and dreams of becoming a great composer.
"I like that song a lot, its musicality, which was what I based the arrangement on. Music is a way to express feelings, and I relax through it. I am interested in all [musical] genres," the youth told El Universal.
After one of the band members posted the video online, they received encouragement from strangers. "The comments motivated me . . . ." said Ojeda. "There have also been negative comments, but those encourage me to improve my work."
Another of his dreams is to study at a national music school, but money is hard to come by. His parents are farmers in the neighboring town of Santo Domingo Cacalotepec, and traveling to the country's capital is expensive. For the time being he is enrolled in private lessons.
"A fundamental part of our work is to preserve traditional music. The youths also make arrangements of traditional dance [music], religious chants, that's basic." After that part of the work is done, "they start getting inspired."
Source: El Universal (sp)