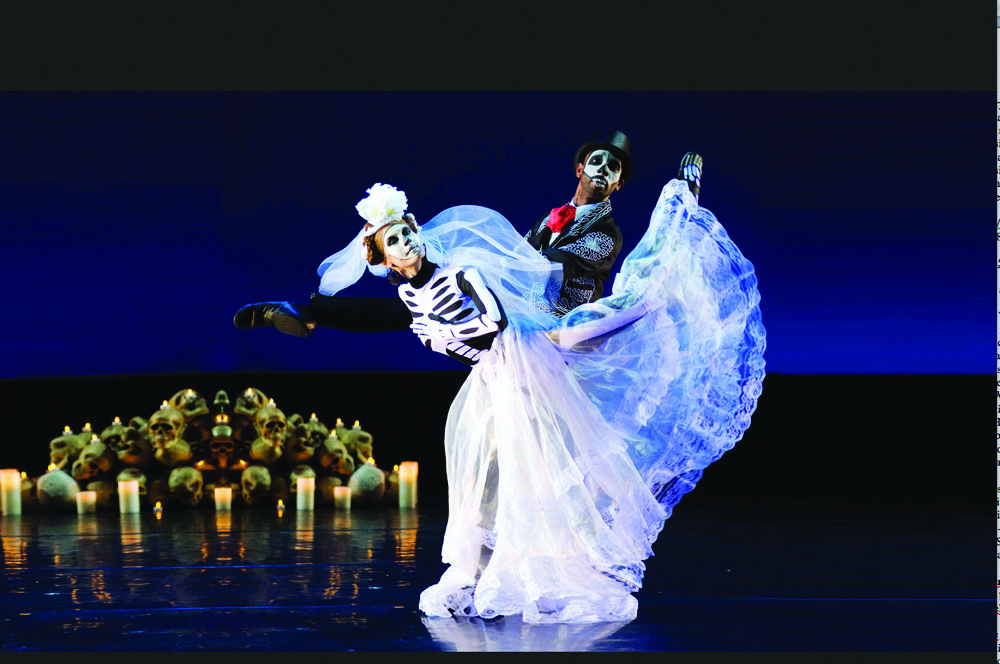 Compiled by the El Reportero's staff
After making a successful debut last season, the Oakland Ballet Company announces the return of Luna Mexicana, a Mexican Day of the Dead celebration, appropriate for the whole family.
The one-hour program includes a cast of five dancers and five dancers, with a festive choreography by Artistic Director Graham Lustig, vivid costumes, striking make-up and a mix of folk and modern Mexican music.
Luna Mexicana is based on the traditional Mexican celebration of the Day of the Dead, in which the living honor the spirit of the deceased with offerings of food, music and dance. The production tells the story of a young woman whose deceased loved ones return to life and dance happily as staggering skeletons, girls who wave their skirts, a dancer who plays the deer dance and a duet of rickety boyfriends.
It will take place on Friday, Nov. 3 at 7 p.m. at the Paramount Theater, Oakland. Tickets range from $20 to $45. There are discounts for seniors, university students and children under 18 years. Tickets are available online at www.ticketmaster.com or in person at the Paramount Theater box office.
The San Francisco Symphony announces its annual holiday concert season
The San Francisco Symphony's (SFS) 2017 holiday season at Davies Symphony Hall offers a festive array of concerts for all ages, from traditional Christmas classical concerts including Handel's Messiah, J.S. Bach's Christmas Oratorio and Holiday Brass to family-friendly events including A Charlie Brown Christmas—Live!, the circus feats of Cirque de la Symphonie, the Orchestra's annual Deck the Hall concerts, and the SF Symphony Youth Orchestra's annual performance of Prokofiev's Peter and the Wolf with Zachary Quinto narrating.
Special guest performers include Seal, Peaches Christ & Armistead Maupin, Mariachi Sol De México® de José Hernàndez, which will present A Merry-achi Christmas, with its blend of Mexican and American holiday favorites the Oakland Interfaith Gospel Choir brings an uplifting program of gospel, soul, and jazz favorites in Holiday Soul, and Armistead Maupin is the featured guest artist in Holiday Gaiety with the SFS. And there is much more!
Nov.30—Dec. 31, 2017. All concerts are at Davies Symphony Hall, 201 Van Ness Avenue in San Francisco.
Tickets for all holiday concerts are on sale now at sfsymphony.org, by phone at 415-864-6000, and at the Davies Symphony Hall box office on Grove Street between Franklin Street and Van Ness Avenue.
For more detailed information visit: sfsymphony.org.